Originally posted on April 19th, 2017
What is it

A pack of 30 non-irritating makeup wipes especially formulated to remove stubborn eye and lip makeup.

How I use it

I use 2 sheets and hold them over my eyes and lip area for 30 seconds before gently wiping off the makeup. I then follow with my 1st cleanser and then my 2nd cleanser.

Best suited for

Everyone except those with super sensitive or irritated skin

Key ingredients

mineral oil, green tea extract, apple extract, jojoba oil – full ingredients on CosDNA

Irritants

Free of parabens, phenoxyethanol, silicones, fragrances, and alcohol. The main surfactant,

PEG-7 Glyceryl Cocoate

, generally isn't irritating, but will burn if your skin is inflamed or already irritated.

Packaging

Plastic packaging with a resealable seal.

Scent

A faint fresh smell

Texture

Despite the mineral oil, it doesn't feel one bit oily. The texture of the wipe isn't rough or abrasive, and feels gentle on the skin.

Size & Price

$6.00 for 30 sheets

Where to buy
I love that Leaders released these makeup wipes especially for eyes and lips, because let's face it, the makeup used there are usually harder to remove, and the skin around the area is more sensitive. One sheet fits all definitely is not the case, so props to Leaders for realizing this!
Much like their Argan Oil Deep Cleansing Tissue, these do a fantastic job of removing stubborn eye/lip makeup – and I'm talking mascara, eyeliner, eyeshadow, lipstick, the whole shebang here. Just hold for a bit and gently wipe, and voila!
Unlike the Argan Oil Deep Cleansing Tissue, these come in a smaller and travel-friendly size. Unfortunately it's also missing the plastic lid, but luckily the seal is pretty sticky and I haven't experienced any leaks yet.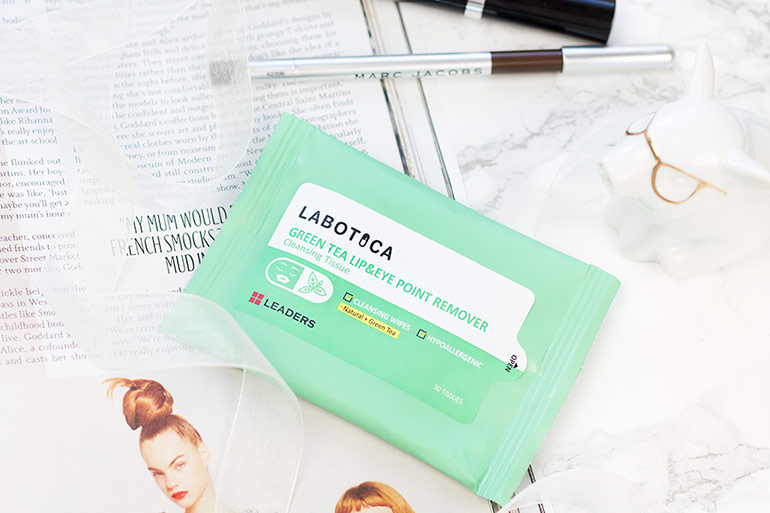 Packaging

Ingredients

Texture/Application

Performance

Price
What can I say, these have quickly become a must have in my travel makeup bag because they're so easy to use and actually work really well! Sadly the surfactant used means these aren't going to work when your skin is on the sensitive side (eg. when you've just started using chemical exfoliants), hence why this scored an 8.8 instead of a 9. But if sensitive/irritated skin isn't an issue for you, then this is definitely a winner!