Originally posted on April 19th, 2017
What is it

A pack of 50 makeup wipes that's formulated with argan oil to gently remove makeup while cleansing and nourishing the skin.

How I use it

When I'm lazy I'll use one sheet in the evening in lieu of my first cleanser to remove my makeup and sunscreen. Then I'll follow up with a second cleanser before proceeding with my skincare routine.

Best suited for

All skin types

Key ingredients

Irritants

Free of parabens, phenoxyethanol, silicones, alcohol, and mineral oil. Does contain fragrances but it's the last ingredient on the list.

Packaging

Plastic packaging with a lid in addition to the resealable seal.

Scent

Not very noticeable, but it does smell good!

Texture

Despite the argan oil, it doesn't feel one bit oily. The tissue itself has embossing on one side but feels soft on the skin.

Size & Price

$8.50 for 50 sheets

Where to buy
I have a love-hate relationship with makeup wipes – love how convenient they are, but hate how rough they usually feel on the skin. I always have to rub pretty hard and use multiple sheets to effectively remove my makeup. Luckily that was not the case with the Labotica Argan Oil Deep Cleansing Tissues. It was gentle on the skin, and it did a surprisingly good job at removing my foundation and face makeup. The size of the sheets are quite large, so 1 is enough when I have light makeup, and at most I'll use up to 2 sheets.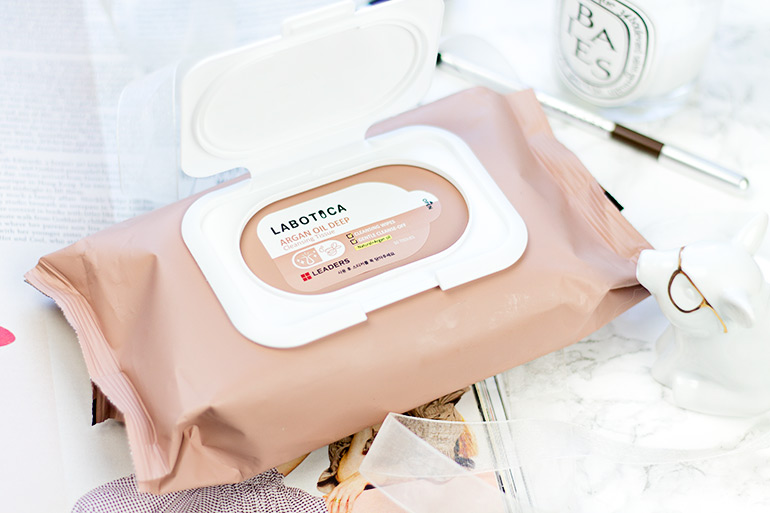 The packaging is also a step up from regular makeup wipes since it actually comes with a lid instead of just the resealable seal. This prevents the remaining sheets from drying out and leaking if you bring this while traveling. Speaking of traveling, makeup wipes are usually a great option, but these are rather bulky since they contain 50 sheets per pack. So while I don't bring these when I vacation, they've become my go-to first cleanser when I'm feeling extra lazy.
Packaging

Ingredients

Texture/Application

Performance

Price
I feel like most brands half-ass their makeup removing wipes, because let's be honest, when most of us use it we're probably too tired (or drunk) to care. So I especially appreciate Leaders for creating these gentle yet effective wipes. While this won't become my default 1st cleanser, it's now my go-to when I'm in a time pinch (ie. lazy AF).