I know I talk a lot about expensive products on this blog, not because I think expensive always means better, but rather cheaper options tends to be a hit or miss for me (usually a miss). But when I do find affordable products that work well, believe me I'll be waving them in your face like a fanatic evangelical with their bibles screaming "YOU NEED JESUS THIS!". With that said, today's review is a high-low showdown between the cult-classic Laura Mericer Translucent Loose Setting Powder (mini) versus the newcomer Althea Petal Velvet Powder. May the best powder win!
I'm not going to review the Laura Mercier powder, because you've probably either used it yourself or you've read a million reviews on this so my opinions are irrelevant at this point. But I'm sure you're curious about the other contestant in this rumble, so…
Althea Petal Velvet Powder introduction
What is it

A translucent powder made with micro-fine particles to keep sebum production at bay while giving the skin a blurred + fresh finish. It can also be used to sets makeup and leaves behind a silky finish.

How I use it

After sunscreen on makeup-free days to minimize shine, or after foundation to help set and create a more matte finish.

Best suited for

Anyone looking to control shine without caking or drying the skin.
Anyone on a budget.
Anyone who prefers using clean and cruelty-free makeup.

Key ingredients

Silica – Absorbs sweat and sebum to keep your skin fresh. Althea uses a 10µm lightweight formula which gives a translucent finish.
Mica – A translucent mineral that reflects light and provides a smooth radiant finish to the skin.
Hibiscus syriacus seed extract – aka hibiscus flower seed extract, it's full of antioxidants and vitamin c.
full ingredient list here

Irritants

This powder is talc-fre, colorant-free, and paraben-free, but it does a small amount of fragrance.
→ The Laura Mercier powder contains talc, pigments, and parabens, but no fragrance.

Packaging

A sleek frosted plastic jar with a pale pink lid and a white puff that sits nicely in the jar. So millennial, so chic, much love. Oh and very travel-friendly!

Scent

A very faint floral scent. It's not noticeable when applying to your skin, so you'd really have to snick your nose into the jar to get a whiff.
→ The Laura Mercier powder is completely unscented, though if you sniffed really hard you can smell the corn starch.

Texture

Very fine and silky.
→ The Laura Mercier powder feels similar, but softer and more moist if that makes sense?

Finish

Matte, obviously, but in a very fresh and natural way

Available At

$4.50 for 3g at Althea Korea (free US shipping for orders $50+, plus get 20% off your first order with this referral link)
→ The Laura Mercier powder costs $23 for 9g or $38 for 27g at Sephora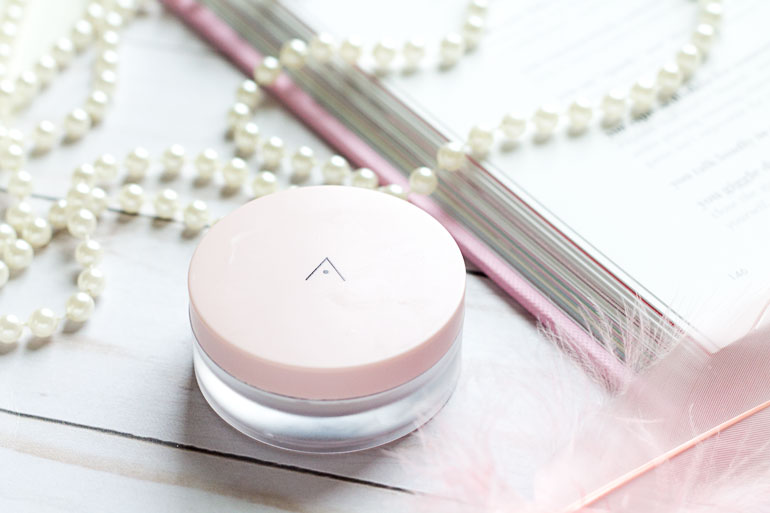 I know, don't judge a product by it's packaging, but I'm a sucker for anything minimal + pink, and Althea totally slayed it with this chic jar. In my opinion it looks sleeker than the mini sized Laura Mercier powder, which sadly looks bulkier and cheaper despite being 5x more expensive.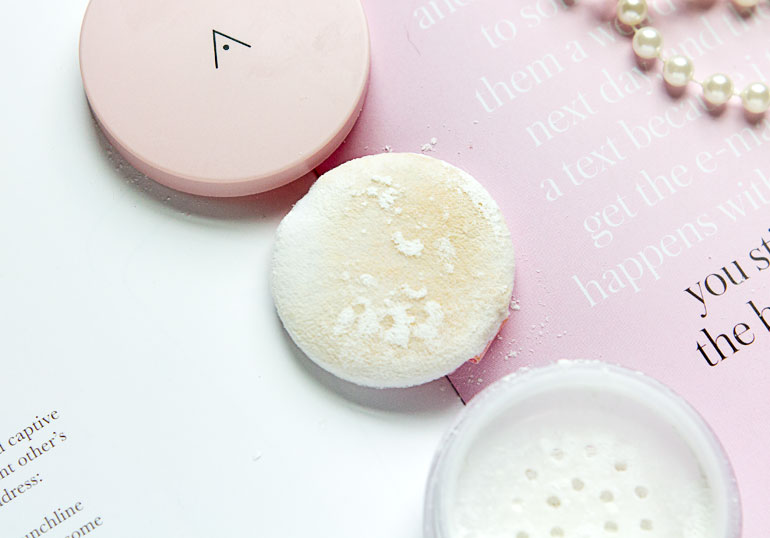 Now the included puff I'm very eh about. It's 13mm thick, but feels rather flimsy, and the white means that any foundation transfers will be super obvious. On the other hand the Laura Mercier puff feels thicker, plusher, and distributes the powder more easily on the skin without picking up so much foundation. Now I would just use the LM puff with the Althea powder, but sadly the LM puff is too thick to fit in the Althea jar :(
Althea Petal Velvet Powder vs. Laura Mercier Translucent Loose Setting Powder
What better way to compare the 2 products than applying them using their respective puffs on 2 sides of my face and seeing how they perform? For my base I applied the followed by the YSL Touche Eclat Cushion Foundation (full review here):
As you can see, both powders instantly mattified my skin, and the Althea Petal Velvet Powder also seemed to brighten it slightly. However, the Althea puff also picked up a bit of the foundation, as some of my dark spots are more obvious after the powder. The Laura Mercier powder, true to its name, is completely translucent and doesn't alter the color of the foundation.
The Althea side looks shinier by 12:30 pm, but I think that it's due to the angle of the lighting and the mica in the Althea Petal Velvet Powder. On the other hand, I noticed a dry patch under the eye on the Laura Mericer side, but overall both powders seemed ok at this point.
The 5:15pm shot had the most even lighting and you can see that the Althea side still looked fresh with minimal shine, while oil was starting to show through the Laura Mercier side. You can see the some of the texture on my cheeks are more noticeable, and that dry patch under the eye was still there, but it didn't get any worse.
Timeline of the Althea Petal Velvet Powder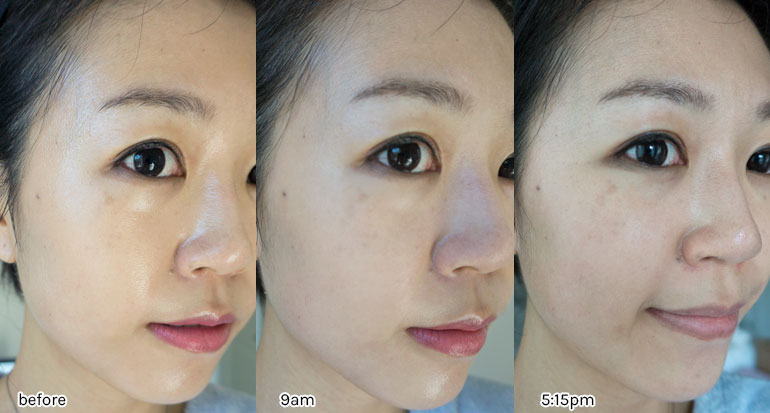 Ironically I love the before look the best, as the Althea puff definitely ate some of the foundation during the application process. In this angle, you can see that there was a tiny bit of shine near the tip of my nose by 5:15pm, but the biggest issue was that its subpar makeup setting ability. The redness and the spots on my cheeks became more noticeable as the day went on.
Timeline of the Laura Mercier Translucent Setting Powder
So I didn't get a good picture of the 9am state, but you can see that by 5:15pm oil was creeping through my makeup, especially in the t-zones and the inner cheek area. However, props to the LM powder's setting abilities as the foundation coverage held up quite well.
Final Verdict
Hopefully from my photos it was easy to see that the Althea Petal Velvet Powder clearly wins in shine control, whereas the Laura Mercier Translucent Setting Powder is better at setting makeup. I do believe the Althea powder's ability to set makeup well was compromised by its puff, as I've noticed less issues when applying the powder with a brush. I'm also on the fence about the inclusion of mica, as it seems to make the skin appear shiny in certain lightings, it's almost like I applied a super subtle highlighter all over my face. Luckily this only seems to be an issue when the light hits my face directly.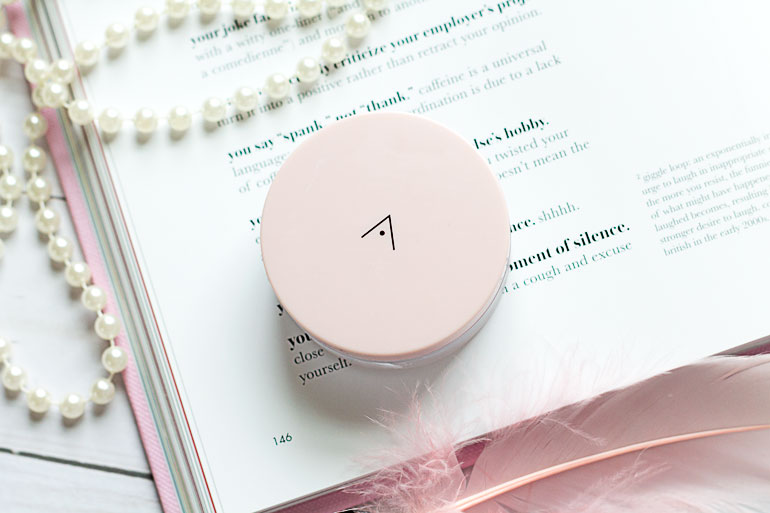 So which powder should you get?
If you're looking for oil control without any caking, go with the Althea Petal Velvet Powder, but apply with a brush instead of the included puff.
If you want better makeup setting abilities and don't mind paying more, you might enjoy the Laura Mercier Translucent Setting Powder.
And of course, the final scoring for the Althea Petal Velvet Powder:
Packaging
Application
Finish
Performance
Price
This powder isn't without its flaws, but for $4.50, you honestly can't beat the value. While I've been happy using the Laura Mercier powder previously, I've found myself reaching for the Althea powder more now when I'm looking for a matte finish, and then setting with the MAC Fix+. If you already have a powder you love and swear by, the Althea Petal Velvet Powder might not wow you in anyways, but if you're still on the search or you're looking for something super budget-friendly, definitely give this one a try!
Hope you all enjoyed this review, and let me know if you've tried any of these 2 products, or if you have another favorite powder that you swear by!