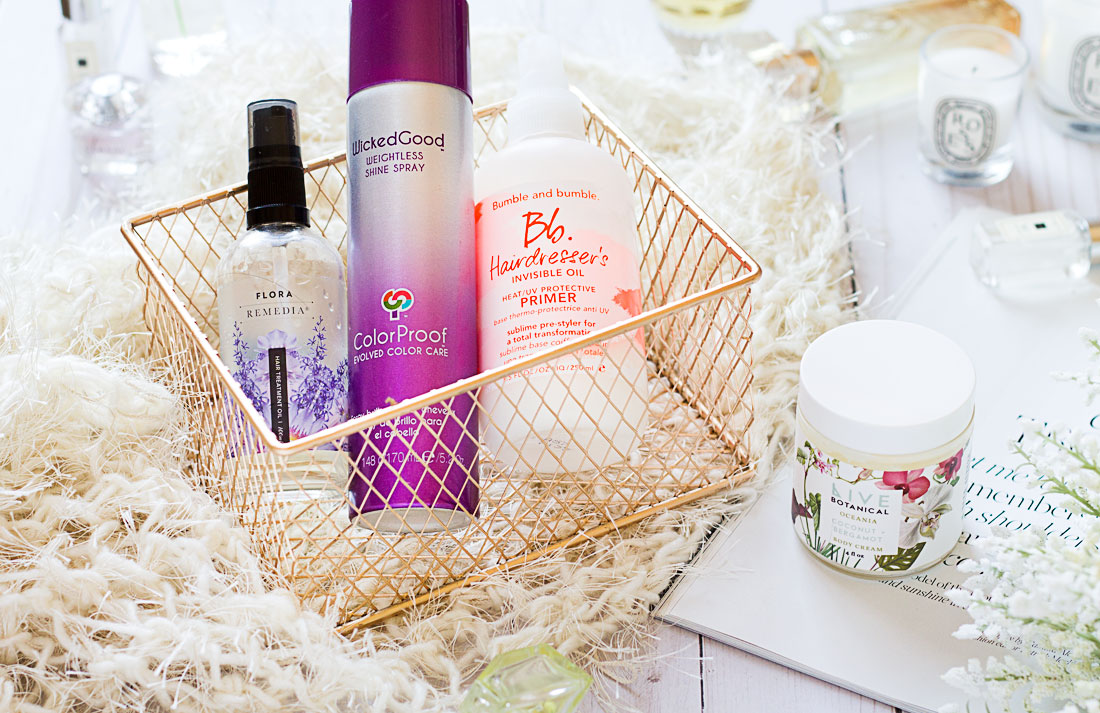 Last updated on September 24th, 2018
I don't have the best luck when it comes to hair care products. Of the countless products I've tried to date (and that's a lot), only a few have really stood out for me and made me go WOW in a good way. By the end of  2017, I've finally discovered enough great products to put together my first annual (albeit 1-month-late) hair care favorites roundup!

Bumble & Bumble Hairdresser's Invisible Oil
First of all, this smells amazing – sweet but not overbearing. Next, it's light yet incredibly nourishing, meaning it smoothes and shines without weighing down my fine hair. Let's keep the greasy hair look in the 80's along with all the tragic fashion choices of the decade. Anyways, what I mean to say is that this oil is amazing and imo, much better than the Macadamia Healing Oil (old favorite) and Moroccanoil Treatment.
You also can read my full review here.
$40 for 3.4oz/100ml at Sephora, Net-a-Porter →

Bumble & Bumble Hairdresser's Invisible Oil Primer
I love how multipurpose this is. It detangles, smoothes, heat protects, and UV protects! Unlike other heat protectants, this one doesn't leave my hair crunchy or stringy, just soft and smooth as if I didn't just burn it with a 300° rod. It also has the same yummy scent as the oil, but a tad fainter. This is a must have whenever I blow dry or heat style, as well as a travel essential due to its versatility.

Colorproof WickedGood Weightless Shine Spray*
I will say the B&B Finishing Spray came very close, but this one won due to the insane shine it gives with just a few spritz. And not to sound 10, but it smells like grape soda! Definitely spray this sparingly as too much can make your hair look oily. But like I said, just a few sprays is really all you need for smooth lustrous locks.

Sachajuan Hair Repair
I've never been so in awe of a hair mask…until this. While it feels very light, more like a conditioner than a mask, it left my hair soooo friggin soft and smooth after blow drying that I didn't even need the above shine spray. My hair was at its peak condition when I used this, and now that it's gone I really miss it. I'm not a fan of the smaller bottle though, it reminds me of those unfortunate ketchup bottles where you had to slap the bottom until your hands were raw only to get 2 drops of product. Granted this only happened when it was almost empty, but I'm definitely going with the larger pump dispenser next time.
← $30 for 250ml on Beautylish, $28 on CultBeauty, $33 on Dermstore
(Dermstore has frequent 20-30% sales, so buy this then!)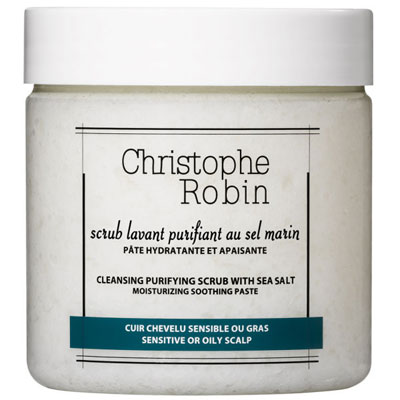 Christophe Robin Cleansing Purifying Scrub
This is such a wonderful deep cleaning shampoo. It has sea salt to help gently exfoliate the scalp (just don't rub too hard) and my scalp and hair always feels so fresh and fluffy afterwards! Now this does contain SLS so I would definitely it to a weekly or even bi-weekly treatment depending on how oily your roots get or how much products you use in your hair. It's a bit pricey, but honestly the tub will last you forever…I've had mine for 1+ year!
$53 for 8.33oz at Sephora, Space NK or $19 for 2.7oz at Sephora →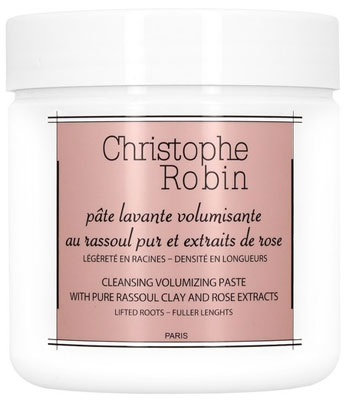 Christophe Robin Cleansing Volumizing Paste*
Most volumnizing shampoos contain SLS and leave my hair straw dry, but this one does neither. It has a goopy texture, lathers beautifully, and gives me volume without stripping my strands dry. It's also great for oily scalps as it contains rassoul clay to absorb the oil while rose water and baobab extract soothe and protect the skin. Now scooping a blob of this out of a jar isn't the most elegant experience, but I imagine it'd be quite hard to squeeze this out of a tube as the texture is quite thick. Nonetheless, it works, my hair is happy, and I'm happy.
← $53 for 8.5oz/250ml at Sephora, Look Fantastic
Flora Remedia Lavender Hair Oil*
I'm a big scalp oil fan ever since my hair stylist in Taiwan told me all about their benefits, and this one by Flora Remedia is the best one I've tried to date. It contains some great oils to soothe the scalp and stimulate hair growth, and I always notice less hair in my showers drains whenever I've used this! It also has a calming lavender scent, so massaging this into your scalp becomes an extra-therapeutic experience (or at least for me).
$40 for 100ml at Free People or $30.99 from Flora Remedia →
Live Botanical Oceania Body Cream*
So I already did a body care favorites post a while ago, but then this gem came into my life and knocked my socks off. It's made of rich shea butter, coconut oil, and the most delicious blend of essential oils, which makes this more like a balm than a traditional body cream as there are no emulsifiers. How a "green" product can smell like lemon meringue pie, I'll never know but I'm all for it. Plus it feels so luxurious on the skin. Imagine the most lovely balm or oil you've applied to your face, except now it's on your body. Literally an orgasm for the nose and skin if there ever was one. Also, its ingredients are about as clean as body care products get, many of which are organic. So much win in one lovely jar.
For those who prefer a more grounded or herbal scent, they have the NW Rainforest Body Cream, which sounds equally as lovely!
← $28 for 4oz or $12 for 1oz at Live Botanical
As you can see, this isn't a long list like my previous 2017 favorites, and that's because I'd like to keep my hair care routine as low maintenance as possible. I already spend so much on skincare so something else has got to give right? It helps that I don't use, or really know how to use, any styling products as those can really add up. I suppose adding a dry shampoo and hair spray in my collection wouldn't hurt, but this girl is too lazy so if you have any recommendations do let me know!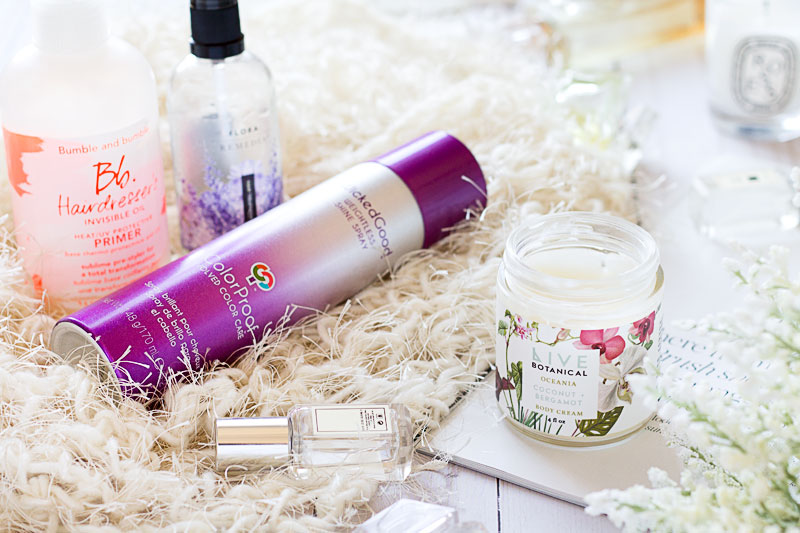 Now in addition to my favorites, I also want to share some duds I came across this past year, because lbr, negative reviews are 100x more fun to write. Presenting…
Disappointing hair products of 2017
Not to talk trash about any of these brands, but these products just didn't work out for me, and that's life for you.
Nioxin 4 Set for thinning hair – I already hated on the scalp treatment in my last empties, but I just want to add that the shampoo and conditioner blows just as much ass. They did absolutely nothing for my hair, though I will say, the mint chocolate chip scent is nice but that's about it.
ColorProof BioRepair-8 Stem Cell Scalp Serum* – Ugh what a tease, though I should know better when a product claims to use stem cells…that's NOT how stem cells work people! Anyways, this also did absolutely nothing in terms of hair growth and I feel like my scalp actually became unbalanced over the course of using this! Sad.
L'Oréal Elvive Color Vibrancy Repair and Protect Balm* – I had hoped this would revive my love for drugstore products, but nope. Another classic case of doing the absolute least, my hair felt like I didn't use a conditioner or mask at all. Someone recommended using this as a shaving cream instead, so I'll probably do that. At least I'll have some shiny ass leg hair?
I feel like there should be more disappointments, but I think many were samples that I tossed after one use. Out of sight, out of mind right? Anyways, I hope you guys enjoyed this post and let me know what hair care products you're currently loving!
Did you enjoy this post?
I share first impressions, product comparisons, and more skincare tips regularly on Instagram! Learn about products first and get a bonus dose of daily fluff! 😸
Follow Now