I don't have the best luck when it comes to hair care products. Of the countless products I've tried to date (and that's a lot), only a few have really stood out for me and made me go WOW in a good way. By the end of 2017, I've finally discovered enough great products to put together my first annual (albeit 1-month-late) hair care favorites roundup!

Bumble & Bumble Hairdresser's Invisible Oil
First of all, this smells amazing – sweet but not overbearing. Next, it's light yet incredibly nourishing, meaning it smoothes and shines without weighing down my fine hair. Let's keep the greasy hair look in the 80's along with all the tragic fashion choices of the decade. Anyways, what I mean to say is that this oil is amazing and imo, much better than the Macadamia Healing Oil (old favorite) and Moroccanoil Treatment.
You also can read my full review here.
$40 for 3.4oz/100ml at Sephora, Net-a-Porter →
As you can see, this isn't a long list like my previous 2017 favorites, and that's because I'd like to keep my hair care routine as low maintenance as possible. I already spend so much on skincare so something else has got to give right? It helps that I don't use, or really know how to use, any styling products as those can really add up. I suppose adding a dry shampoo and hair spray in my collection wouldn't hurt, but this girl is too lazy so if you have any recommendations do let me know!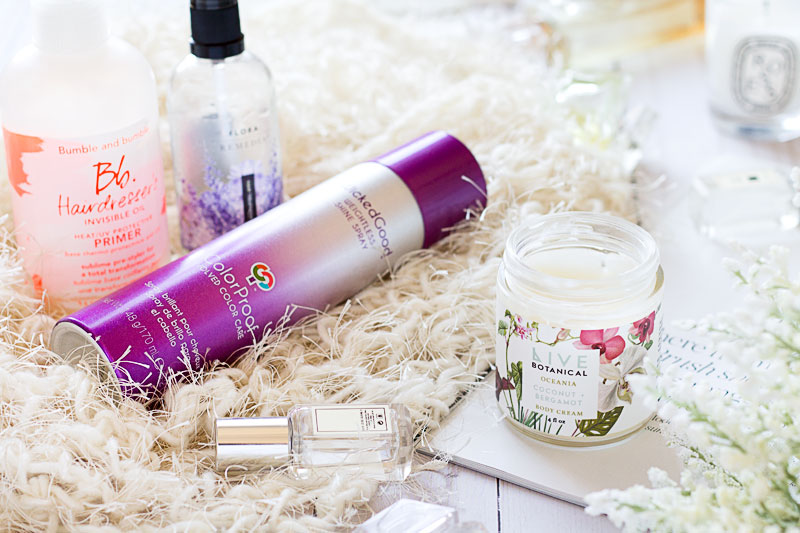 Now in addition to my favorites, I also want to share some duds I came across this past year, because lbr, negative reviews are 100x more fun to write. Presenting…
Disappointing hair products of 2017
Not to talk trash about any of these brands, but these products just didn't work out for me, and that's life for you.
Nioxin 4 Set for thinning hair – I already hated on the scalp treatment in my last empties, but I just want to add that the shampoo and conditioner blows just as much ass. They did absolutely nothing for my hair, though I will say, the mint chocolate chip scent is nice but that's about it.
ColorProof BioRepair-8 Stem Cell Scalp Serum* – Ugh what a tease, though I should know better when a product claims to use stem cells…that's NOT how stem cells work people! Anyways, this also did absolutely nothing in terms of hair growth and I feel like my scalp actually became unbalanced over the course of using this! Sad.
L'Oréal Elvive Color Vibrancy Repair and Protect Balm* – I had hoped this would revive my love for drugstore products, but nope. Another classic case of doing the absolute least, my hair felt like I didn't use a conditioner or mask at all. Someone recommended using this as a shaving cream instead, so I'll probably do that. At least I'll have some shiny ass leg hair?
I feel like there should be more disappointments, but I think many were samples that I tossed after one use. Out of sight, out of mind right? Anyways, I hope you guys enjoyed this post and let me know what hair care products you're currently loving!