Earlier this year I mentioned that one of my goals was to take better care of my body, because how ridiculous would it look if I had bright smooth skin on my face but dull rough skin everywhere else? To prevent remedy (too late for prevention sadly) the situation, I'm sharing some of my current favorite body care products to take care of my skin from the neck down.
Yep, gone are the days where my only body care product was my body wash (seriously, even my husband used lotion), though much like my skincare routine, I still prefer to keep things on the simpler side. That's not to say I don't prefer a bit of variety, because I definitely get bored if I have to use the same product every time.
Honeyce Honey Oil Body Wash (500ml)
I fell in love with this after trying a sample in Japan. It has a most scrumptious honey + fruity scent, lathers well, and makes my skin feel clean but not stripped. Honeyce also has a creamier "Milky Honey Body Wash" that would work well for drier skins, plus an entire hair care range that I'm sure smells just as yummy.
Rituals Ritual of Sakura Softening Rice Scrub*
I raved about this entire Rituals range and this scrub in particular has been my go-to when I do remember to exfoliate my elbows or feet. I like that the granules aren't too rough, but still strong enough to leave my skin feeling baby soft. Plus it has this sweet + floral fragrance that I just go weak at the knees for.
Seed Phytonutrient Body Moisturizer*
Seed Phytonutrients is an upcoming brand that's based in Pennsylvania, USA and sources all their seed-based ingredients from local organic farmers! Their products won't be available until 2018, but I was lucky enough to receive a sample set and omg, everything smells amazing!
The body moisturizer is of light-medium weight and absorbs almost immediately, leaving the skin feeling soft, silky, and not one bit sticky. It's main fragrance is teakwood, which to me has a spicy woodsy scent to it
Nivea Whitening Lotion
With all the brightening products available for our face, you'd think that there'd be body care equivalents, but not in the US. Luckily I make sure to haul a couple of this brightening moisturizer every time I go back to Taiwan – it's light, non-sticky, and contains vitamin c to help even our skin tone. This is what keeps my arm & legs from looking 10 shades darker than my face.
$33 on eBay or $16 on Alaso ←
(Alaso offers free worldwide shipping for orders $100+)
Crabtree & Evelyn Pear & Pink Magnolia Body Souffle*
Richer than a typical lotion but lighter than a body butter, this body souffle is a dream to apply. For one it has that fruity + floral scent combo that I love, without being too sweet, artificial, or in your face. And goodness that texture, it's one of the most luxurious body moisturizers I've ever used, absorbs quickly, and leaves my skin soft and plump. The scent dissipates once applied, so feel free to layer your perfume/body mist of choice over this.
→ $36 on Crabtree & Evelyn
Naruko AM+PM Super Triple HA Hydrating Souffle*
Even though this is also called a souffle, it's much richer and heavier. I was not a fan of this for my face, but as a foot cream, it works wonderfully. My dry heels need all the moisture and nourishment they can get, and this souffle does just that. For those with dry/sensitive skin, you can use this on both your face and body thanks to the large jar. A little goes a long way with this one!
$29.99 on Naruko →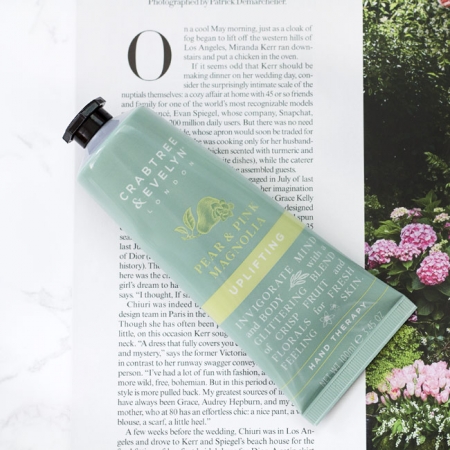 Crabtree & Evelyn Pear & Pink Magnolia Hand Therapy*
I've been a fan of Crabtree & Evelyn's hand creams since high school. They're rich, nourishing, and don't leave a weird film on the skin, so it's exciting to see them release new scents for this classic product. This one shares the same pleasant fruity + floral scent as the body souffle, and I just love how this makes my hands feel: baby bottom soft! The twist tube can be difficult to use when your hands are moisturized though.
← $20.50 on BeautyExpert or $24 on Crabtree & Evelyn
(free worldwide shipping on BeautyExpert, buy 2 get 1 free on C&E)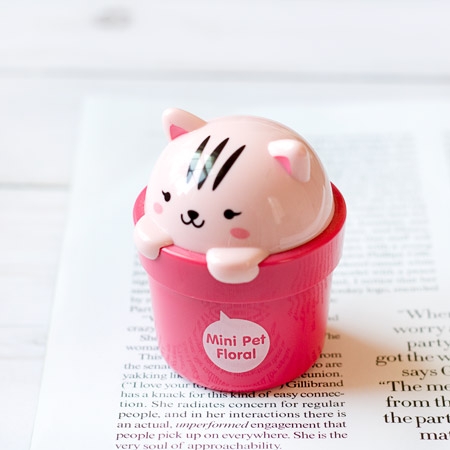 The Face Shop Mini Pet Hand Cream (floral)
So I definitely bought this for the packaging, but I was pleasantly surprised at how well it worked too! It moisturizes well enough and leaves my hands feeling soft without leaving that icky film-like feeling behind. It's like a lighter version of the Crabtree & Evelyn hand cream.
This comes in 4 different versions and the floral one here has an nondescript floral scent. Not my favorite scent in the world, but pleasant enough.
$8.01 on YesStyle →
While these are my current favorites, I do have a few products I really enjoyed using and plan on repurchasing when I do finish my current stash:
Kiehl's Creme De Corps Soy Milk & Honey Whipped Body Butter – Honestly the name sells itself, but in case you aren't convinced, omg this smells so yummy and comforting, not to mention it feels so luxurious on the skin. If you love the original but are a scent-fanatic like me, you need to try this one.
Soap & Glory Sugar Crush Body Buttercream – Another deliciously scented product if you're all about smelling like dessert (I am!). It has a stronger fragrance and is more affordable than Kiehl's, but doesn't feel quite as sumptuous applied.

In case you can't tell, I'm big on scents in beauty products, especially body care. As long as it's a scent I love, bring it on, I'll never complain about it being too strong. Scent and texture are two key things I look for in body care, because it's equally about the results as it is about the application experience. This is a big reason why plain drugstore lotion just doesn't cut it for me, not that they're bad by any means, I just find them really boring to use ¯\_(ツ)_/¯ #firstworldproblems
Do you see any of your favorites in here? Let me know what your go-to body care products are in the comments! Lastly, how do you guys like the new post layout? Yay? Nay? Let me know!