For someone who's obsessed with skincare, it's sad how little attention I pay to the skin on the rest of my body. Can you believe I didn't apply body lotion regularly until a few years ago? I know, for shame. Well all that's changing now with the Rituals Ritual of Sakura body care collection.
Intro to the Rituals brand

Rituals believes that "happiness can be found in the smallest of things" and they've developed each of their products to help transform your most mundane everyday routines into something luxurious. From their exquisite scents to quality ingredients to chic packaging, no small details are missed. The best part of all this is that their products are affordable – because everyone deserves a little luxury in their lives.
Intro to the Ritual of Sakura collection

Each of Rituals' collections are inspired by Eastern traditions, and of course this collection is inspired by the Japanese' celebration of cherry blossoms in springtime. The blooming of these flowers symbolize new life, and Rituals has combined the sweet scent of cherry blossoms with nourishing organic rice milk to make each day feel like a new beginning.
I'm all about adding a little luxury to my everyday life, especially when it's affordable! As soon as I saw the products and started using them, it was clear how much thought went in to each one – from the scent to the texture to the packaging, everything was just so lovely! Here are the products I've tried so far: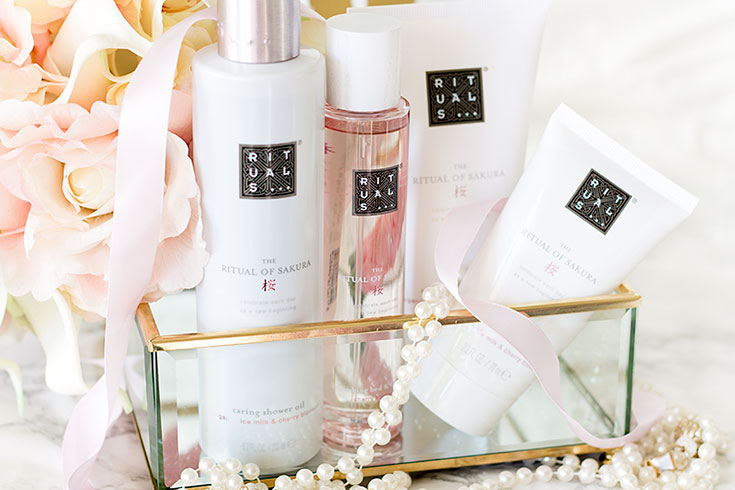 I don't know about you guys, but for me, the most important thing when it comes to body care is scent. I mean, who doesn't like smelling good? It's a shame that some brands have a skewed perception of what good smells like. ಠ_ಠ
The older I get the more I gravitate towards elevated fragrances rather than one-tone scents. At the same time, I'm still drawn to the same family of scents, and Ritual of Sakura is exactly what I'm looking for – sweet, feminine, and light. It feels like spring each time I apply the products, and by layering them on, the scent can last an entire day. Thanks to Rituals, my body care routine is now just as enjoyable as my skin care routine – maybe even more thanks to the amazing fragrance!
If you're interested in trying out Rituals or specifically the Ritual of Sakura collection, you don't want to miss out on the Glossybox x Rituals limited edition box: for just $25 (or $30 for non-subscribers), you get the above 5 full-size products from the Ritual of Sakura collection. For those of you that can't or won't do the math, that's $61 (or $54) saved (the body cream included is a smaller size, hence the retail value is lower)!
In case you're not a fan of sweet floral scents or you're not looking for more body care products, Rituals carries other collections (all equally inspiring) and product lines as well. I've heard amazing things about their candles and their skincare products, and those are on my wishlist to try out in the future.
Let's chat!
Have you tried Ritual products before? If so, which are your favorites?
I really should invest more in taking care of my body, so please share some of your favorite body care products with me!
Lastly I want to let you guys know how much I appreciate each comment – thank you so much! You have no idea how much your words brighten my day :) Have a beautiful week everyone!