It's that time of the year when I start doing my favorites series, and this year I decided to include a new category: non-beauty lifestyle favorites! Yes I know this category is ridiculously broad and includes a bazillion products, so you know if something is listed here it's pretty friggin' awesome.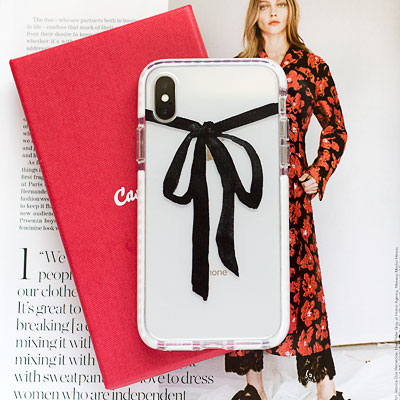 Casetify Impact iPhone X Case
Since I'm clumsy af I wanted a really sturdy but still cute case for my iPhone X, and luckily I found it on Casetify. They have thousands of cute designs to pick from, and different case styles for different levels of clumsiness. I chose the highest level of protection, and despite its sturdiness it didn't feel too bulky.
Also I'm obsessed with the minimal bow design, it works so well against the otherwise ugly ass X back (why can't it come in gold??), but honestly you're bound to find a design you love on there. Shipping can take a while since these cases are made to order, but totally worth it imo!
$45 on Casetify →
Use my invite link and get $10 off your first order!

Swarovski Crystalline Stardust Rollerball Pen
God I know this is so bougie and extra, but I like and want nice things, so #sorrybutnotsorry. While I'll never invest in a $600 Mont Blanc Pen, I did buy a rollerball pen from Swarovski and ugh it's divine. It has a very smooth writing experience and the ink dispenses evenly, making this my favorite pen to write with, and I own a bunch of ballpoint and gel pens. Oh and who can resist the rose gold + Swarovski crystals combo? Not me.
If you're looking for something equally beautiful but less expensive, Swarovski's ballpoint pens are lovely as well, though I feel like their writing experience is very average.
← $65 at Swarovski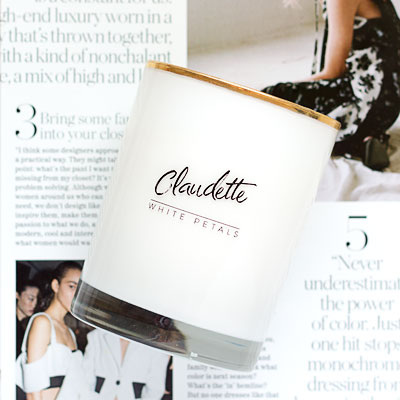 Bijou Claudette Soy Candle*
Hello, white + gold (yes the rim is actually dipped in 22k gold) is literally my aesthetic weakness! Seriously how luxurious does this candle look? Claudette is a beautiful soft scent with notes of lily, jasmine, tuberose, vanilla, and musk – a must have if you love florals. It's also soy based, meaning it burns 3 times longer than traditional paraffin candles.
In terms of quality, looks, scent, and price, Bijou candles really hit the sweet spot. It doesn't mean I'll stop burning my Diptyque candles, but it also means I can stop burning holes in my wallet to satisfy my candle obsession. These come in 8 other amazing scents, all named after old Hollywood actresses, that I plan to pick up once my candle stash runs low!
$29 on Bijou →
(use code geekyposhe15 to get 15% off your order!)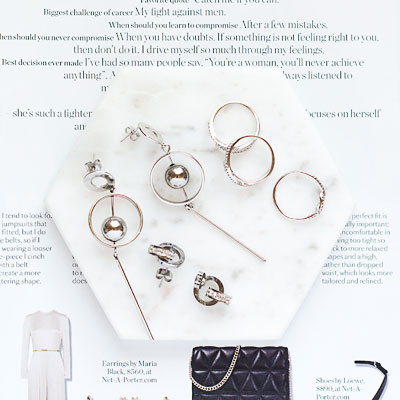 4xtyle Jewelry
I've really been into more minimal and dainty jewelry ever since I bought some during my Seoul trip last year. So when I found the Korean brand 4xtyle carrying exactly what I was looking for at super affordable prices, I took a change and placed a ridiculously large order. Luckily the odds were in my favor and the pieces were all of fantastic quality (except one).
I ordered mostly earrings and rings, and when I'm in the mood to keep things simple, I always reach for my 4xtyle pieces first. If you're a K-drama fan they also carry styles worn by actresses on the shows!
← $6-$15 on 4xtyle
(ships worldwide, though shipping is based on weight, hence why I placed a single large order)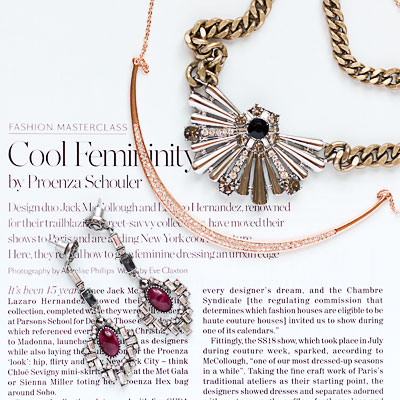 Chloe & Isabel Jewelry
If 4xtyle is my go-to for minimal chic, Chloe & Isabel is my first choice for making a statement. I've always shied away from large statement jewelry because I feel like they can look cheap and tacky, but C&I jewelry are anything but. They're extremely well made, beautifully designed, and I always get compliments when I wear their necklaces or earrings.
Oh and their customer service is outstanding – if your jewelry gets damaged through no fault of your own, they'll replace it for free!
$30-100 at Chloe & Isabel →
(free US shipping for order $100+ and earn 15% reward credit with every order. Also ships internationally)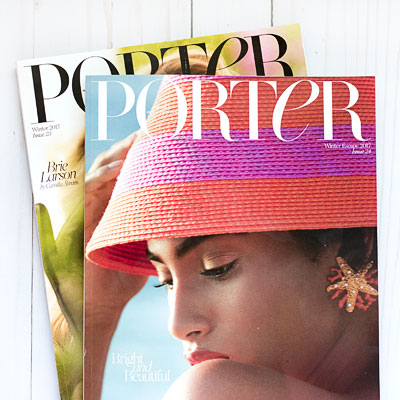 Porter Magazine
I can't remember the last time I paid for magazine subscriptions, but these are worth every penny. The editorials are wonderful and aesthetically pleasing, and unlike other magazines you aren't bombarded with irrelevant ads every other page ????
If you're a regular Net-a-porter shopper, hates ugly ads, or just want a high quality magazine that covers topics from fashion to beauty to contemporary issues to travel and everything in between, I highly recommend Porter. Plus get a free The Lancer Method Polish (worth $75, Rowena reviewed it here) with your subscription!
$25/year for 6 issues at Porter
Celestial Silk 100% Silk Pillowcase
A silk pillowcase is a must have to prevent frizzy hair and sleep creases, but uh, no way I'm paying $79 for something I can get a half the price. Celestial Silk carries both 19 and 25 momme pillowcases, and I went with the latter. It feels thick, sturdy, but still soft and smooth as you would expect from fine silk.
I have bought other silk pillowcases from other brands, and the difference between those and Celestial Silk's is immediately noticeable, so I would only recommend this particular brand. Stock photo only because mine is currently in the laundry basket ????
$34.95 on Amazon →
I thought about including my bags or even shoes and clothes in this roundup, but then this list would get out of control in both number of items featured and cost per item (because I like expensive bags + shoes and I cannot lie ???? ), so I'll end things here. Hope you enjoyed this roundup, and I'll be sharing my 2017 skincare, hair + body, and makeup favorites very soon! Have an amazing week ahead!
PS. Have you read my 2017 in review – favorite beauty discoveries post yet? There's a surprise for you guys at the end!