Are you obsessed with candles? Same here, same here.
I wrote a candles roundup post years ago featuring several well-known brands in my collection, but I've since discovered so many lesser-know candle brands that are just as, if not better. Here are my top 5 picks:
Fvith Velvet Moon
If you love the aesthetics of Byredo Candles but find them too pricey, Fvith is an incredible alternative with a great selection of more unisex fragrances. Tunnels evenly and the throw will fills the entire floor of my home.
Velvet Moon smells like a decadent chocolate cake, just a hint of sweetness with a lot of creaminess. A totally delicious scent that's more elevated than your usual gourmand candles.
→ $45/8.5oz or $24/2.4oz on Fvith and Candle Delirium
Otherland Cardamom Milk*
Can we just appreciate their whimsical designs and beautiful jars? No wonder they're an Instagram favorite. They have a core collection but release seasonal LE candles that are absolutely worth it.
For fall and winter, I highly recommend Cardamom Milk. It smells like a creamy chai latte that fills the entire room, so cozy and comforting, not to mention it'll look beautiful in any space. Keep reading for a giveaway!!
→ $36/8oz or $89/3 candles on Otherland
Tribal Candle Co Aida
A black-owned candle brand with the most beautiful packaging! The scents are the opposite of Fvith – soft, airy, and feminine. Throw is a little weaker, but still good enough to fill up a bedroom!
Aida is my favorite and she is springtime in a jar! A light floral with notes of water lily and peony, very delicate and pretty, which is signature of all their scents.
→ $34/10oz on Tribal Candle Co
The 125 Collection
If you like your candles sassy and cheeky, you need to check out this Black-owned brand's extensive collection. Currently I'm counting 69 different designs you can pick from!
What I love about them is their ability to mix the different candle jars with scents of your choice. Currently they have 3 – Metallic Rose, Lavender & Sage, and Spicy Blood Orange, but they should be bringing back my favorite Vanilla + Tobacco for the fall/winter.
→ $35/10.5oz on The 125 Collection
Soohyang Boy's Neck
Beautiful pink + white aesthetics aside, it also comes in the prettiest pink box that is 100% worth keeping. Plus the candle itself burns cleanly with a throw that works in medium or small spaces.
Boy's Neck is not my usual type of of scent but I absolutely love how freshly manicured garden in the summer. It's a green earthy scent, but with a hint of florals, making it a good choice for someone who wants try something more unisex.
→ $52/7oz on Soohyang, Lucky Scent
Project Coax Eucalyptus + White Tea + Bamboo*
If you love a simple minimal design you'll really like the aesthetics of Project Coax. Their scents fit their aesthetics too, serene and spa like. Throw is great for medium smaller spaces, like a bedroom or bathroom.
This particular one definitely smells like a spa and always calms me when I light it. I love using it in the bathroom when I'm taking a bath or in the bedroom when I'm doing a self care session, and it's pure bliss.
→ $32.40/9oz at Project Coax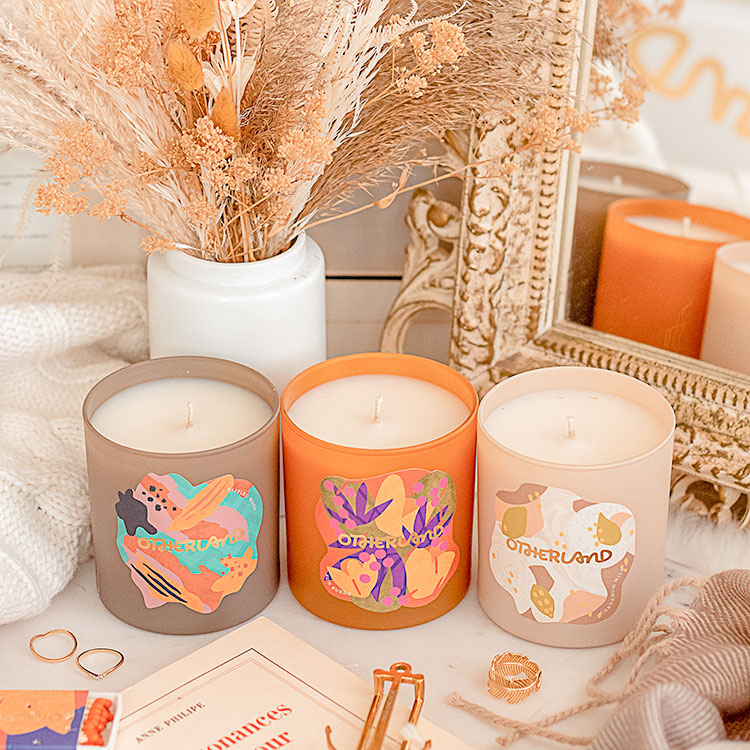 There are a other smaller candle brands I've tried as well but tbh their throw wasn't too great which is why I didn't feature them in this list.
Now if you're curious about the Otherland Cardamom Milk, or any of their candles, this giveaway is for you:
Giveaway alert! Win 3 Otherland candles of your choice, details are on my Instagram!