I adore candles. Not only do they make your home smell good, but they also function as home decor pieces and photo props. It's crazy to think that just a few years ago I was anti-candles (for fear I'd burn the house down) and now I collect them like an old lady collecting cats (something I'm definitely doing when I turn 60). Today's post is a roundup of the candles in my collection and my thoughts on them: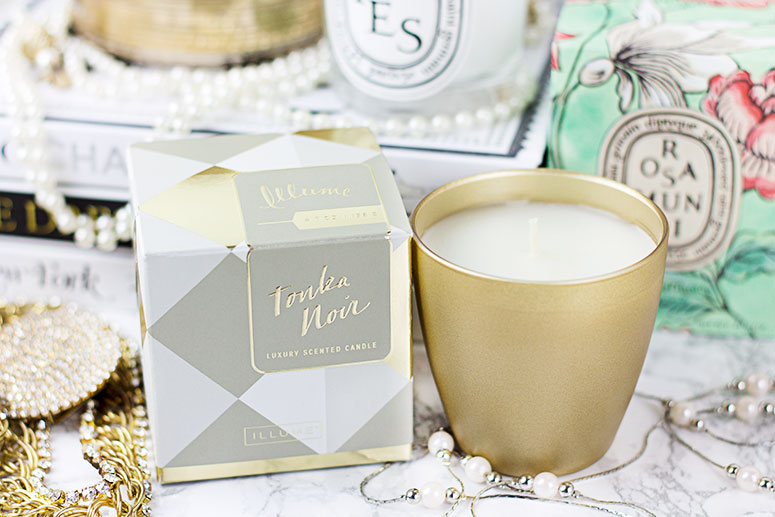 Illume Candles
I fell in love with their Coconut Milk Mango scent (which smells exactly like how you'd imagine it) and have been a fan ever since. Their candles come in various containers, from beautiful tin cans with gold foil to ombre glass jars, so you can really pick a style that suits your taste.
Fragrance

Generally they have younger and more vibrant scents, and they do a great job with the blends. They do have a few more sultry scents like Tonka Noir, which also happens to be another favorite of mine.

Throw

Solid. It's strong enough to fill our main floor (which ispretty much an open floorpan), but not so overbearing that it'll make you nauseous.

Price/Value

Very reasonable when you consider the scent profiles, the throw, and the size. I usually buy directly from Illume as they have frequent sales and

10% off

for first time buyers!
Voluspa Candles
I wrote a whole post dedicated to this brand and how much I adored their packaging. Seriously, their ceramic candles (the tall ones) are so beautiful and unique! Of course, they also have the traditional votive style or 3-wick tins for some serious throw.
Fragrance

I think they're a bit more sophisticated than Illume Candles, which isn't a good or bad thing, it just depends on what your preference is. If you love florals Gardenia Colonia is a must have, and avoid Macaron like the plague. It'll tempt you with its yummy sounding name and pretty pink packaging, and then leave you in tears with its non-distinct smell and half-ass throw. The world is a cruel place.

Throw

Depends on which size you get. The tall ceramic ones have the worst throw, but still good for a bedroom, while the tins have amazing throw (think entire floor) but burns through very quickly.

Price/Value

Slightly more expensive than Illume, but still reasonable. They're available at Nordstrom and Skincare RX, though I'd avoid the latter due to their awful customer service. One of my candles arrived damaged and they were reluctant to do anything about it until I called them out on Twitter.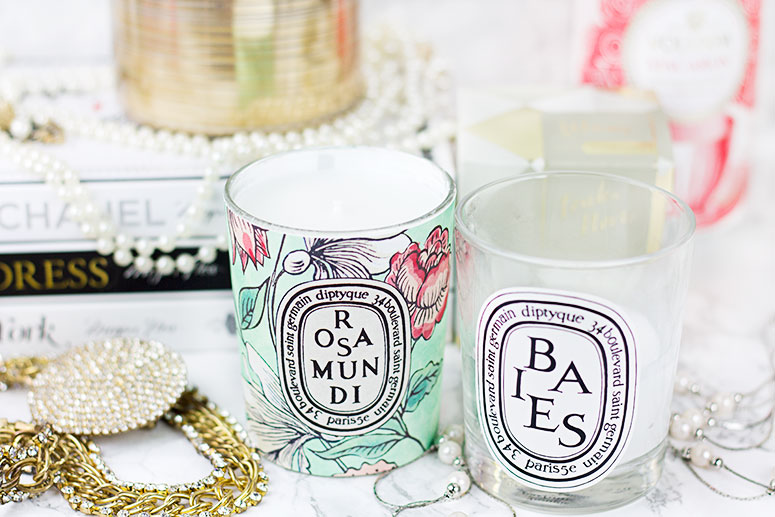 Diptyque Candles
I think my expectations of Diptyque were way too high, because, and please don't hate me for saying this, they were some of the most disappointing candles I've purchased to date. Not because they're bad themselves, but because I expected them to be amazing in every single way, and they just weren't.
Fragrance

I've only tried Baies and Rosa Mundi, and they're both fantastic. They're complex yet elegant – it's hard to pinpoint a single note, but it all comes together in the most beautiful way. I seriously feel so fancy and sophisticated when I light one of these babies.

Throw

Honestly, not as good as I thought it would be. I'd say it's on par with Illume, which is still solid, but Diptyque costs 3x as much. And what good is a candle if you can't smell it? Maybe I got a bad batch? I'm not sure, but this was a huge let down.

Price/Value

My husband has seen me spend money on bags, skincare, and all sorts of nonsense (yes I'm ashamed), but he never lost his mind until I bought these candles. And the worst part is, I accidentally left it burning one night, and when I woke up half of the candle was gone (╥﹏╥)
Other brands I've tried
Bath & Body Works candles – Incredible throw, fun scents, but I get sick of them after a while. Like literally nauseous. Plus I didn't really care for their old packaging, but holy bananas have you seen some of their new candles? Someone is jumping on the marble bandwagon and I'm all for it!
Tocca Feu de Touch – Such a soft and pretty scent with great throw, although the packaging is a bit basic.
Archipelago Magnolia – Another beautiful floral scent with great throw. For me it's on par with Tocca.
Yankee Candles – I bought one from TJMaxx on a whim and while it's not bad, it's not particularly memorable either. I'd pick BBW over Yankee any day.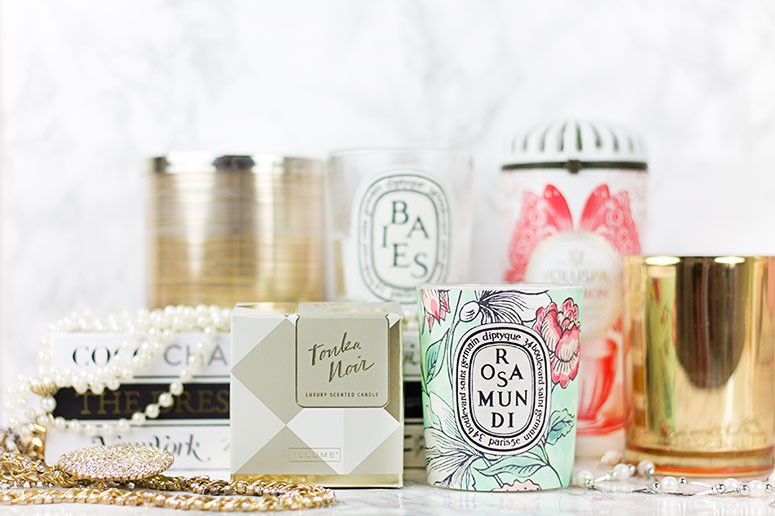 Speaking of TJMaxx (and Marshall's or HomeGoods), be very wary of the candles they carry. Some of them smell amazing in the jar but literally have no throw when you light them. I've gotten 2 duds (both random brands) already and have stopped buying from there.
Overall thoughts
There's a 99% chance I won't buy Diptyque candles again. They're just too expensive and not worth the money in my opinion. I do love their packaging though – they make excellent photo props!
My favorite brand is still Voluspa. At least for now. For me they offer the best value in terms of price, scent, and throw.
Illume Coconut Milk Mango is my favorite scent. It's seriously so yummy without being overly sweet, which is pretty amazing. Plus they come in the prettiest pink packaging!
Target has surprisingly nice candles. I've gotten 2 candles (again, random brands) from there and both had great throw. Maybe I got lucky? Or maybe Target is just amazing like that.
The brands on my to-try list include Rituals, Jo Malone, and Nest Fragrances.
I hope you enjoyed this post, and if you have any candle scents you absolutely love, please do share in the comments below!