My first introduction to snail in skincare is with the famous Cosrx Snail Mucin Essence, and I was instantly sold by how hydrating and soothing it was on the skin. Bonus points for the fun stretchy texture.
Many snail based skincare have hit the market since, including Coxir's entire Black Snail Collagen line that includes everything from toner to eye cream. Today we'll be looking specifically at the star of the line (imo), the Coxir Black Snail Collagen Serum.
Overview
What is it
Contains the ingredients of snail and collagen for protecting skin from dryness by maintaining moisture level and providing luminance to skin.
Best suited for
Anyone who wants to try a snail-based serum but with a little more oomph (ie. copper peptide) and without the stringy texture.
Things to note
Alcohol-free but contains essential oils.
Packaging
A clear plastic pump bottle with a lid.
Scent
A clean zesty scent, almost like grass? Dissipates quickly after application.
Texture
A viscous gel that feels water like as soon as you apply it to your skin. Absorbs almost instantly! Does not have that goopy stringy texture typically found in snail products.
Finish
A natural finish that doesn't feel tacky or sticky. Skin feels smooth and hydrated.
Price & Size
$18.50 for 50ml on Skinhouse Mall, Amazon, YesStyle (use code GEEKYPOSH for 5% off), Stylevana (10% off with SHOPJENNY)
Product Demo
Please disable your ad blocker if you're unable to see the video.
Coxir Black Snail Collagen Serum Ingredients
Snail Secretion Filtrate, Water(Aqua), Glycerin, Butylene Glycol, 1,2-Hexanediol, Glyceryl Acrylate/Acrylic Acid Copolymer, PVM/MA Copolymer, PEG/PPG-18/4 Copolymer, Betaine, Arginine, PPG-26-Buteth-26, PEG-40 Hydrogenated Castor Oil, Carbomer, Allantoin, Aloe Barbadensis Leaf Extract, Hydrolyzed Collagen, Glycine max (soybean) Seed Extract, Sesamum Indicum (Sesame) Seed Extract, Oryza Sativa (Rice) Extract, Panax Ginseng Berry Extract, Ethylhexylglycerin, Adenosine, Leontopodium alpinum extract, Buddleja Davidii Extract, Copper Tripeptide-1, Citrus Nobilis (Mandarin Orange) Peel Extract, Cupressus Sempervirens Leaf/Stem Extract, Hedera Helix (Ivy) Leaf/Stem Extract, Citrus Aurantium Bergamia (Bergamot) Fruit Oil, Litsea Cubeba Fruit Oil, Ribes Nigrum (Black Currant) Leaf Extract
Obviously the star ingredient here is the Snail Secretion Filtrate, which then contains a bunch of beneficial components like glycosaminoglycans (hydrating and supports the collagen and elastin in our skin)1, hyaluronic acid, copper peptides, antimicrobial peptides, and trace minerals like copper and zinc.2 But how do these translate when they're bundled together in snail goo?
A few studies have been done on the overall effect of snail mucin and found that it helped improved the appearance of fine lines after 8 weeks of use.3 They also noticed skin repairing properties when it was applied after a cosmetic procedure.4
Copper Peptide is another ingredient that caught my eyes. In addition to wound healing properties, it also helps break down unhealthy collagen in scar tissues while encouraging normal collagen growth! An old study actually compared the collagen production effect of copper peptide, vitamin c, and retinol, and yep, copper peptide won!5 It also helps increase elastin and glycosaminoglycans producttion, both of which are important for maintaining skin elasticity and hydration.6
Other moisturizing ingredient: Betaine, aloe extract (also soothing), hydrolyzed collagen, glycerin, and arginine (also helps with wound healing)
Other soothing ingredients: Allantoin, sesame seed extract, ivy leaf extract, and adenosine (also helps with collagen production)
Overall a nice blend of ingredients that work together to hydrate and calm the skin while providing a slight anti-aging benefit. If I had to nitpick it'd be the inclusion of fragrance, which takes away from its skin soothing factor.
How to use the Black Snail Collagen Serum
Apply on clean skin, after your toner, first essence, and actives (acids, retinol, or ascorbic acid vitamin c).
Use about 2 pumps and gently apply in an upward, outward motion.
Use a light patting motion to help the serum absorb fully.
Continue to the next step of your routine.
Notes
I also like using this before my LED mask or a sheet mask!
Usage Experience & Results
This serum is exactly what I expected it to be: gentle and hydrating. If you're looking for that juicy plump result instantly, this isn't it. But throughout the past month it still kept my skin balanced in the dry cold air. Because it absorbs so well into my skin, it's almost as if I never applied this extra layer, but my skin definitely notices a difference when I skip this.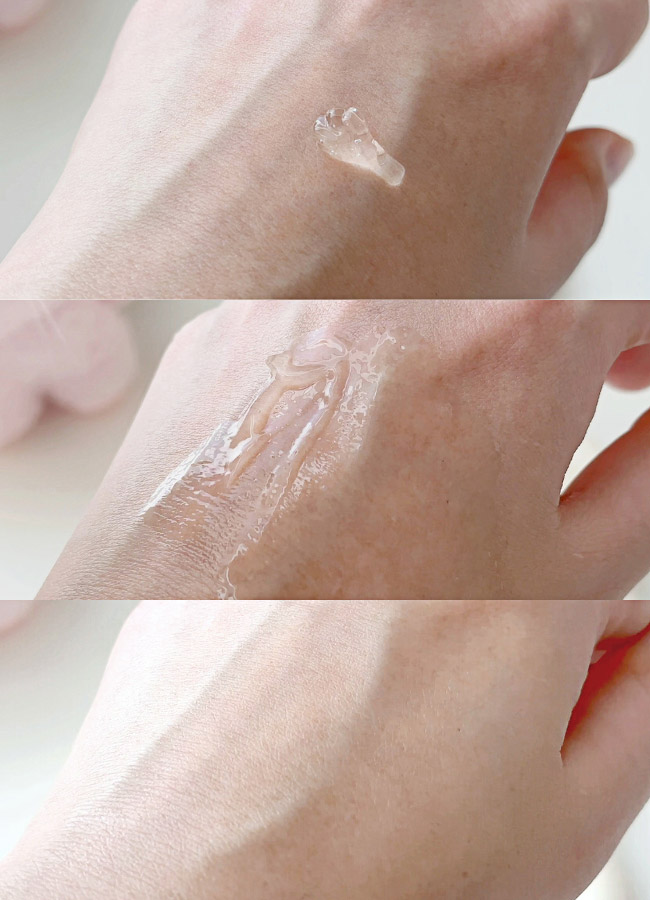 Despite the inclusion of fragrance my skin never felt irritated while using this. However I wouldn't consider this a go-to soothing product either. Like if my skin was feeling irritated from over-exfoliating, this didn't do little to help calm my skin down. But at the same time, I could still use this serum without making things worse.
As a regular retinol and acid user, its hard to if this provided any additional anti-aging benefits. BUT, if you're curious about copper peptides, the Coxir Black Snail Collagen Serum is one of the most affordable copper peptide serums I could find. Even The Ordinary Buffet + Copper Peptide 1% is $30.99! For this reason alone, it's a standout amongst the thousands of hydrating serums out there.
What Others Say
Not sure if it did much, but my skin definitely felt softer, and looked smoother to the eye. Very perfume-y and I've been using it for a few weeks now and I still cannot get used to it.

Renin, YesStyle review
So far my biggest regret in ordering skincare. It did absolutely nothing and the jelly like consistency wasn't to my liking either

Claudia, combination skin, YesStyle review
I really love the smell and that has a really deep hydration formula. It isn't sticky at all and it works well

Sara, combination skin, YesStyle review
Similar Products
COSRX Snail Mucin Essence
This has been one of my go-to serums whenever my skin is irritated, it's so reparative and hydrating (and stringy)! The big bottle means that I can use it on the body too, and is excellent for sun burns (not me, the husband, since he's lazy with sunscreen). On the other hand, you definitely don't get any anti-aging benefits with the COSRX.
COSRX Advanced Snail Radiance Dual Essence
Trades some of the snail goo for other ingredients like niacinamide, hyaluronic acid, and panthenol to seriously up the hydration factor and add some brightening benefits. Again, no potential anti-aging benefits here, so it depends on your needs.
The Skin House Wrinkle Supreme Serum
From the same parent company, but this one focuses more on anti-aging. The ingredients do have some overlap, and they're both hydrating, but you don't get the snail mucin here. For my needs I personally prefer The Skin House.
The Ordinary Buffet + Copper Peptide 1%
Again, no snail here, but if you want to focus on copper peptides and anti-aging in general, this is a popular and still relatively affordable option. This one has a water-like texture and won't feel as hydrating.
Beauty of Joseon Repair Serum : Ginseng + Snail Mucin
Contains 3% snail mucin and some great antioxidants like ginseng, centella asiatica, and skullcap root extract, as well as niacinamide! This one definitely leans more soothing while sacrificing some of the hydration factor.
Final Verdict
Pros
An affordable hydrating serum, especially when you factor in the copper peptide.
Feels gentle and comfortable on the skin with no stickiness.
Easy to layer and include in any skincare routine.
Cons
Includes fragrance, which takes away from its skin soothing potentials
Only hydrating results are noticeable after 4+ weeks of use.
Unknown snail mucin and copper peptide %
Scores & Summary
Ingredients
Packaging
Texture/Application
Performance
Price
In a sea of a thousand hydrating serums that honestly, perform very similar to each other, it's hard for any one to really stand out. While the results of this serum hasn't wowed me, its ingredients have, and it makes me want to keep using this to see if I'll see further improvements with time. Do I think this, or any other snail product is a must have? Not really, but if it's agreed with your skin in the past and you want to try something different, this is certainly one to consider.
Article Sources
To keep my content accurate and trustworthy, I rely on peer-reviewed studies, articles from reputable academic institutions, and quotes from certified healthcare professionals to back my claims. No woo-woo clickbait nonsense here!
"The Health Benefits of Glycosaminoglycans." Verywell Health, 2021, www.verywellhealth.com/glycosaminoglycans-5092414.

"Are Snail Creams Good for Your Skin." Thebeautybrains.com, 2014, thebeautybrains.com/2009/02/are-snail-creams-good-for-your-skin/.

Fabi. "The Effects of Filtrate of the Secretion of the Cryptomphalus Aspersa on Photoaged Skin." Journal of Drugs in Dermatology : JDD, vol. 12, no. 4, J Drugs Dermatol, 2013, pubmed.ncbi.nlm.nih.gov/23652894/.

Truchuelo, M. Teresa, and Maria Vitale. "A Cosmetic Treatment Based on the Secretion of Cryptomphalus Aspersa 40% Improves the Clinical Results after the Use of Nonablative Fractional Laser in Skin Aging." Journal of Cosmetic Dermatology, vol. 19, no. 3, June 2019, pp. 622–28, https://doi.org/10.1111/jocd.13052.

Abdulghani, Ahsan A., et al. "Studies of the Effects of Topical Vitamin C, a Copper Binding Cream, and Melatonin Cream as Compared With…" ResearchGate, Elsevier, Mar. 1998, www.researchgate.net/publication/246049763_Studies_of_the_effects_of_topical_vitamin_C_a_copper_binding_cream_and_melatonin_cream_as_compared_with_tretinoin_on_the_ultrastructure_of_normal_skin.

Pickart, Loren, and Anna Margolina. "Regenerative and Protective Actions of the GHK-Cu Peptide in the Light of the New Gene Data." International Journal of Molecular Sciences, vol. 19, no. 7, July 2018, p. 1987, https://doi.org/10.3390/ijms19071987.