One thing I regret not using sooner? Eye creams. Not all eye creams are thick and heavy, some are surprisingly light yet hydrating, and perfect for those in their 20's just starting out. I'm sharing 6 eye creams in my current rotation, and there's one for every skin type and needs.
One of the most hydrating eye creams I've tried, this one is excellent for day use and keeps makeup from creasing in the eye area. If anti-aging isn't a huge concern for you yet, this is a great option full of antioxidants, humectants, and my favorite ceramides. Unfortunately it does have some fragrances, but it hasn't irritated me at all.
$48 at Sephora
Which eye cream to use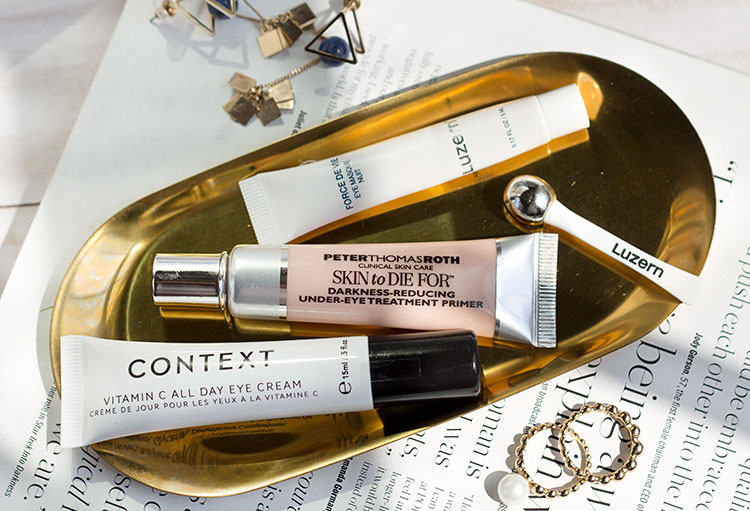 Obviously it's important to pick eye creams that suit your skin type and needs, but from the above eye creams and what I've tried in the past, here are my picks:
If you're on a budget, just make sure to bring whatever serum you're using around your eyes, and use the Nivea Creme to keep the area moisturized.
For serious anti-aging benefits, I like the Paula's Choice Ceramide-Enriched Eye Cream and the Instytutum Eye Cream. Both work well to keep my fine lines at bay.
If you're looking for a beginner eye cream, the belif Moisture Eye Bomb offers excellent hydration with a bit of anti-aging, but the Paula's Choice eye cream will work well too. Neither are too heavy, so perfect for those still in their 20's (jealous).
For combo/oily skin types, you'll love how refreshing the Context Vitamin C All Day Eye Cream feels. The belif one is a bit heavier, but still lighter compared to most eye creams.
For no makeup days, Peter Thomas Roth Skin to Die For Darkness-Reducing Under-Eye Treatment Primer hydrates, brightens, and depuffs. A bit of jack-of-all-trades, master of none kind of situation.
If you're worried about puffy eyes, the Context eye cream works the best for me, followed by the Peter Thomas Roth. Gently massage the eye area with a cool metal applicator or even a spoon to help with depuffing.
For serious dark circles, use any of the above eye creams to properly hydrate your eye area, then apply your favorite concealer lightly to cover it up. Despite what eye creams claim, most dark circles are not due to melanin production, so the usual brightening ingredients can't help you here.
Have you tried any of these eye creams? What are your current eye care picks?