When it comes to shopping for beauty products in Asia, most people think of Tokyo or Seoul. I can't deny the incredible range of Japanese and Korean products available in each respective city, but if you want to buy J-beauty, K-beauty, and T-beauty products, you can't beat the selection and prices in Taipei.
Since shopping is a daily activity whenever I'm back in my motherland, I figured I'd put together a beauty/skincare/cosmetics shopping guide for Taipei so you know exactly where to go to get what you need, and at the best prices!
Drugstore makeup – Watson's
Watson's is probably the best known drugstore in Taiwan, and you'll find them all over Taipei, usually just a few minutes walk from an MRT station. They carry both skincare and makeup, and has the widest variety of brands amongst all major drugstores. Their makeup selection is also the best in my opinion.
The downside is that their skincare range is a bit lacking compared to Cosmed, so if you want lesser known brands you might be disappointed here. But for mainstream brands and products like My Beauty Diary sheet masks, Watson's will do just fine.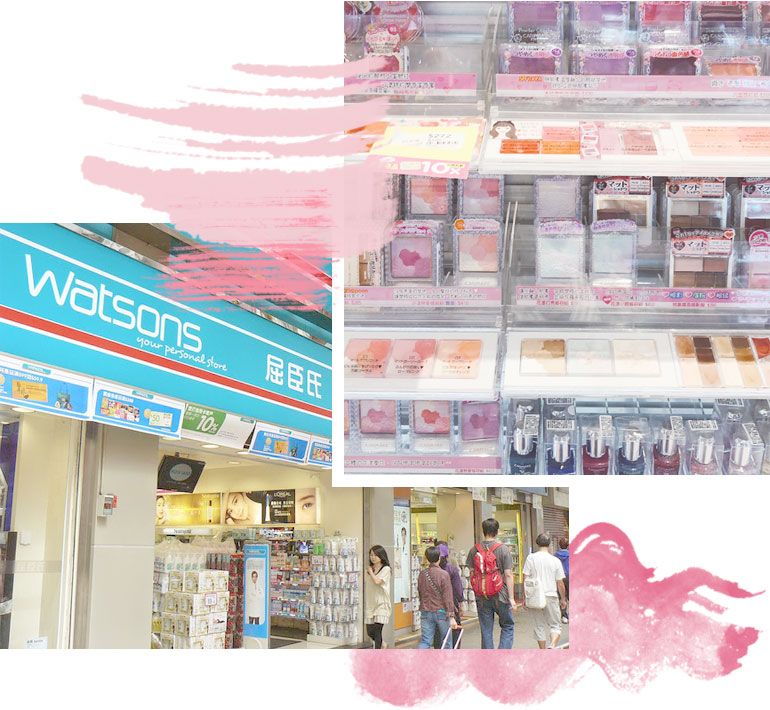 Brands you'll find

Common Western brands like L'oreal, Maybelline, Bourjois, Curel, and Avene but with Asian exclusive products & shades.
Popular Japanese brands like Kate, Canmake, Excel, Visee, Biore, Shiseido, Kanebo, and Sofina.
Popular Korean brands like Missha and A'pieu
Taiwanese brands like My Beauty Diary, My Scheming, Naruko, Dr. Morita, Dr. Wu, Neogence, For Beloved One

When to shop

There are weekly BOGO, 50% off second item, and 15% off select brand sales, but stop by on Saturdays for 23% off those brands.

Best store

They're all pretty great, but the Ximen store is one of the biggest in Taipei, with 5 floors worth of Asian beauty goodies. Plus it's right in Ximending, which is MRT accessible and has plenty of great stores and eateries.
Drugstore skincare – Cosmed
Cosmed is another popular drugstore in Taiwan, and you'll often find one just a few steps away from Watson's. Like Watson's, they carry both skincare and makeup, but their latter selection isn't as good, though they more than make up (pun unintended) their shortcomings in skincare. Not only will you find the same popular brands as Watson's, but you'll also find eco-beauty brands and a much better selection of skincare products.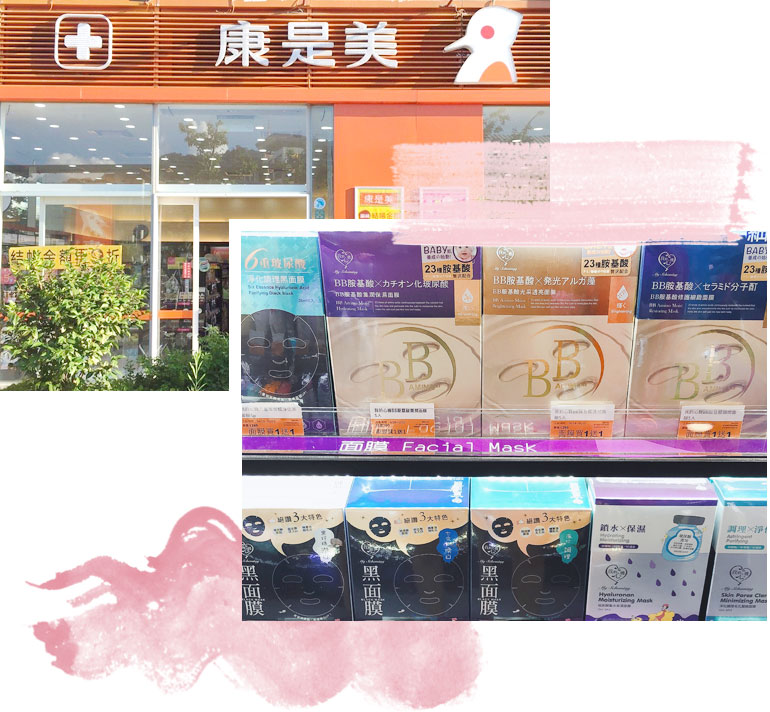 Brands you'll find

Mostly the same Western and Japanese brands as Watson's, but they also carry Tunemakers (Japanese), AHC, holika holika, CLIO (both Korean), Timeless Truth, Kissui, Solone (Taiwanese), Uriage (European).

When to shop

There are weekly BOGO and 15% off select brand sales, but if you're a member (it's free to sign up, so just do it!) you get an additional 10% off makeup, and 3 Sundays a year you get 10% off your entire purchase.

Best store

Most are around the same size, but the tourist areas like Taipei Main Station and Ximending typically have better inventory.
Luxury brands – department stores
There are two major department stores in Taiwan, Shin Kong Mitsukoshi (SKM), and Sogo. There's also BELLAVITA if you're feeling extra bougie and the further away Mirarmar which has a scenic ferris wheel.
No matter which store you visit, you'll find multiple floors of high end fashion, home, and beauty brands, plus the basement food court is filled with delicious eateries (including the famous Din Tai Fung) that puts American mall food courts to shame. You won't find McDonald's or Subway in these places (though they're still quite common in Taipei, and much better tasting than the American versions imo)!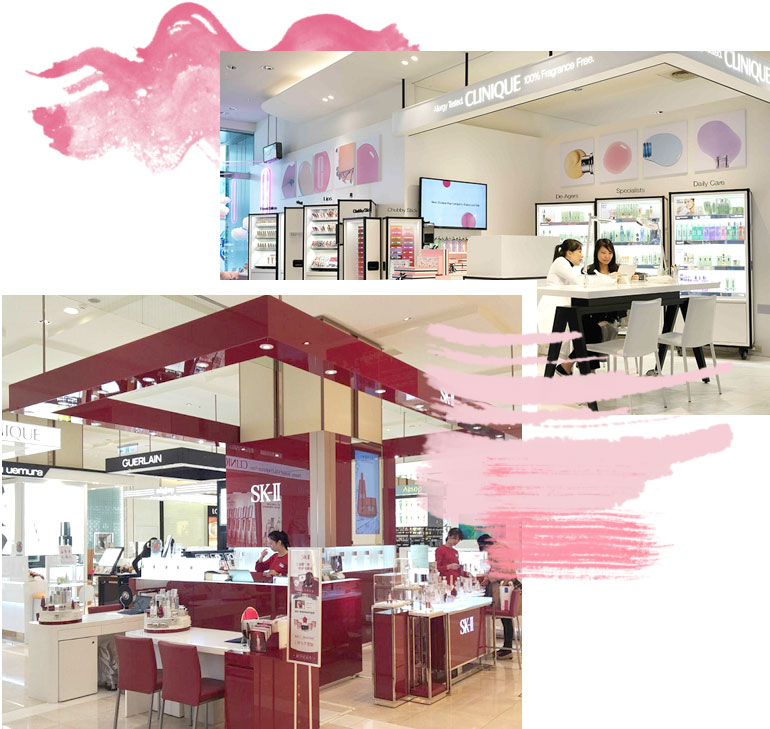 Brands you'll find

Western brands like Lancome, Estee Lauder, Dior, Chanel, and, but with Asian exclusive products and shades
Less seen Western brands like Chantecaille, Cle de Peau, Darphin, Melvita
Popular Japanese brands like Dr. Ci-labo, Fancl, Ipsa, Jill Stuart, Kanebo, Albion, Shiseido, Shu Uemura, Three, and SK-II
Popular Korean brands like Sulwhasoo, Innisfree (apparently they're high end here?), Laneige, and History of Whoo
Taiwanese brand L'herboflore
**Suqqu is only available at SKM Xinyi A8, SKM Nanxi 1, Sogo Zhongxiao, and Sogo Tianmu

When to shop

Department stores run 2 major sales each year: the weeks leading up to Mother's Day (second Sunday of May) and at the end of October/beginning of November. Not only are there fantastic gifts with purchases (I'm talking whole travel sets and sometimes full-sized products), but the more you spend the more discounts you get.
Each department store offers free memberships that give you extra perks, so it's worth signing up if you can!

Best store

I prefer SKM over Sogo, and I like the location in Xinyi and Nanxi. Both are very close to MRT stations, and the Xinyi one is closed to Taipei 101 and W Hotel if you're in a fancy mood. The Nanxi one has a lot of small eateries in the alleys and interesting shops along the road.
Which beauty products to buy in Taipei
With products from 3 countries + exclusive products from Western brands, your options here are pretty much limitless. For an idea of what's trending, you can view UrCosme, which is Taiwan's version of the Japan Cosme listing. But here are my personal recommendations:
Taiwanese sheet masks. Skip the basic MBD flavors (which are available in the US, unless you absolutely love them) and get the Neogence Hyaluronic Acid Hydrating Mask, My Scheming BB Amino Moist series, or SEXYLOOK Enzyme series. I picked up all 3 during my last trip and really enjoyed them. You can also review the ingredients, which are all in English!
Sunscreen. You can find most of the popular Japanese brands available here, frequently with testers so you can check out the textures and finish for your self. Another great one to try is the Neutrogena Fine Fairness UV Fluid, rated one of the top sunscreens by Dr. Chiu.
SK-II. If you're a fan of the brand and you're not going to Japan anytime soon, definitely buy it here to take advantage of the price difference. Example: The SK-II RNA POWER Face Cream is $230 + tax at Sephora, but in Taiwan it's $165, and you get tax back if you're a foreigner. Add to that the 10~15% discount and gwp during sales, you can get the cream for less than $150 plus a ton of deluxe samples.
Suqqu. Unless you plan on visiting the UK or Tokyo, Taipei is one of the few other cities that carry this brand. Price wise it's actually more expensive than the other 2 locations, so get their stuff during the sales.
Tunemakers. If you can find this in store, I highly recommend getting their toner and boosters. Everything I've bought from this brand have been staples in my routine since May.
Canmake. The poor man's Jill Stuart. If you love cute feminine designs, you'll adore Canmake's products. For drugstore prices, the quality is fantastic!
Sofina Primavista Ange Base. My hg primer during the summer when I really need my makeup to last. It blurs out your pores and provides a velvety finish that grabs onto foundation like a drowning person to a life raft. It also brightens and mattifies the skin, but it's not at all drying, perfect for normal/combo/oily skin folks!
Brightening body lotion. It still baffles me why there aren't any brightening body lotions in the US, so I always pick up a few bottles when I'm in Taiwan. I've tried the one by Nivea and Vaseline, and I definitely prefer Nivea's formula. It has a lighter texture and gives me better results.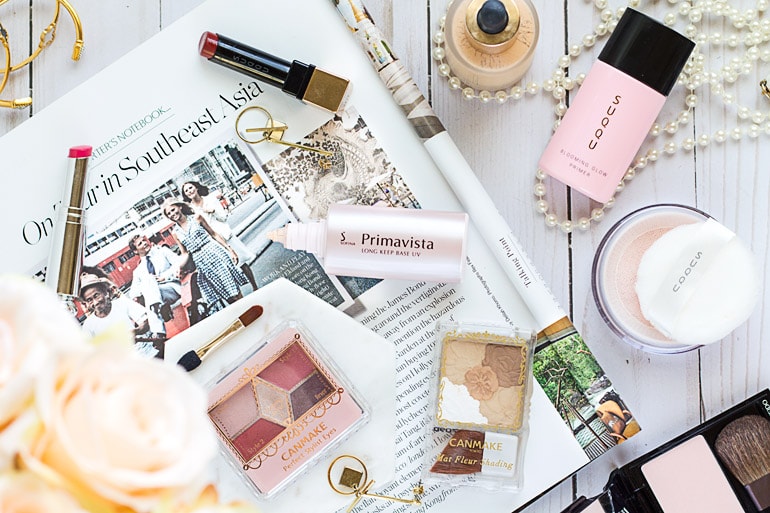 Tax refund shopping!
Taiwan recently included cosmetics as being eligible for tax refunds, so now non-Taiwanese nationals can get a 5% VAT refund on purchases over $2000 TWD (~$65) spent at a given store in a given day. So make sure your purchases add to the minimum at each location, otherwise you won't be eligible for the refunds.
You can always claim your refunds at the airport before you check in your luggage, but some stores (and most department stores) also offer refunds on site. For more info, check out the Taiwan E-VAT Refund site.
Other drugstores in Taipei
Poya – This used to be a members-only store years ago, but I haven't been back since they opened it to the public. Their skincare and makeup range isn't as extensive as Cosmed or Watson's, nor are there as many stores in Taipei, but they also sell other things like home goods, snacks, and stationary. Think of it as the Target of Taiwan.
Tomod's – This chain sells mainly Japanese brands, including less common ones that you won't find in these other stores. It's worth checking out, but I don't find their prices as good as Cosmed or Watson's.
小三美日 – This store is located in Ximending, and they probably have the best selection of K-beauty products of all the stores. Since a lot of Korean brands are readily available online and ship worldwide, I don't think this is a must-visit, unless you want to see the products in person.
I hope you found this guide helpful, and if you have any questions not answered here, please do let me know in the comments below! I also plan on doing a general sight-seeing guide and foodies guide for Taipei soon!