Last updated on August 24th, 2020
Even for a shopaholic like me, between not knowing what to get and fighting the crowd, last minute holiday shopping can be pretty overwhelming.
So why not shop online? See that would've been the smart thing to do, especially during Black Friday/Cyber Monday sales, but let's face it, way too many of us save this task until the last day possible. Given the short timeframe and delivery delays around holidays, it can be dangerous as you risk the gifts not arriving on time or worse, not at all how you expected from those online photos. Mall shopping is probably be your best option at this point, and don't forget, there are benefits to shopping in person!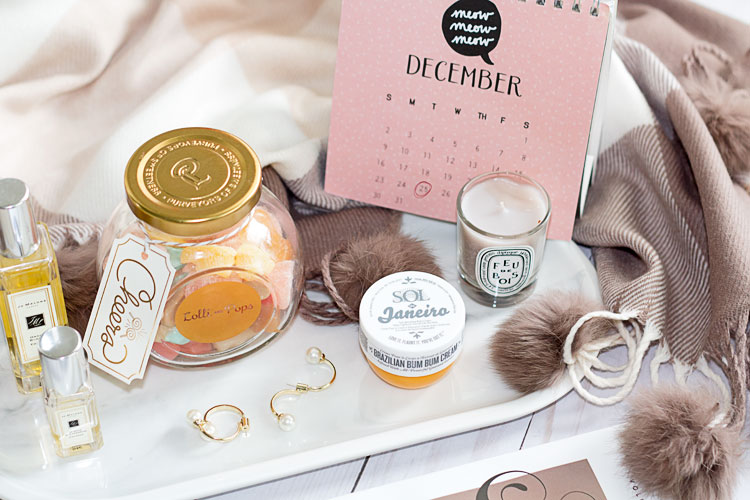 Today I'm partnering with Westfield Montgomery to share my tips on how to not only survive, but get the most out of your last minute holiday shopping experience. Of course I will include a his + hers holiday gift guide, with the "his" list compiled by my husband for an actual perspective of what guys want, not what we think they want!
Holiday Gift Guide For Her
I tried to pick items that would appeal to people with different interests and hobbies, so whether you're shopping for family or friends or coworkers, I hope you'll find something here for your recipient. FYI all these items are available at Westfield Montgomery, and as always, I never recommend anything I wouldn't buy myself!
Lolli & Pops DIY Gummi Jar ($15+ at Lolli and Pops) – Anyone who likes gummies (and who doesn't) will appreciate this sweet gift. This confectionery has a great assortment of unique gummy flavors from strawberry daiquiri to champagne to tropical fruits, and you can mix and match flavors to create the perfect blend for your recipient. Not only is the jar super cute, they can come back and refill for just $7!
Gourmand Beautés Petit Rollerball Set ($24 at Urban Outfitters) – Another one for the dessert fans, or rather those who enjoy smelling like dessert. I love that these aren't your typical vanilla cupcake scents, but elevated versions that are less cloyingly sweet and will work for all ages. Rather than guessing which scent your recipient will like, let them discover their favorite with this set of 4 unique gourmand blends!
♥  Option B – Commodity Style Guide Fragrance Discovery Kit ($24 at Sephora) is an excellent choice for those who prefer unisex scents. Plus just like Jo Malone, Commodity's fragrance's are layerable!
DAVIDsTEA Wellness Book Box ($25 at DAVIDsTEA) – Tea aficionados will love this set. Not only are their tea blends delicious (I'm a big fan myself), but this set of 8 are meant to help the body look and feel its best. Keep in mind these are loose tea leaves, so for those that prefer sachets, I recommend the 24 Teas of Love ($25) or New Year's Resolution Teas ($36) instead.
Fresh The Great Escape Face Mask Set ($75 at Nordstrom) – Unless you know the recipient well, I wouldn't recommend skincare gifts as it's very much YMMV. However, face masks are the exception as most people can benefit from one in their routine, plus they're the perfect way to treat the skin. This set includes all of Fresh' highly rated masks so your recipient will have every season and skin situation covered!
♥  Option B – Peter Thomas Roth Mask Mash-Up Set ($25 at Nordstrom) is a more affordable mask set option with even more variety. I'm a big fan of their Irish Moor Mud Mask!
Leith Abstract Geoprint Scarf ($32 at Nordstrom) – I actually have this scarf myself and I absolutely adore it. The colors make it easy to match with most winter outfits, and the geometric print is totally chic without being over the top. While it's not cashmere, it's still really soft and surprisingly warm!
Diptyque Carousel & Candle Set ($125 at Nordstrom) – You can never go wrong with gifting candles, especially Diptyque candles, and especially when it includes their stunning carousel ornament! Baie and Tuberose happen to be my 2 favorite scents from their line as well, and I think your recipient will definitely appreciate these luxurious additions to their home!
♥  Option B – Voluspa Maison Blanc Mini Tin Candle Set ($24 at Nordstrom) is a great budget-friendly option and imo, they smell just as good as Diptyque candles!
CALPAK 5-Piece Packing Cube Set ($48 at Nordstrom) – If your recipient loves traveling, then do them a favor and get them this packing set asap. I finally bought one for my Italy trip in October, and omg, life changing. It makes packing and unpacking a total breeze, plus it saves space making extra room for souvenirs!
Nordstrom at Home Faux Fur Throw ($79 at Nordstrom) – I love a comfy throw to cuddle under while reading or watching TV, bonus points if it's chic too. After seeing and feeling this in store last weekend, I can confirm it passes the chic + comfy test and will make the perfect sofa/bed accessory this winter.
♥ Option B – Nordstrom at Home Cuddle Up Faux Fur Throw Blanket ($149 at Nordstrom) is a pricier option, but it feels so luxurious with the faux fur.
Huggable Llama Cooling + Heating Pad ($29 at Urban Outfitters) – I consider a a cooling/healing pad a household essential, especially if you're prone to muscle aches or cramps. But just because it's an essential doesn't mean it can't be cute and cuddly! If your recipient is a cat lover, I highly recommend getting the cat version and she will love you for it.
Sol de Janeiro Carnaval Extravaganza ($59 at Sephora) – Body care products are something that everyone can use, and this set by Sol de Janeiro is one of my favorite discoveries this year. It's not heavy or sticky, but still incredibly hydrating and makes your skin soooo smooth. The scent is also scrumptiously sweet but not overbearing by any means.
♥  Option B – Sol de Janeiro Brazilian Bum Bum Cream Holiday Edition ($20 at Sephora) is their star product and would make a great stocking stuffer.
If you want more beauty picks, my Sephora Sale Skincare + Makeup Guide features sets with products I personally love and recommend. No guarantees that they're all still available, as a few sold out during the sale.
Holiday Gift Guide For Him
Yes my husband picked all these out himself, and wrote the description for each one. And you thought I had expensive taste, lol. Enjoy!
Nike LeBron 16 ($185 at Foot Locker) – Like LeBron James, these high-performance shoes are extremely versatile. Of course, he can showcase them on the basketball court while dropping some sweet J's, but I personally enjoy that they're comfortable and stylish enough to wear in almost any situation.
Tom Ford Morgan 57mm Sunglasses ($395 at Nordstrom) – Whether he's trying to protect his eyes from the sun, play the blues, win a big hand in Texas Hold'em, look cool in front of his lady, or simply hide the fact that he's crying profusely when *spoiler alert* Mufasa dies in The Lion King – Thomas Carlyle Ford, a man of style, class, and weird-AF-ness (check out his film directorial debut Nocturnal Animals while rockin' these shades) can hook him up!
♥ Option B – Ray-Ban Standard Original 58mm Aviator Sunglasses ($153 at Nordstrom) is a classic style without the extra-af price tag.
Nintendo Switch Console ($299 at GameStop) – Nintendo really brought sexy back with the release of the Nintendo Switch, a hybrid console that can be used as both a home console and as a portable console. It really is the only scenario where he can say to a girl, "Tryna Smash*?" and not get slapped across the face (*Super Smash Bros. Ultimate).
Nespresso Vertuo Evoluo Coffee and Espresso Machine ($139.30 at Nespresso) – In Ocean's Eleven, Matt Damon asked Brad Pitt, "Are you suicidal?" and he replied, "Only in the morning." If he can relate to Brad when that alarm goes off then Nespresso has the cure. Their Vertuo Line is changing the coffee game – he can select his caffeine fix from Espresso (1.35 oz.) all the way to Alto (14 oz.) – and don't worry, these Nespresso capsules are recyclable so he can take as many shots (of coffee…) as he wants.
The North Face ETIP Hardface Tech Gloves ($50 at Nordstrom) – These gloves are a must if he's active in the winter. Whether it's running, snowboarding, or leading an army of White Walkers – The North Face got him covered! Plus, they're touchscreen compatible so he can still slide into bae's DMs in sub-zero temperature.
S'well Barware Set ($76 at Nordstrom) – Sinatra once said, "Alcohol may be man's worst enemy, but the bible says love your enemy." For those occasions that call for cocktails, this set will hit the spot. An 18-ounce cocktail shaker and strainer, a jigger and two 10-ounce tumblers can handle anything from Manhattan to Old Fashioned to my wife's favorite Amaretto Sour.
The Art of Shaving Unscented Starter Kit ($30 at The Art of Shaving) – Every man can use a great shaving kit and The Art of Shaving offers several excellent options: Starter, Mid-Size, and Full Size – all are equipped with a Pre-Shave Oil, Shaving Cream, Brush, and After-Shave Balm. I personally gravitate towards the Starter size because I don't have a ton of facial hair (imagine a mix between Steph Curry and Kevin McCallister).

Bose QuietComfort 35 wireless headphones II ($349.95 at Bose) – If he travels a lot, lives in the city, or simply wants to block out the noise strongly consider these headphones from Bose. They have not one, not two, but three(!) levels of world-class noise cancellation – seriously, that is the ONLY way to watch Narcos Mexico on an airplane.
♥ Option B – Altec Lansing Active Noise Cancelling Wireless Headphones ($99 at Nordstrom) is a wallet-friendly option with noise cancelling capabilities.
Under Armour UA X Project Rock USDNA Men's Hoodie ($80 at Under Armour) – This badass sweatshirt belongs in his hoodie collection especially if he's a supporter of Dwayne "The Rock" Johnson and/or a fan of comfortable and functional clothing. While wearing the UA x Project Rock hoodie, he can crush a half marathon OR crush a dozen Krispy Kreme donuts – the possibilities are endless!
EA Sport FIFA 19 ($59.99 at GameStop) – The most popular sport in the world video game on all platforms including PS4, Xbox, and Nintendo Switch. FIFA 19 took gameplay to another level with the new "Active Touch System" (…must…refrain…from…inappropriate…joke…). This is the closest he'll ever get to being Cristiano Ronaldo.
Making the most of your holiday shopping experience
Try to make a list – Any shopping trip is always easier when you make a list in advance. You don't even have to list the specific item, it could be something generic like "body care" or "scarf", but it'll help narrow down the places you need to visit. Hopefully we've helped you out a bit with our suggestions above?
Visit stores with more options – In case your attempt at list-making failed, plan to hit up stores that carry a large variety of products so you can buy gifts for as many people as possible at one place. Think department stores (Nordstrom is my favorite!) or lifestyle stores like Urban Outfitters. For beauty gifts, Sephora is the obvious choice. Hallmark is another great option – did you know they sell decor, books, and stationary in addition to cards? Of course if you enjoy spending hours perusing every store, feel free to dismiss this tip.
Take advantage of the concierge service – Believe it or not they offer more than just directions to lost shoppers. One of particular interest to us: gift suggestions! The Westfield Guest Service Ambassadors are familiar with all the stores and can recommend the best places to shop for the people on your list!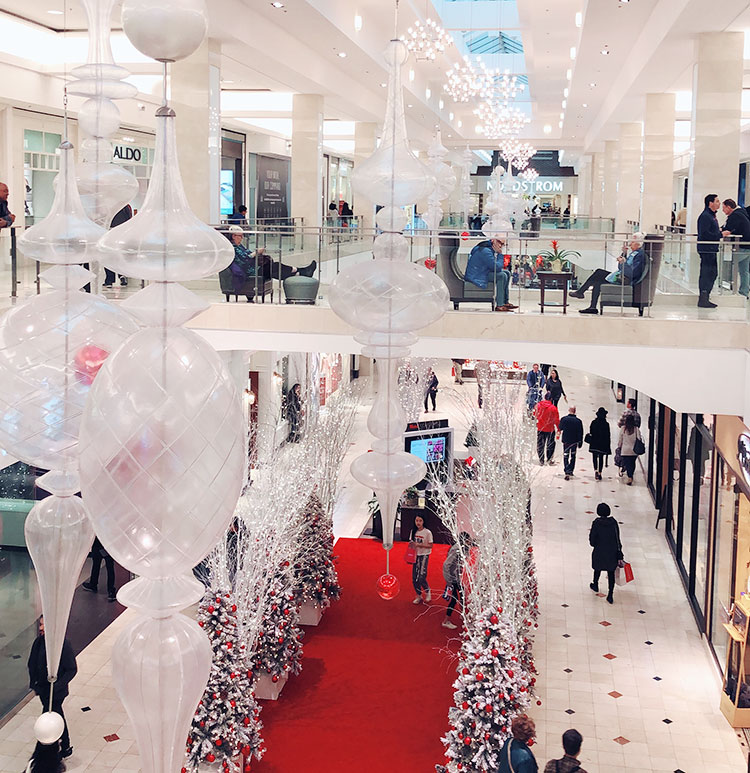 Go early on weekends to avoid the crowds – The best time is actually weekday mornings, but that's not feasible for most of us. You'd be surprised by the number of people doing last minute shopping after work, plus if you're already tired, the trip would only be more tedious. If you skip sleeping in, you just might finish your shopping before the late afternoon crowd get there!
The nicer the mall, the better – If you're already braving the crowd, may as well make it worth the effort and go to the nicest mall possible. You'll get better store options (crucial for tip 2), better concierge service (see tip 3), festive holiday decor, and even the chance to take pictures with Santa, which btw, can make for great minute greeting cards!
Treat yo'self – Yes this trip is mainly to shop for others, but if you happen to see something that sparks joy in the process, get it! It doesn't have to be something big or even a physical object. It could mean stopping for some coffee, bubble tea, or even a small dessert (love Shilla Bakery)! Or make it a real treat yo'self experience by getting a manicure or facial afterwards! How can you not look forward to that?
Remember to take breaks – Especially if you're shopping with young children. You might have the stamina to keep going, but the little one is probably exhausted and hating their lives right now. Many malls, including Westfield Montgomery, have play spaces and family lounges where both kids and parents can relax for a bit to catch their breath. Also don't forget to take food breaks!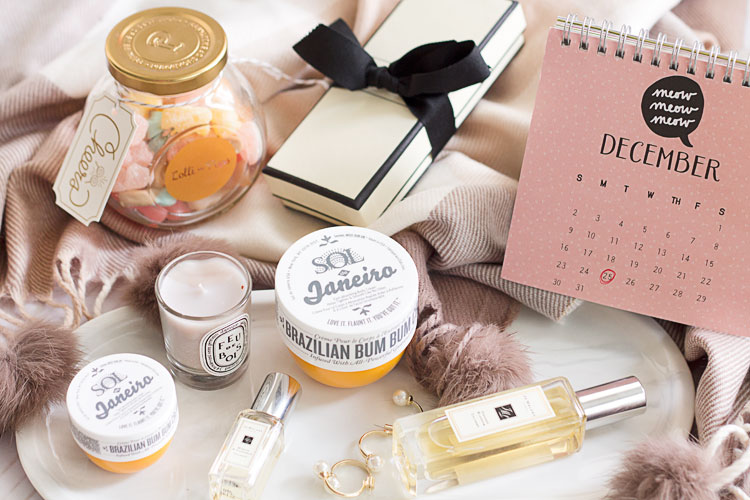 I hope you found the guides and tips helpful, and for those of you who still haven't done your holiday shopping yet, you've got just over 2 weeks left, good luck!