Regardless of how I thought this product performed (which was terrible btw), I do not care for MLMs and will never support these brands, and here is why. This review was written before I even knew what MLMs did, and my thoughts on the product itself hasn't changed.
As a dry skin gal, I am a big fan of facial oils, especially in the winter time. In a previous post I briefly mentioned that I've been using the MONAT Rejuveniqe Intensive Oil for the eczema on my arm, so today, I'd like to review that oil in more details.

What initially drew me to the Rejuvenique Oil was its claim that you can use it for your hair, face, and body:
Rejuvenique Oil Intensive's exclusive key ingredient is Abyssinian Oil, which along with 10 other rare oils, creates a unique molecular structured product that mimics the body's own natural oils to visibly replenish and repair with instant as well as long-term age prevention benefits for both hair and skin.
I've never heard of Abyssinian Oil until now, but my hair could always use some more TLC and I like that this product multi-tasked, so I was sold.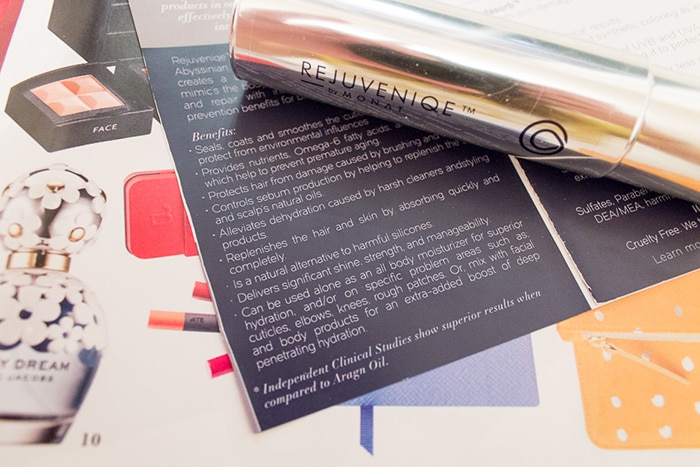 Packaging: The product packaging was heavy and well-made. It uses a dropper with a pump to dispense the product, which is nice for sanitary reasons.
Scent: Smelled like lemon chiffon cake – which was definitely a plus for me. Who doesn't like having their hair (or face) smell like yummy dessert?
Texture: The problem I had with the Rejuvenique Oil was its consistency – it's so darn thick! Despite its multiple uses, my main focus was my hair, and I could not get the product to apply evenly on damp hair.
Instead it just sort of stuck on the first section of hair I touched, leaving me with clumps of oily hair. I also tried applying the oil to dry hair – same results.
After experimenting with different amounts and methods of application, I gave up on using the Rejuvenique Oil for my hair – it did nothing other than give me Snape-hair.
Instead, I began using it on the eczema on my arm, and surprisingly it worked really well! The Rejuvenique Oil calmed the itching immediately and helped heal my dry skin . Great, but there are a ton of other products out there for itching/eczema that are more affordable.
I also tried using this on my face, but I ran into the same consistency issue – too thick. It wasn't as bad as using it on my hair, but the oil didn't feel like it was being absorbed. It just sat on my skin.
I suppose it's quite occlusive in that sense as it really helps lock the moisture in, but again, plenty of other products do it for a lot less.
Final Verdict
Packaging
Ingredients
Texture/Application
Performance
Price
The Monat Rejuvenique Oil doesn't come cheap either - $99 for 1 fl. oz! In my opinion you can find much better hair or facial oils at a lower price. Even if you wanted to splurge, there are still better oils out there with more elegant formulas, better ingredients, and better results.