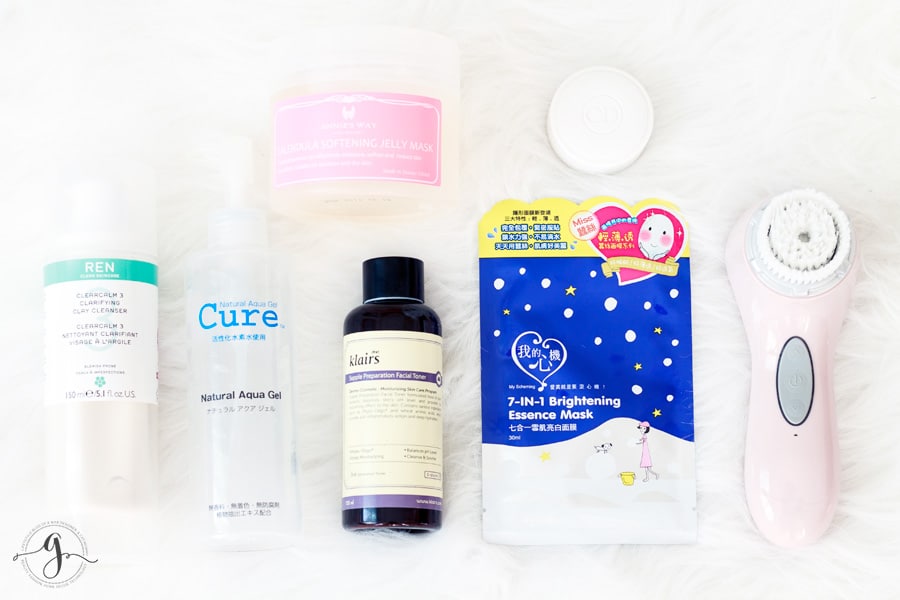 Last updated on April 9th, 2019
I always loved reading favorites posts, but since I'm too lazy to do monthly favorites (and my favorites don't change that frequently), I figured at least I could do an annual favorites. So without further ado, here are my favorite skincare products for 2015!
Instead of forcing myself to pick a product from each category, I wanted to be honest and just pick products I really loved. I also made sure to only select products that I've used (and loved) for at least 2 months, so this rules out all products from my Black Friday k-beauty haul (eg. the amazing Goodal Water Oil Firming Camellia).
Cure Natural Aqua Gel – I've reviewed this before and it's my go-to when I need physical exfoliation. It's so gentle and so effective at giving me baby smooth skin. Plus, I love the feeling of the dead skin cells literally peeling off!
REN Clearcalm 3 Clarifying Clay Cleanser – I love how it has clay for deep cleansing and clarifying properties, yet its creamy and non-foaming, so it didn't dry my skin out. When I'm too lazy to use a mud mask but still want to deep clean, this is my go-to cleanser.
Clarisonic Mia 3 + cashmere brush head – I don't use my Mia 3 everyday, but when I feel like giving my face a nice massage, this is it. The cashmere brush head feels so luxurious against the skin, but still provides some exfoliation. This was definitely a splurge for me in 2015, but it's totally worth it.
Rice Force Makeup Remover (not pictured) – Ok, so I only used this for about a week but it was incredible enough to give it a spot on my 2015 favorites list. Really the whole Rice Force line was impressive, but this makeup remover was my favorite, hands down.
Dior Creme de Rose lip balm – Are you surprised that this made the favorite list again? I won't go on about how amazing this is – you can read my in-depth review here.
Annie's Way Calendula Softening Jelly Mask – Jelly masks were my new thing for 2015, and of all the ones I've tried, this was by far my favorite. Calendula has calming properties, so I love using this when my skin is feeling blah or irritated.
Klairs Supple Preparation Facial Toner – I didn't think I could love a toner this much but I do. This is incredible at hydrating my skin without making it feel sticky, and I love that it's full of great ingredients that really benefit the skin. This also helps prep my skin for makeup later on, so it's a must have in my morning routine.
My Scheming 7-in-1 Brightening Essence Mask – I adore sheet masks and the instant results they give. I used to stick to My Beauty Diary ones, which I still really like, but this past year I've started trying out other brands and really fell in love with

My Scheming

, another Taiwanese brand (what can you say, I'm a loyalist). I love how thin the sheets are, how well they adhere to the skin, and how generous they are with the serum!
Honorable Mentions
If I did monthly favorites instead of annual favorites, these probably would've made at least one of those lists:
Kiehl's Midnight Recovery Concentrate, My Beauty Diary Imperial Bird Nest Sheet Mask, Klairs Rich Moist Soothing Mask, Clarins Super Restorative Total Eye Concentrate, Pixi Glow Tonic, Rice Force Deep Moisture Essence.
Hope you enjoyed this post – makeup and hair/body edition will be following soon! If you'd like in-depth reviews for any of these products, do let me know in the comments below!
Did you enjoy this post?
I share first impressions, product comparisons, and more skincare tips regularly on Instagram! Learn about products first and get a bonus dose of daily fluff! 😸
Follow Now