As someone who takes vitamin supplements regularly, I have one major complaint: they can get really expensive! So when the vegan + cruelty-free brand Pacific Beauty released their line of supplement powders, I was ecstatic.
There are 4 powders: Glow Green for your super greens, Seek Balance for probiotics, Slay All Day to destress and improve concentration, and Wake Up Beautiful to improve sleep quality. Since I've been having trouble falling and staying asleep, I decided to give Wake Up Beautiful a try.
What is it

"A yummy blend to drink before bedtime. Your rested skin will thank you."

How I use it

Mix a scoop in half a glass of water and take it 30 minutes before bed

Best suited for

Anyone who needs help falling asleep and/or wants to improve their sleep quality

Flavor

It's supposed to be Lavender & Hibiscus, but to me it tastes a bit like fruit punch! There's no bitterness or weird aftertaste at all.

Serving Size

1 scoop per serving, and 30 servings per jar

Available At

Target for $19.99
Typical sleep support supplements always include melatonin, but I love that Pacifica Beauty went above and beyond the basics:
Key Ingredients
☆ Melatonin (2mg) – Our brain naturally secretes melatonin to help us fall asleep, though a variety of factors including light can suppress melatonin production. Plus it's also an antioxidant!
☆ Chamomile Flower Extract – While there's little evidence that this actually helps with insomnia, it can help reduce anxiety, which can often be a cause of insomnia.
☆ L-Theanine – An amino acid that helps promote relaxation and reduce anxiety without sedation. Can also help improve sleep quality for those with ADHD.
☆ Lavender Extract – Often used in aromatherapy, studies shown that taking it orally can significantly decrease anxiety symptoms and improve general sleep quality.
☆ Reishi Mushroom Powder – Frequently used in Traditional Chinese Medicine, it's an antioxidant that can help improve our immune system. Several studies found that taking reishi can help improve our overall physical, mental, and even emotional well-being.
This blend not only helps us fall asleep, but also lowers anxiety – which for me is one of the key causes of restlessness. Does anyone else's mind race while in bed thinking about all the things they need to do the next day and making a million mental notes? I swear there are times when I'm mentally writing drafts because I have a sponsored post due soon. Yes I'm that high-strung.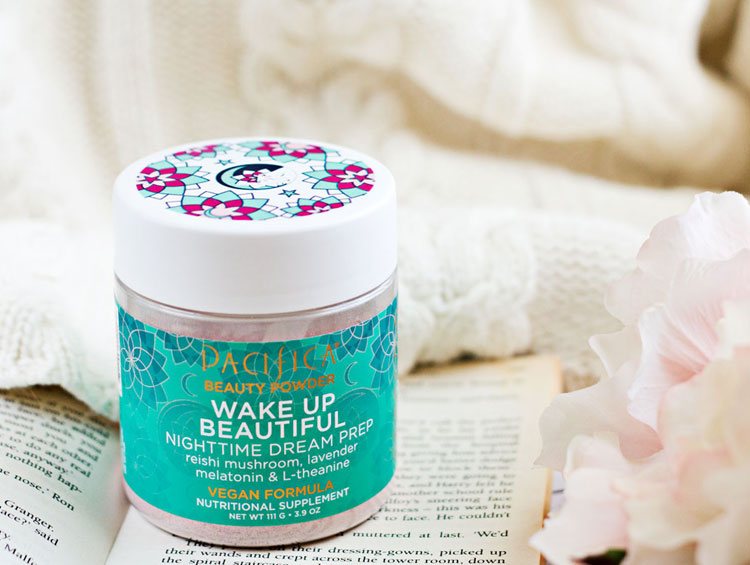 Does it work? Yes!
Disclaimer: I've taken melatonin by itself before, as a matter of fact I have a 5mg bottle on my nightstand. But obviously melatonin by itself wasn't working for me, which is why I decided to give the Pacifica Wake Up Beautiful Beauty Powder a try.
I was delightfully surprised by how good this tasted when mixed with water! Usually I'm not a fan of lavender anything but this had a nice fruity flavor with minimal floral notes. It does take a bit of stirring to get the powder to dissolve completely, but you could speed things up by using warm water or even a blender.
At around the 30 minute mark was when I started to get sleepy, and the effects felt very similar to taking drowsy allergy or cold medicines. Usually I'm a pretty light sleeper, but with Wake Up Beautiful I'm able to sleep through the night without waking up.
Unlike drowsy medication, I don't feel extra tired or groggy the next morning. Instead I feel refreshed and energized, and even though I slept for the same number of hours, I can tell my sleep quality is much better when I take this supplement.
Further Reading: We all know sleep is important, but neuroscientist Dr. Matthew Walker shares just how important it is in this podcast (thank you Mai for sharing this). He calls it "the elixir of life".
Also props to Pacifica for not trying to rob us with these beauty powders. A quick look at similar sleep support supplements and you'll see prices from $38 (14 servings of Moon Juice Dream Dust) to $95 (30 servings of Dr. Barbara Sturm Sleep Food). Suddenly the Wake Up Beautiful Beauty Powder seems like such a steal, especially because it actually works!
Final Verdict
Ingredients
Flavor
Performance
Price
Packaging
As someone who's tried her fair share of supplements, this is one of the few that's really wowed me. Everything it claims, it's delivered, and it just works. Plus it tastes much better than pills!
Of course there are other methods to ensuring a good night's sleep, including exercising, diet, meditation, and other lifestyle changes, so supplements aren't (and shouldn't) be your only option. But if you've already tried everything under the sun and still have trouble sleeping, this is definitely worth checking out.
Obviously I'm thrilled with this purchase, and it definitely makes me want to try Pacifica's other beauty powders now, particularly the Slay All Day!
☛ Do you guys take any supplements? If not, are these new releases from Pacifica ones you'd be interested in?