All this talk about skin care products, but let's be real, healthy skin is more than just lotions and potions, it's also a reflection of our overall health. One way we can improve our overall and skin health? Getting our underrated yet very real beauty sleep each night.
Benefits of Beauty Sleep
From a Western Medicine perspective, sleep is when our body goes through restoration and regeneration. Multiple studies show that sleep quality and quantity also impacts our metabolism, memory, mood, immunity, even skin appearance (dark circles anyone? 🐼)
What's interesting is that Traditional Chinese Medicine (TCM), with its 2000+ years of history, also shares the same views on sleep – it's an essential time for the body to restore and nourish itself. When this process is disrupted, it creates an imbalance within our bodies which is then reflected in our emotions, health, and appearances.
In other words if you want to feel and look your best, a good nights sleep is essential.
So how much should we sleep?
The general consensus is at least 7 hours for adults. Even just an hour less at 6 hours per day your mental and physical performance will decline, though you might not even be aware of the changes!
When should we sleep?
According to both Dr. Matt Walker, head of the Sleep and Neuroimaging Lab at the University of California, Berkeley, it can be anyhere from 8pm to midnight. This ensures we're getting sufficient deep sleep.
Dr. Nerina Ramlakhan, physiologist and sleep therapist, recommends sometime before 10:30pm, as the 90 minutes before midnight is where the body is replenished.
Both views line up with TCM, which states that 11pm – 3am is when our body goes through its restorative process, which means you'll want to be asleep by 11pm.
So is it the end of the world if you aren't in bed by 10? Depends on when you need to wake up. If your alarm is set at 6am, then yes, a 10-11pm bedtime is a must so you get that 7 hours of sleep. If it's set at 9am, you can get away with sleeping later, but I will say this: even as night owl, I always feel better and my skin looks healthier when I stick to sleeping early, regardless of when I wake up. Give it a try if you can and see if you can notice a change too!
How to get your beauty sleep: 4 products + 5 tips
I suffer from insomnia, so a good nights sleep enough doesn't come easily to me. In an effort to improve my overall health, my sleep quality was the first thing I tackled, and here are 4 things that have helped:
I've tried several melatonin supplements but the most effective and best tasting one has been Olly's. With 3mg of Melatonin, L-Theanine, Chamomile Extract, Passionflower Extract, and Lemon Balm Extract, I'm sleeping like a baby after 15 minutes.
For melatonin-free options, I also liked the Equilibria CBD Drops (reviewed here) and Nuni Organic Sweet Slumber Tea, just drink the latter an hour before bed so you have time to empty your bladder!
I know everyone and their mamas on Instagram is telling you that silk eye masks are the way to go, but after trying both, the Nodpod is so much better! It adds just the right amount of pressure for a calming effect, plus the dual material has a warming and cooling side depending on what your eyes need.
A cooler temperatures are conducive to helping you fall and stay asleep, so look for lightweight and breathable materials like linen, bamboo, percale cotton, or silk. Silk has additional beauty benefits too, like preventing wrinkles and keeping our skin hydrated, and is absolutely worth the splurge. I bought my silk fitted sheets + pillow cases from THXSILK and I can't go back to regular sheets now!
Not only is a bed side mist a great way to keep your skin hydrated at night, but adding a bit of essential oils can help you relax and fall asleep quicker too! Or for something quicker, I use a sleeping mist that I'll spray on my pillow and blanket right before bed. My favorite one is by This Works, not so much for their scent (smells like earthy lavender) but because they really do work!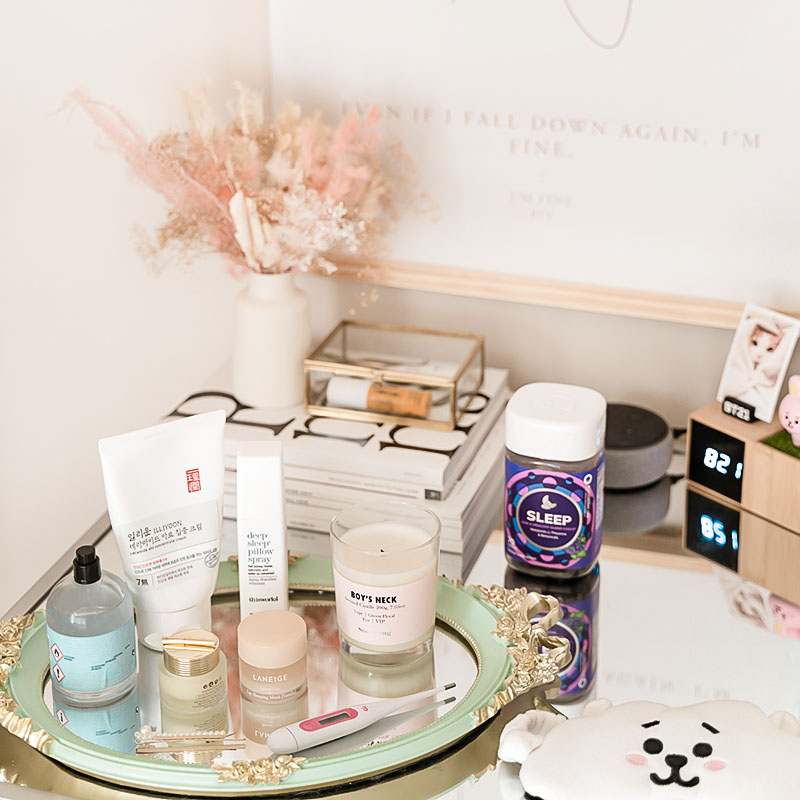 A good nights sleep shouldn't be expensive though, so here are 5 things you can do for free that will help too!
Swap out your phone for a book. The hardest one to do, but the blue light can really mess with your circadian rhythm, not to mention the last thing you want to be stressing over before bed is drama on social media. I've been listening to audiobooks instead, and I'm 99% sure the monotone voice helps me fall asleep even faster!
Develop a bedtime ritual. Having one and practicing it regularly helps your brain recognize when it's time for bed. Keep it low key and calming – mine is doing my skincare routine while listening to a podcast or audiobook, but light stretches, meditation, or a relaxing bath are all good options too.
Skip the bedtime snacks and alcohol. Possible weight gain from late night snacking aside, eating right before bed messes with our digestion process. And even though wine can help us fall asleep faster, it actually disrupts our sleep cycle resulting in poorer sleep.
Keep your space clean and organized. Research has shown a cluttered space can lead to anxiety and poor sleep quality. Time to Marie Kondo that nightstand!
Exercise! Preferably earlier during the day though, but getting our bodies moving will help you get a good nights sleep. Again, coming from me, a certified potato, I've definitely noticed better sleep when I workout regularly.
So yes, keep up your skin care routine, but make sure let's make that bedtime routine is in tip top shape too!