I appreciate good packaging in beauty products, so from the moment I laid eyes on the Smith & Cult lip lacquer, I was in love. Thanks to an awesome Black Friday beauty sale at Saks, I was able to add more Smith & Cult goodies to my makeup collection.
In this post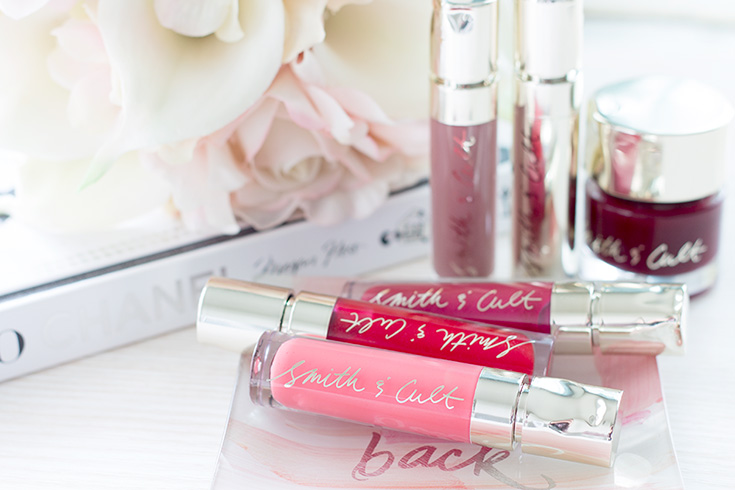 Smith & Cult Lip Lacquers
I first discovered Smith & Cult in my September Popsugar Must Have Box, and I instantly feel in love with its modern yet luxurious packaging. The metallic cap with its uneven edge is so unique – it's like a sculptural piece right on my vanity!
The product itself is excellent – very shiny, hydrating, and not sticky at all. Color wise they're more pigmented than lip glosses, but not as rich as typical lip lacquers unless you opt for the darker shades.
I have a total of 4 shades right now: Warning (a bright shimmery red), Queen is Dead (a shimmery berry), Lovers (a medium bubblegum pink), and Now Kith (a light mauve). How cheeky and fun are these names? As you can see from the single swatch above, The Warning and Queen is Dead are more pigmented, whereas Lovers and Now Kith provide just a hint of color.
Personally I really love Now Kith for a nude look, and Queen is Dead for an everyday look.
Highlights

Gorgeous packaging, high shine, no stickiness, vegan, paraben-free.

Purchase at

Saks Fifth Avenue ($22), Net-a-Porter ($22)
Smith & Cult Lip Stain
This has the same uneven edge cap found in across all Smith & Cult products, except this time the entire tube is metallic! The color of the shade is actually indicated by the color of the logo on the bottle. Seriously, I can't get enough of their minimalistic design!

The shade I picked up is Sweet Suite, which is described as a rosy pink. The texture of the lip stain feels silkier and more hydrating compared to the lip lacquer. It actually reminds me a bit of the YSL Oil in Teint Lip Stain which I adore, but at a lower price point!
Color and pigmentation is similar to the Lip Lacquer in Lovers, but notice how it smoothes out the lines on my lips! Overall I prefer the texture and finish of the lip stains, so it's a shame they only have 2 shades right now.
Highlights

All-metallic tube, silky smooth texture, hydrating, blurring.

Purchase at

Saks Fifth Avenue ($24), Net-a-Porter ($24)
Smith & Cult Nail Lacquer
Seriously, Smith & Cult makeup double as vanity decor because they're just so gorgeous! Their nail polish is no exception, and they're 8-free, meaning they're formulated without Dibutyl Phthalate, Toluene, Formaldehyde, Formaldehyde Resin, Camphor, Xylene, Ethyl Tosylamide and Triphenyl Phosphate – aka all the nasty stuff.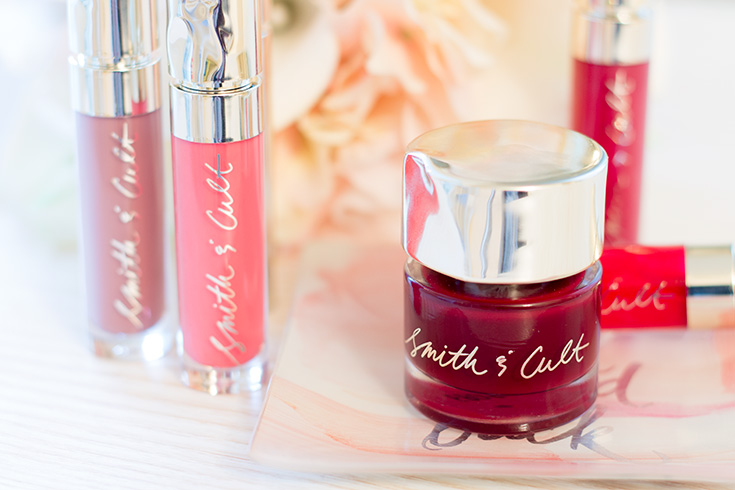 The brush is shorter than any other nail polishes I've tried, so it took some time getting used to. The texture of the polish is interesting as well – it has this jelly like consistency which I found makes for a smoother and easier application.
The color I chose is Lover's Creep, a rich burgundy that's perfect for the fall/winter. I love that you only need one application to get an opaque coverage, though you can definitely layer on a second to get a deeper color.
The finish is glossy and smooth, though I would definitely apply a top coat if you want the colors to last. I didn't, and by day 2 my nails were already chipped. I get the same results with Essie, OPI, and Debra Lippman if I don't apply a top coat as well, so I think this may be related to the base coat I'm using…probably need to experiment more on this, but let's just say Smith & Cult performs on par with my other polishes.
Highlights

8-free, gorgeous packaging, jelly-like consistency, easy application

Purchase at

Saks Fifth Avenue ($18), Birchbox ($18), Net-a-Porter ($18)
Overall thoughts
If packaging is a big deal for you, you'll definitely appreciate the quality and design of Smith & Cult products. They'll add glam to any vanity or dresser!
Price wise, Smith & Cult is more affordable than upscale brands like YSL, Dior, or Chanel, but the quality is comparable. So if you're looking for something nicer than drugstore makeup but aren't ready to splurge on high end designer brands, this is a great middle ground.
I love that the brand doesn't try to do it all – they mostly focus on nail polishes and lip products, and they're pretty darn good at it. I can't wait to see what new shades they release in the future!
Overall I'm so happy I discovered Smith & Cult and will definitely add more of their products to my collection in the future! Hope you enjoyed this review, and let me know if you've ever tried Smith & Cult before!