Originally posted on March 29th, 2015
Hi everyone! Sorry for the lack of posts last week – there was a lot going on and it was a pretty stressful time period for me, so the last thing on my mind was blogging. But things are better now (sort of), so without further ado here's today's long overdue post: how I style my hair on a regular basis + the products I use! 
My go to style is shiny and voluminous straight hair. It takes less time in the morning, and it's easier to maintain on day 2 and day 3 (I try to wash my hair every 3 days if I can). While I do love using my Conair Hot Brush Curler after I wash my hair, it takes a long time and makes my hair quite frizzy. So my go to tool for shiny straight hair has been the Irresistible Me Diamond Hair Straightener.
I've been using my ghd straightener for years, and while it's served me well, I now use the Irresistible Me Diamond Hair Straightener exclusively. It doesn't feel as heavy as the ghd, which makes it good for traveling. It's also thinner, which means I can actually use it to style my bangs without it looking funky.
The Irresistible Me Diamond Hair Straightener comes with several heat settings, so you can easily adjust the temperature to fit your hair type. Despite my fine hair, I set mine to around 400 degrees so I can straighten my hair with 1 pass. The less contact time your hair has to heat, the better it is for your hair. I do like that the buttons are all inside the straightener – no more turning it off by accident!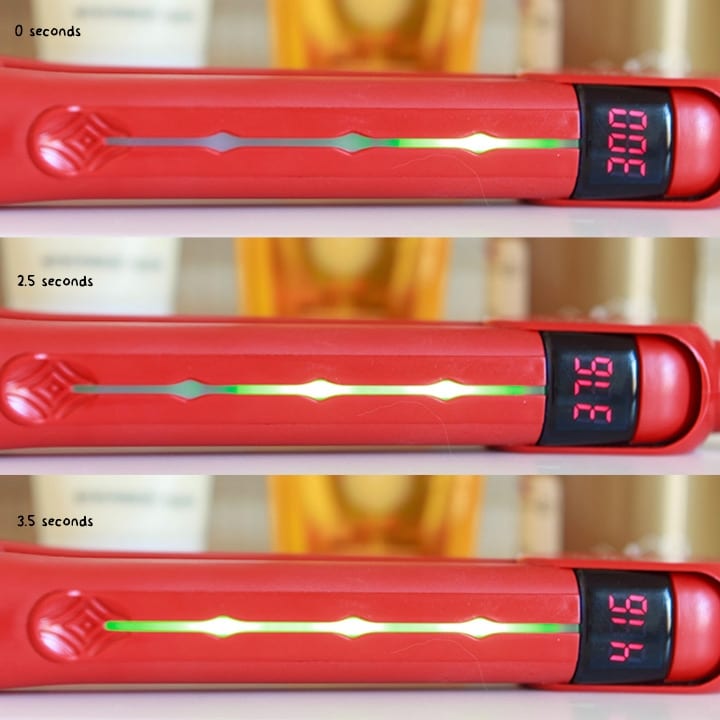 But what really blows me away about this straightener is how fast it heats up. As you can see in the photo above, it went from 300 (the starting temperature) to 416 degrees in just 3.5 seconds. On the other hand, my old ghd takes at least 5+ seconds for it to finish heating up!
To help me achieve my ideal straight hair style, I prep my hair with Joico K-Pak Protective Hairspray, which provides heat protection + hold to maintain the style. I love that it doesn't make my hair sticky and dry like traditional hair sprays!
The L'oreal Total Repair Multi-Restorative Dry Oil has been a long time favorite of mine, but I also like the Frederick Fekkai Brilliant Glossing Cream for finishing straight hair styles. It removes any frizziness and gives it that extra shine without it looking greasy. Trust me, I need all the shine I can get for my hair…
As you can see, my natural air dried hair is a bit of a mess. It's dry, frizzy, and quite unruly. But after just 3 minutes with the Irresistible Me Diamond Hair Straightener + Joico K-Pak Protective Hairspray, my hair is straight and shiny, thanks to the straightener's tourmaline technology and diamond nano plate!
Here are some more photos of the finished results, and note that this was before I applied the L'oreal dry oil or FF glossing cream! To give my hair more dimension, I simply flip the hair straightener inwards at the ends and to give it that slight curve. To add volume to the crown, I clamp and hold the roots away from my head for about 3 seconds, and then curve it back down to continue straightening.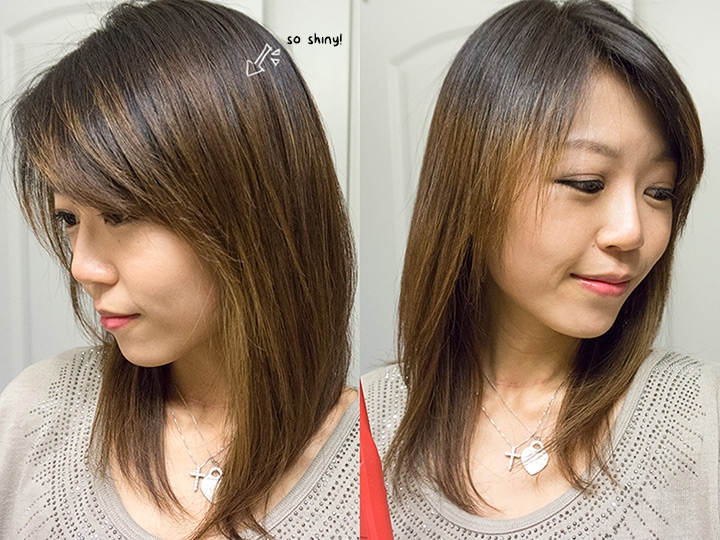 Needless to say I've been very happy with the results, which is what prompted me to create this everyday hairstyle post in the first place! Hope you all found this helpful, and if you have any hair styling products and tools you love, do share in the comments below!