Taking pictures is my favorite part of creating blog posts and one of the main reasons why Instagram will still be my favorite platform despite its wacky algorithm. Lately I've been getting a lot of questions lately about my photos – what equipment I use and how I take them, so I figured it'd be easier share all the details with you guys here. Warning, long post ahead!
Table of Contents
My photography equipment/tools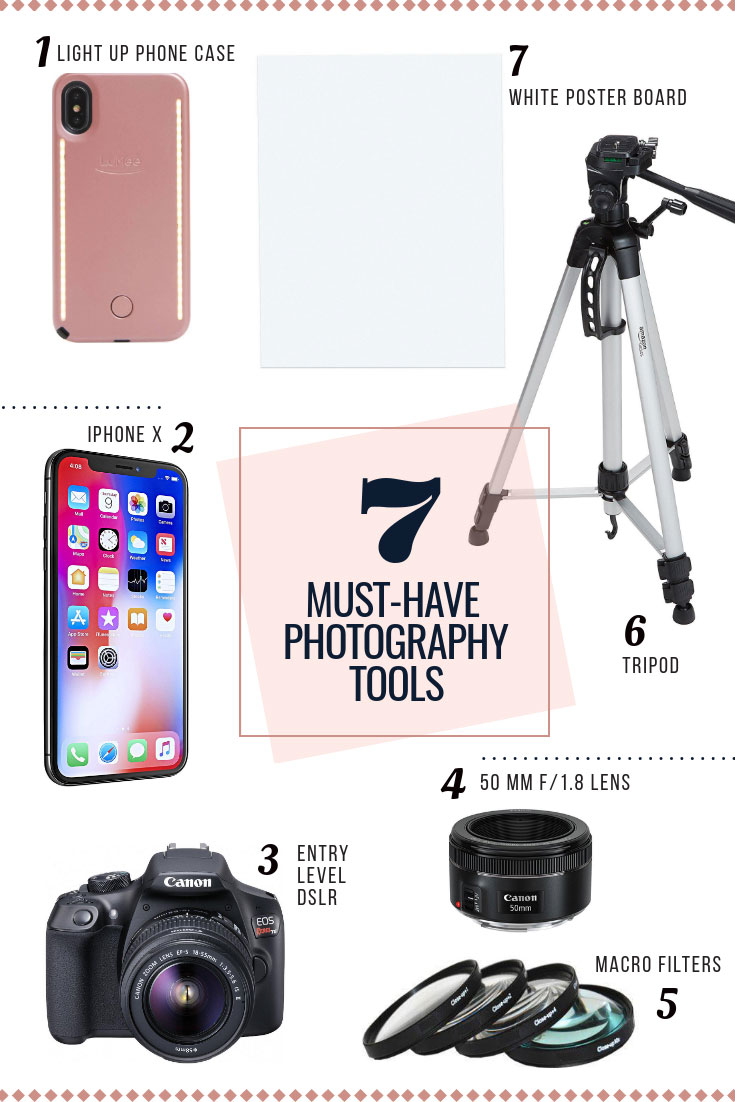 Illuminating iPhone Case*
I use my phone for 99% of my selfies, travel/style photos, and IG stories, and this LuMee case is a lifesaver in a non-existent lighting situation. It has duo lighting for both the front and back cameras, and you can adjust the brightness of the lighting with ease. I didn't think I needed this until I started using it, but look at the difference with and without the LuMee: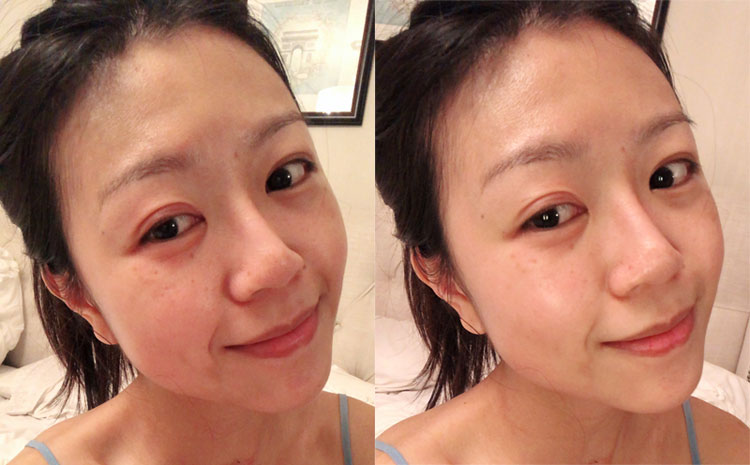 The lighting on the back is great for food photos in dark restaurants, but I think the front lighting is where this case really shines (pun totally unintended though I'm quite proud of myself for this). Game changer if you love taking selfies, but also awesome for retouching makeup on the go!
IPhone X
All my vacation, outdoor, and Instagram story photos are taken with this. Most smartphones nowadays have great cameras and are definitely worth the high cost!
Canon T3
Proof that you really don't need a fancy DSLR to take decent pictures. I've had this for 6+ years and it still does a great job. If you want to invest, invest in lens, not the camera body.
50mm f/1.8 lens
The lens are what will really make a difference to your photos, and while some can go upwards of $1000+, this one is just $125. I never use the kit lens and always use this as it takes crisp images and has a large aperture (ie. low f-stop) so you can really get that bokeh effect! I typically shoot around 3.2-4.5 to keep my images sharp.
A tripod
A great tool for stabilizing your camera, especially if you plan to shoot with a slow shutter speed to let in more light. I'll use this in low light settings when I need to decrease shutter speed.
Macro Filter Kit
For less tan $15 you get 4 filters that you can attach to your existing lens and they'll allow you to really zoom in if you want to capture the fine details. I used to use the 2x for my hand swatch shots, but I've found my phone camera works just as well and is easier to shoot with. But for 10x zoom these will still work better.
White foam board
I use this for reflecting light, which gets rid of unflattering shadows and brighten the photo. You can find this in your local craft store for around just a few dollars.
I also have soft box lighting that I used to use in my earlier Instagram photos, but I've stopped because they just can't compare to natural lighting. Plus they looked so bulky and ugly in my office :(
My photography setup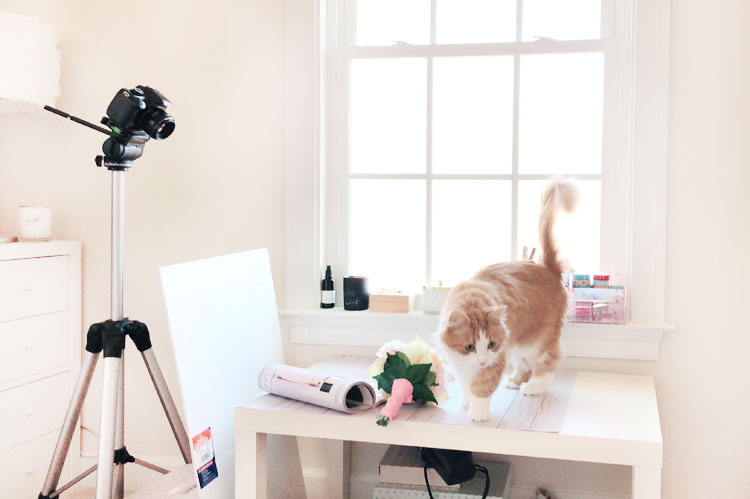 I take most of my pictures in my office in front of a large east facing window, so I try to shoot during my lunch break on weekdays to get a softer light. Ideally you want a north or south facing window as those give you soft light all day long, otherwise experiment taking photos at different times to see which results you like best.
Most of my props are conveniently place either on the shelves or in a box, but often times I'll also bring jewelry or piece from my bedroom as needed. For prop ideas I recommend reading: How to take better (blog) photos: props.
I also have a foldable stool in case I need to expand the tripod fully, because #shortpeopleproblems. The camera is placed perpendicular to the window rather than in front, otherwise I risk getting the ugly shadows associated with backlight. I usually position the foam board in front of the camera or across from the window depending on what gives the best result.
My top 5 photo editing apps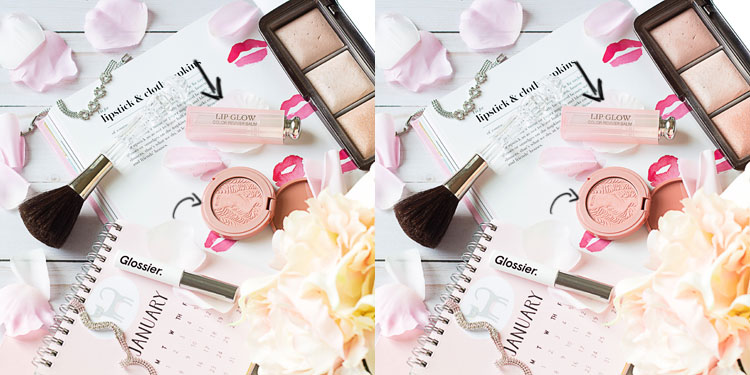 How I edit my photos in Photoshop
This is more or less how I still edit my photos, though I do import it into Lightroom afterwards to apply my custom preset. Most of these edits can also be done in Lightroom as well, but I continue using Photoshop because of the Level and High Pass tools.
As promised, the before and after comparison:
Miscellaneous photography tips
For blog photos I always use the Save For Web feature and set the quality to 60 to decrease the file size. The result looks almost as good as the original but at less than 1/3 of the file size. Always optimize your photos with Photoshop rather than an online image optimizer! The tradeoff between file size and quality is horrible with the latter.
Always resize your photos in Photoshop. WordPress does have resizing features built in, but your image quality is going to suffer if you use their resized photos. Always pick "Full Size" when adding images to your post to prevent that! Also, if you use WordPress, make sure to turn off the Image Performance/CDN feature as that will also decrease your image quality.
When shooting with a DSLR cap your ISO! I like to cap mine at 800, but basically this prevents the camera from using the highest possible ISO to compensate for low lighting. High ISO means pixelated photos, so I avoid it at all cost.
Don't use the lowest f-stop/highest aperture. I mentioned this briefly in the photography equipment section, but the lower f-stops (eg. 1.8 – 3) actually produce fuzzier images, and the difference is especially noticeable when you're photographing text. You can still get a good bokeh effect with 4 or even 4.5, but you'll want to go even higher if you want the most crisp text. This post has a more detailed rundown if you're interested.
Invest in spare camera batteries. Imagine finally getting that perfect lighting and setup…only to have your battery die and now you need to wait an hour (or more) while it recharges. Good lighting waits for no one!
Turn on the grid in your camera. This is helpful for determining the composition of the square Instagram photos, but also the positioning of your subject. You want your feature subject to be placed where the grid lines intersect.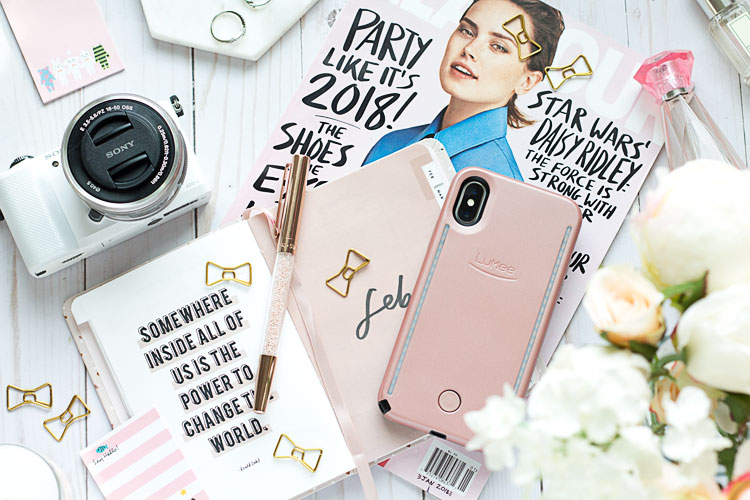 I hope you found this post helpful and if you have any questions let me know in the comments below and I'll definitely get back to you!