Jewelry – something a girl can never have enough of. My favorite jewelry to wear? Earrings. So today I'm sharing 8 affordable pieces that range from simple to statement, as well as a few of my favorite jewelry retailers.
My style: Huge statement pieces aren't my thing, and I prefer smaller and minimalist earrings. The less details the earrings have, the more you can fake a high-end look without the high-end price tag. Also for me, 99% of the time jewelry is meant to complement the overall outfit, not to steal the show (unless I'm rocking diamonds, then heck yes), so less is definitely more.
Geometric Gold + Pearl Earrings
A combination I've been obsessed with lately. Sometimes pearl studs alone can look matronly and geometric jewelry can look too simple, but combine the two elements and the chicness goes up tenfold.
Cascading Geometric Pearl Earrings – $25.99 currently out of stock
These might be the largest pair of earrings i own, but because of the simple lines they still have a very minimal and clean look to them. Really sad that these are out of stock, but here a few similar options:

SOO n SOO Two Ways Earrings – $18.99
I bought mine during Taobao's 11/11 sale, but combined shipping can be a pain so I recommend Kooding with free worldwide shipping. These are also available on 4xtyle for $6.90 but shipping costs extra and can be slow, so it's only worth it if you place a big order. Anyways, I love this twist on traditional hoop earrings, it's such a great everyday piece that's just a little more exciting than your ordinary studs, but still not too ostentatious.
Tatiana Cupid Pearl Earrings – $62
Another great everyday piece, and the one I get compliments on the most. The design is minimal, but not too basic as to still be interesting. WConcept has frequent sales (details here), so I'd definitely wait for one if you want to buy this.

Minimalist Geometric Earrings
No pearls or any bling, these are just your standard geometric earrings. I reach for these over the gold + pearl ones when I need something a bit edgier and less feminine. To be honest they will work with almost any outfit, which is why they're my most reached for earrings.
Gold Geometric Earrings – bought in Taiwan
I adore these, and you can tell I wear them often from the scratches on the gold plating. Luckily nothing that can be fixed with a jewelry cloth. Unfortunately I can't find this exact style online, but here are a few similar pieces:

Silver Geometric Earrings – $6.90 sold out
This was my most worn earring before I got the gold ones, and I'm impressed at how shiny the silver is still after all this time. However the drop bar does get stuck at weird angles occasionally, but for the price I really can't complain. Here are a few comparable pieces:

Statement Earrings
For me statement earrings are pieces with any bit of bling, but still with a simple silhouette. In case I do want something bigger with serious sparkles, I make sure to shell out a bit more $$, as the cheaper big pieces can come off looking, well, cheap.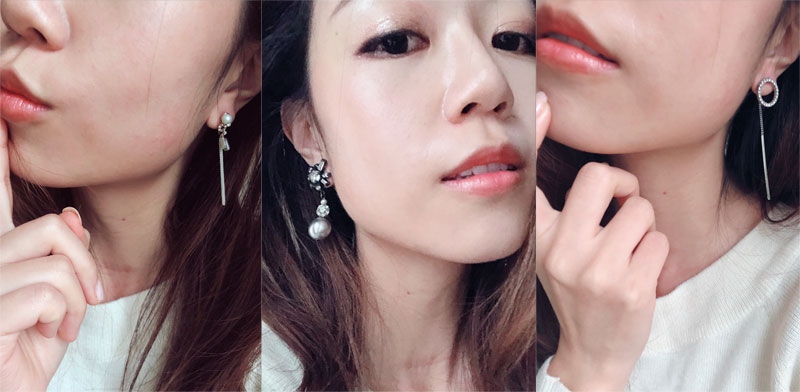 Mascarpone tassel earrings – $12.82
One of my favorite purchases from 4xtyle, it's just a really pretty piece and looks more expensive than $12! When I need something a bit fancier than my geometric earrings I reach for these.
Erickson Beamon Faux Pearl & Crystal Drop Earrings – $125 sold out
This is your classic "statement earrings" – it's big and got a lot of bling. Rather than paying $300+ retail, I opted to buy these pre-loved at 1/3 price from my go-to online consignment shop, The RealReal (reviewed here). While I wouldn't buy any fine jewelry preloved (too risky), I don't mind buying designer costume pieces preloved if it means getting a great deal! Here are some other great options:

Backdrop Bar Gem Ring Earring – $11.99
Bought this + 2 other pairs from an eBay seller in New York that carries Korean jewelry, and this was my favorite pair by far. The quality is great for the price, and I love the pave details – again, looks more expensive than $12.
Favorite places to buy jewelry
I think it's pretty obvious from the links where I like to shop, but here's a roundup for reference:
4xtyle – The shipping cost isn't too bad if you place a large order, and even if you don't, the prices alone are definitely the best I've seen online. Selection is excellent (borderline overwhelming) and the quality is pretty good. Of the 12 pairs I ordered, only one ended up breaking, plus they included a few gifts with purchase! Shipping is slow, took about 2+ weeks to receive my order.
Kooding – A great Korean fashion retailer with free worldwide shipping. They've got a great jewelry selection, albeit more expensive and limited than 4xtyle, but if you're looking to buy more than jewelry, this is a great option.
WConcept – They carry a range of pieces from independent designers and while I love them for their coats, their jewelry selection is also quite nice. Price points are higher, but with frequent sales + free global shipping it's worth checking out.
The RealReal – Great for buying expensive costume jewelry at a discount. Having a 20% off code available at all times is a nice plus ;)
Wanderlust + Co – Not mentioned in this post but I adore their layerable necklaces! Also they're look books are very inspirational, as in I want to buy every piece shown on there.
Blue Nile – A wide range of semi precious earrings and diamond studs are available at affordable prices.
What are your favorite places to buy jewelry? Like I said, a girl can never have enough in her wardrobe! Hope you all have a great week ahead!