Who doesn't like taking pretty photos? Sure there are a ton of editing apps out there, but if you're a casual Instagram user posting the occasional selfie or your latest meals, you probably don't want to spend hours fiddling with Lightroom to get that perfect shot. So here are 5 effortless camera apps that I personally use, guaranteed to give you gorgeous shots in just one click.
Meitu
You can do so much with this app, including editing your makeup, skin, and even body, but I'm not a fan of those features. Instead, I love them for their huge selection of free filters that make the generic Instagram ones look like trash. T19 Cozy is my favorite for food pictures, it really brings out the richness of the food colors and increases clarity. A quick tap on the "cutie" button will give you access to hundreds of stickers and filters, some specifically for pets!
Foodie
Ironically I don't like their filters as much for food, but they're perfect for everything else. I find their filters more natural than Meitu's, plus it has a cleaner interface. This is my default whenever I'm taking photos on my phone, which is basically all my IG stories and some outfit posts in my feed. My favorite filters are PL3 and SS3. but they have so many to choose from that you're bound to find one that fits your style.
Ulike
Another app that provides makeup edits but I like this one for their pose guides – no more awkward photos! It breaks down the poses by categories, so you find great ideas whether you're taking a mirror selfie, an outfit shot, or even a couples photo! This camera also comes in with a few built in filters, and my favorites are Macaron and Vacation 2. You can also subscribe to remove the small watermark, get additional filters, including makeup filters, but honestly the free version is good enough.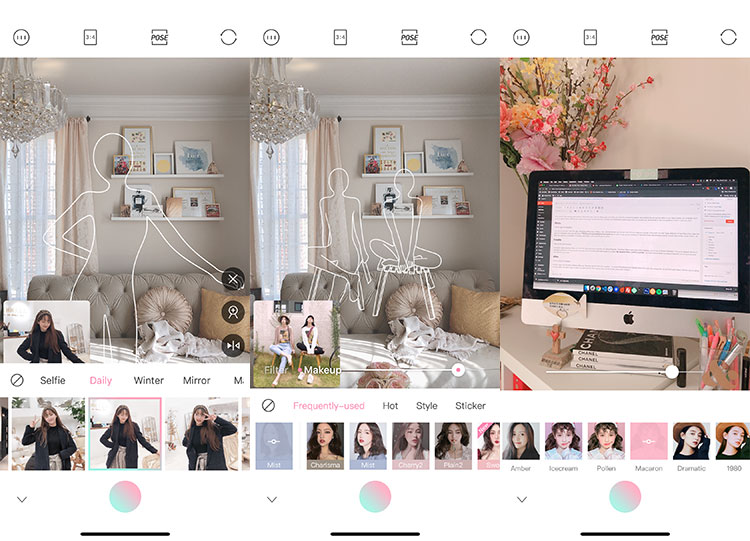 SOVS
The OG pose composition app. It provides a variety of poses from selfies to sitting down to standing up, but what sets it apart from Ulike is the ability to take a "composition guide", complete with the pose silhouette and the background, then hand over the phone to your IG boyfriend/husband. They can then take the exact photo you want using your guide. No more yelling at them because they keep cutting off your feet!
SOVS 2
Free on iOS
This doesn't have as many everyday poses, but it makes up for this with destination pose ideas, eg. how to pose in front of the Eiffel Tower! Each travel pack is $0.99, but if you just need pose ideas and don't need the actual guide on the screen, you can easily browse through the packs to get ideas for your travel photos! Not a must have compared to the other ones, but helpful if you find your travel pics starting to look a little generic.
Now if you only want to download one app, definitely try Foodie. It's my most used camera app by far (default iPhone camera, I don't know you), and it saves me the hassle of having to use an editing app afterwards because the photos already look great!
Looking for general photography tips? I share all of mine here: The big (blog) photography guide: my tools, setup, and tips
Hope you find this post helpful, and let me know what your must have camera apps are!