By we I mean bloggers, Instagrammers, and really every person I know, because I feel like I'm the last one on the planet to finally try Jo Malone fragrances. And sweet niblets they are divine.
"But a lot of perfumes smell good, and they don't cost an arm and a leg!"
You're right, Jo Malone fragrances are pricey (the priciest perfumes I currently own), so just smelling good isn't enough, though in their case it's pretty darn close. Seriously, they have some of the most amazing fragrances, and there are so many different ones to pick from!
Baby, you smell good*
I visited the store with a friend a few weeks ago to check out their new Bloomsbury Set, and while I did like the new limited edition fragrances, it was love at first sniff with these 2 classic scents:
Myrrh & Tonka – Described as

noble

,

sensuous

, and

intoxicating

. Not really sure what noble smells like, but definitely yes for sensuous and intoxicating! I couldn't stop sniffing this on my wrist while oo-ing and ah-ing in the store, which in hindsight might have looked ridiculous, but I don't care. The vanilla + warm almond notes hits the mark on my preference for sweeter scents, yet this fragrance doesn't feel overly sweet at all. It's like an sensual, grown-up kind of sweet. It's also a unisex fragrance, but hell will freeze over before I share this with my husband. ALL MINE.
Peony & Blush Suede – Described as

luxurious

and

seductive

, with notes of red apple, peony, and suede. For me I think it smells like springtime – light, floral, with a hint of sweetness from the red apple. But it's not like any other sweet floral scents I've smelled in the past – it feels more mature and elegant without being musky. Clearly I need to work on my scent description skills, but I can tell you that this has replaced Chanel Chance Eau Tendre and Burberry Brit Sheer as my new favorite scent.
And because I didn't want to go broke that very day, I exerted self-control and didn't buy the following, which I also loved:

It ain't magical until you mix it
So both Myrrh & Tonka and Peony & Blush Suede smell incredible alone, but I swear a unicorn is born somewhere when you combine these two together, because that's how magical it is. You get the warmth and sensuality from the Myrrh & Tonka, plus the fresh floral notes from the Peony & Blush Suede and the synergy they create is just incredible. I wished my friend had taken a video of me in the Jo Malone store, because my borderline embarrassing display of awe and love for this is proof that it's out-of-this-world amazing.
In addition to the unicorn-birth-inducing combination I described above, the SA also suggested the following combos:
Whisky & Cedarwood + Mimosa & Cardamom
Whisky & Cedarwood + Lime Basil & Mandarin
Tobacco & Mandarin + Wood Sage & Sea Salt
Garden Lilies + Myrrh & Tonka
Before you start scrunching your nose at the mention of whisky, tobacco, and sea salt, don't, because I can tell you that they smell nothing like what you'd imagine. Trust me, I hate the scent of whisky and tobacco, but I actually liked those fragrances, and even more when they were mixed.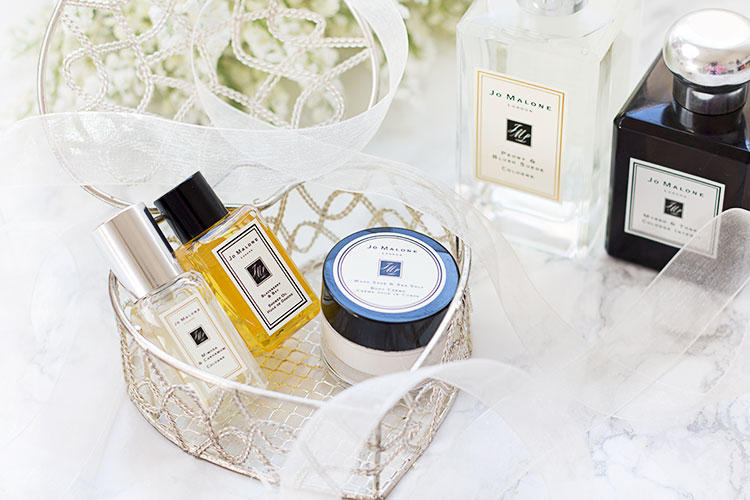 I could wear these all day for the rest of my life
As you can tell by my poor description attempts, Jo Malone's fragrances, regardless of their scent profile, are always elegant and sophisticated. Do you know how difficult that is to do with fruity and sweet scents?
As I get older (less than 2 years before I hit 30!!), I find it more difficult to pull off some of my past favorite perfumes because they just smell too…young. But with Jo Malone, you could easily wear some of her lighter fragrances from your teens into your 60's, and it would work. That's how timeless they are, and reason #3 why they're so incredible.
Let's not forget the packaging
I won't judge a book by its cover, but I sure as hell will judge a perfume by its bottle! And who can resist Jo Malone's simple yet elegant bottle design? I think it's an excellent reflection of her fragrances – understated, refined, and absolutely beautiful.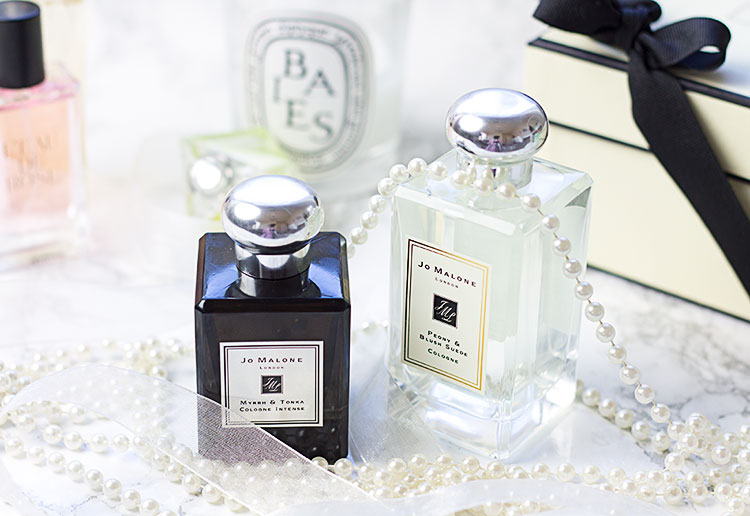 I'm not sure if I would appreciate her bottles and fragrances as much if I were younger, but that might be a good thing, as Jo Malone perfumes (and products in general) are expensive. Are they worth every penny? Absolutely. If you can, try to visit one of their boutiques to try out their fragrances yourself, or better yet, ask the SA to help you combine fragrances. It might be love at first sniff for you as well.
Have you guys tried Jo Malone fragrances before? I have a feeling the answer is yes, and if so, let me know what your favorite scents + combos are! Hope you have a lovely rest of the week!