I love all things pink, but for some reason (my skin tone? my natural lip colors? who knows), finding a pink lip color that looks good on me is near impossible. Yet despite these repeated failures, I have not given up, hence why I picked up the NYX Butter Gloss in Vanilla Cream Pie.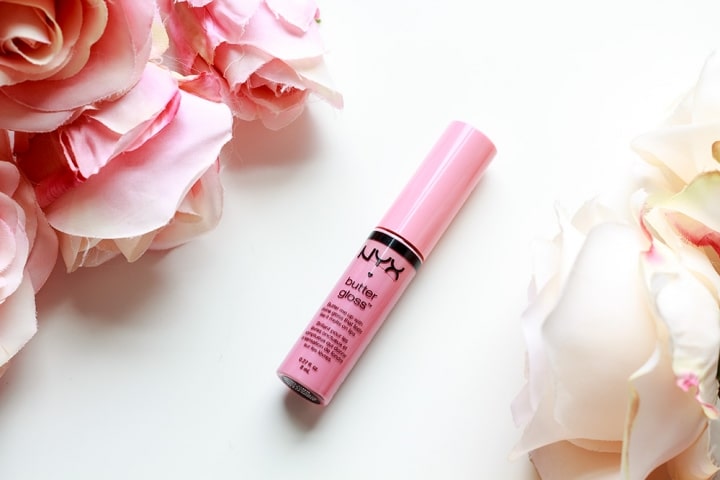 The Claim
Buttery soft and silky smooth, our scrumptious new Butter Lip Gloss tastes as sweet as a sugar cookie—and makes your lips look downright luscious. Swipe it on alone or over your favorite lipstick for creamy sheer to medium coverage that melts onto your lips and is never sticky. (source: NYX Cosmetics)
The Findings
As someone who's obsessed with packaging, the NYX Butter Gloss was underwhelming to say the least. It's definitely 98% utilitarian and 2% design (and I'm being generous with the 2%), but at $5 per gloss, it's hard to complain. It has the standard doe foot applicator, which picks up quite a good amount of product and makes the application process pretty easy.
As you can see, the NYX butter gloss has a pretty thick consistency and is opaque in color. It can be a little sticky, which can be particularly problematic when you have a long-haired cat who loves rubbing your face. I've found myself trying to pick out cat hair a couple times from my lips, which really was more amusing than annoying – another sign that I love cats way too much. Anyways, for the rest of you normal folks out there, I don't think the stickiness will be a huge issue, and it does go away after the first hour or so.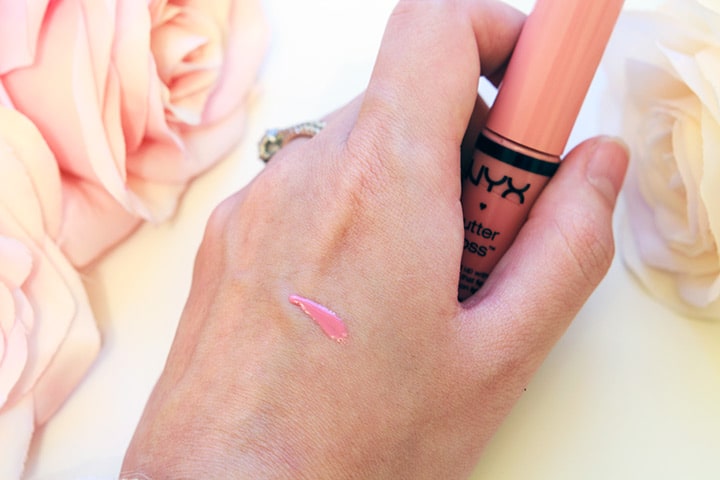 Vanilla Cream Pie is a light-medium pink with neutral undertones, which is really nice because most pinks I've come across are either too cool (makes me look sallow and washed out) or too warm (looks like coral instead of pink). The NYX Butter Gloss has buildable coverage, and I was able to cover most of the lines and dry patches with 2 layers. True to its claim, the product does make your lips buttery smooth and gives it a really nice shine!
For me the packaging was OK and I did like that the formula lived up to its claim (minus the slightly sticky part), but it was the color that really won me over. It applied true to its color in the tube – a pretty pink, just in time for spring (which can't come sooner). I still reach for my YSL Rouge Volupte Shine when I need a red or a peach, but this NYX Butter Gloss has become my go to lip color when I need that perfect pop of pink!

Key Points
Smooth, rich buttery texture with a nice shine
Good coverage with 2 layers
Beautiful neutral pink that is suitable for most skin tones
Very affordable compared to other products of similar quality
Slightly sticky at first, but goes away after a while
Final Verdict
Packaging

Color

Performance

Price
If you struggle with finding pink lip colors, I highly recommend the NYX Butter Gloss in Vanilla Cream Pie. Or even if you're just looking to try out a new lip product, you can't go wrong with this little gem for just $5. It's well-formulated and it comes in a variety of beautiful, wearable shades. If only the packaging was half as beautiful as the YSL, this would be a total win all-around.
Where to buy
Ulta – $4.99 – Free shipping for orders $50+, and earn points for all your purchases. Right now you can get a FREE full-size Matte or Dewy Finish Makeup Setting Spray with any $25 NYX Cosmetics purchase (02/15/15- 02/21/15)!
Target – $4.99 – Free shipping for orders $50+, and get a 5% discount when you pay with the Target Red Card.
Drugstore.com – $5.00 – Free shipping for orders $35+, and get 5% cashback in Drugstore.com dollars.