Originally posted on July 17th, 2016
The lack of updates on this blog is getting embarrassing, but I promise this one is gonna be good. As most of you know, I went back to Taiwan 2 weeks ago and as usual, I always get my hair done there. However this time I also got a scalp analysis and a serious lesson in hair care 101: the importance of scalp care. 
My scalp is pretty messed up
Have you ever seen your scalp up close? I did and it was not pretty. My hair follicles were clogged with sebum, and some actually died, as in hair is no longer growing out of them. That would explain the thinning hair. Not only so, my scalp itself is sensitive, dry, and irritated, which would then explain why those itches I randomly get.
It's ironic that I spend so much time taking care of my face, and yet I've completely neglected the skin on my head. And as any skincare afficianado anyone would know, if you don't take care of your skin, well, you end up with crappy skin. So after learning I had a crappy scalp, my hair stylist gave me a lesson on scalp care, which I'm now sharing with you guys!
6 lessons on scalp care
Select your shampoo based on your scalp condition, not on your hair type. The purpose of washing your hair really isn't so much to clean your hair, it's to clean your scalp.

So if you have an oily scalp, but dry + damaged hair, buying a shampoo for dry hair will only make your oily scalp worse

. Instead, pick a shampoo that helps clarify your scalp and control sebum production, then pick a conditioner that nourishes + repairs your dry locks.
As with skincare, double cleansing/shampooing is key! The first shampoo typically has less foam/bubbles, so to make sure you really remove all the sebum and dirt, shampoo a second time. This has made a huge difference for my scalp – now it feels much lighter and cleaner afterwards!
Hydrate your scalp. Hydration is the basis of skincare, so why aren't we hydrating our scalps after we shower? You don't need to apply serums and creams (and you probably shouldn't anyways!) – an oil-free mist would do just fine.

Hydrosols are perfect because they nourish your scalp without weighing down your hair.

Exfoliate regularly to remove sebum and product buildup. This is starting to sound a lot like common skincare tips, and that's because your scalp is an extension of your facial skin! How often you exfoliate depends on the weather and your scalp type – oily scalps and humid weather may require frequent exfoliation once a week, but dry scalp can get by every 2 weeks.
Treat your scalp before you shampoo. Oils and even serums can be great for nourishing your scalp, but it can also flatten your hair and make the roots look oily.

So apply these treatments the night before you shower (if you shower in the morning) or 30 minutes before (if you shower at night)

.
Massage, massage, and massage some more. This improves the circulation on your scalp so that nutrients can reach your follicles and healthy can grow out of them. Do this before you shower with your brush, while you shampoo with your fingers, and again after you shower with your fingers. Never use your nails as you'll scratch and irritate your scalp even further.
A few product recommendations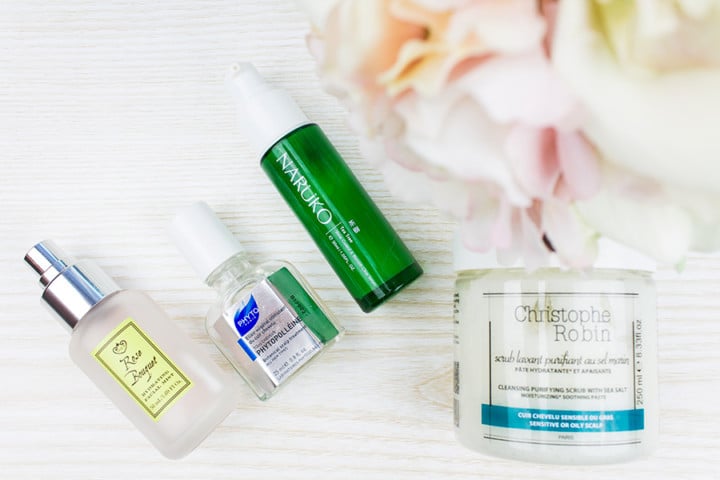 I haven't had a chance to shop for new scalp care products yet, but I've been able to incorporate some products I already have, and they're working out pretty well:
Christophe Robin Cleansing Purifying Scrub with Sea Salt – My scalp always feels incredible after I use this. It's that same clean airy feel you get after a visit to the salon. It's expensive, but since you'll only use it once a week/every other week, a jar will last you a long time.
Naruko Tea Tree Shine Control & Blemish Clear Serum – This was a gift with purchase but I found the tea tree really helps control the sebum production while soothing my scalp. I use this before I shampoo to prevent any buildup.
Phytopolléine Botanical Scalp Treatment – One of the few scalp treatments available in the US, this soothes and balances the scalp using botanical oils and extracts. I do notice that my scalp is less irritated and dry when I use this.
Rose facial mist – My stylist used rose water on my scalp after she washed my hair, so I copied her by using a random rose face mist I had lying around. Since it's 100% rose water, I don't have to worry about it clogging my hair follicles or weighing my hair down. This does a nice job of hydrating my scalp and making it less itchy!
Hope you found this post helpful! I feel like the US hair care market is so geared towards the hair and there's not enough focus on the scalp. So if you have any tips or products for the scalp, please share in the comments below! Have a great week!