Hope everyone had a lovely Valentine's Day weekend! It's been really cold in DC the past few weeks so my skin needs all the moisture and love it can get. Thank goodness for the I'm From Honey Cream, which has been a lifesaver in this cold weather!
Wishtrend does an incredible job with their product descriptions, so when I saw that the I'm From Honey Cream contained 5.3% real honey and brightening + wrinkle repair effects, I was sold.
The packaging is simple, but I appreciate the little details, such as the honeycomb embossing on the box and the small bee logo. It also comes with a plastic spatula (not pictured), which is a must have for the application.
The Ingredients
Propolis Extract, Glycerin, Coconut Oil, Honey, Propylene Glycol Dibenzoate, Macadamia integrifolia, Betaine, Cetyl Ethylhexanoate, Niacinamide, Polysorbate 60, Cetyl Alcohol, Stearic Acid, Glyceryl Stearate SE, Shea Butter, Sodium Hyaluronate, Jojoba Seed Oil, Olive Oil, Stearyl Alcohol, Myristyl alcohol, Panthenol, Tocopheryl Acetate, Royal Jelly Extract, Morus Alba Bark Extract, Centella Asiatica Extract, Carbomer, Arginine, Polyglutamic Acid, Beeswax, Hydrogenated lecithin, Caprylic/Capric Triglyceride, Menadione, Polyglyceryl-10 diisostearate, Adenosine, 1,2-Hexanediol, Caprylyl Glycol, Caprylhydroxamic acid, Boswellia Serrata Resin Extract
full ingredients analysis here
There are plenty of excellent ingredients in this cream, many of them derived from bees:
Propolis Extract has anti-inflammatory properties and can help protect & repair damaged skin.
Honey is also anti-inflammatory and an excellent anti-oxidant, which helps keep the skin young and healthy.
Royal Jelly Extract can help hydrate the skin and keep it firm.
Other noticeable ingredients include Niacinamide, an excellent antioxidant that can improve skin's tone, texture, and elasticity; Sodium Hyaluronate, which helps the skin retain its moisture; Jojoba Seed Oil, which can stimulate collagen production and increase the skin's barrier-repair functions; Mulberry Extract, a lightening agent that reduces melanin formation; Centalla Asiatica Extract, which can soothe and heal damaged skin.
As you can see, the I'm From Honey Cream is chock full of great ingredients. The only one that may be problematic is Coconut Oil, which can be comedogenic for some people, but otherwise is an excellent emollient. I personally have no issues with coconut oil, so for me, this cream hits a home run in terms of ingredients.
Texture and Application
The I'm From Honey Cream has a thick, creamy texture. It does smell like honey, not in that artificially-sweet way, but in a omg-i-just-stuck-my-face-in-a-honeycomb way. The scent is really pleasant and soothing, and for me it adds to the whole experience of applying this on my face.
This cream is rich, so I would definitely start with less and apply more as necessary. During the warmer months, I can get away with a pea sized amount, but recently I've doubled that to nourish my extra parched skin.
As you can see, the I'm From Honey Cream spreads easily, making it excellent for facial massages. Or if that's not your thing, just make sure you really pat it in, as this does take a while to absorb and can leave a shiny finish at first.
Those with oily skin may not like this, but just keep patting, or give it a minute or 2, and the shininess will die down to a natural finish. For my combination skin I had minimal issues, though most skin types will probably find this more suitable as a night cream rather than a day cream.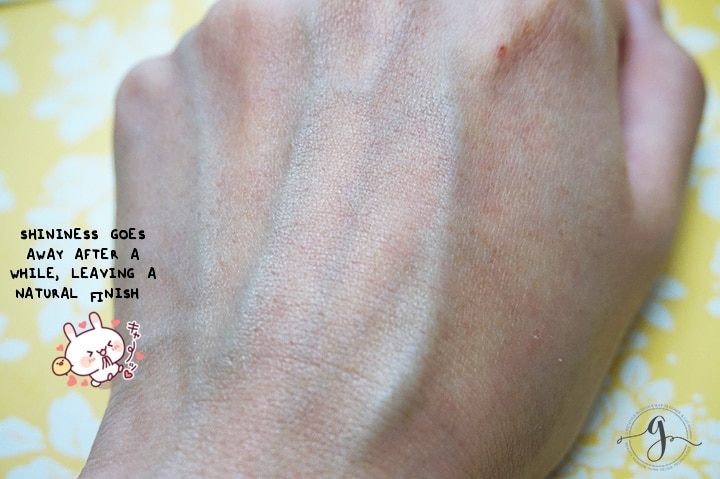 Honey, I'm in love
While I haven't noticed any serious brightening with this cream, I just love using this on my skin. It smells + feels so luxurious, and it makes my skin seriously soft. If you've been following me on Instagram (and you should if like cats and skincare), you'll notice that this is a repeat favorite in my skincare routine. Occasionally I switch up the night creams but I always come back to this one. My skin loves it, I love it, and I'm pretty sure this cream loves me.
Key Points
Full of excellent ingredients with brightening, nourishing, and soothing properties
Creamy texture that blends easily and is perfect for massages
Pleasant scent that smells like real honey and isn't overbearing
Nourishes and softens the skin
Coconut oil can be comedogenic for some
Oily skin users can find this too rich for them
Packaging

Ingredients

Texture/Application

Performance

Price
I'm usually all about the end result, and based on that alone, this cream would be a B+. However, the experience of using this cream and how good it makes my skin feel during and after the process is enough to make me overlook the lack of noticeable brightening and fall blindly in love. When it comes to skincare, your skin knows best, and my skin just loves everything about this cream. So if you're looking to give your skin some serious TLC this winter, you need this luxurious cream, asap.
Where to Buy
WishTrend – $31.90 – You'll receive free shipping with orders over $69, or if you purchase anything from the Free Shipping Zone. Make sure to follow me on Twitter for the latest WishTrend coupons!