Originally posted on May 6th, 2015
Ever since reading about the Shiseido PK107 and it's amazing highlighting abilities, I've been on the search for it, but that thing is sold out everywhere. So I decided to see if I could find the next best thing, and then I stumbled across 3CE and its array of highlighters. 
3CE is a cosmetics brand from Korea that offers a wide selection of makeup at an affordable prices. 3CE's products seem to all focus on helping you achieve the dewey glow, which is all the rage in Korea right now, and something I personally love. Just for highlighters alone they carry 7 different products, ranging from powder to stick to liquid! So those who prefer a matte finish, this brand isn't for you.
After much debate over which highlighter to buy, I decided to go with the 3CE Highlighter in Pink, the 3CE Shimmer Stick in Pink, and the 3CE Apple Tint in Pink. Yes I know the last one wasn't a highlighter but the color looked so beautiful on screen I couldn't resist!
3CE Highlighter in Pink
Sadly I've never got to try the Shiseido PK107 in person, but from what I've seen in pictures and videos, this powder highlighter was the closest thing I could find to the PK107. The powder is very fine, and it almost looks matte in the compact. Once swatched, it has a subtle iridescent pink glow that can be layered for a stronger effect.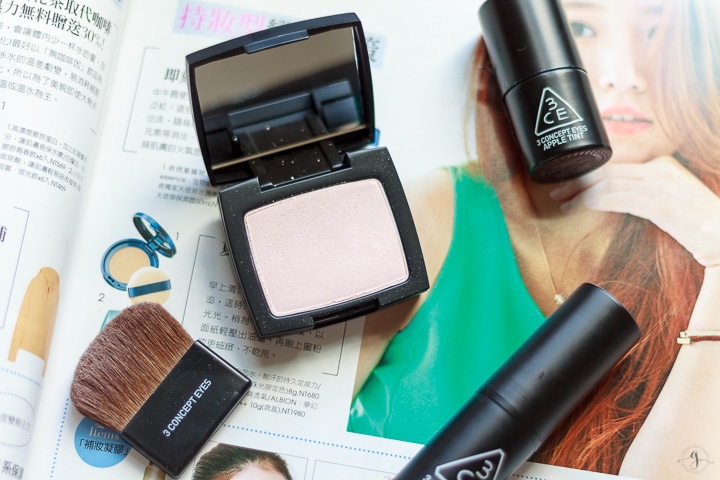 The packaging is quite nice, with a sleek black case and a compartment for a brush under the powder. I usually never use the brushes that come with compacts, but this brush was soft and dense, perfect for the highlighter. It also comes with a mirror, so it's perfect if you need to touch up on the go.
After using this for a couple days, I'm not sure how I feel about it. On one hand I do love the iridescent glow and that it's glitter-free, but on the other, it didn't give me the apple cheeks I was looking for. I have to really layer it on to notice its effects.
3CE Shimmer Stick in Pink
I never put all my eggs in 1 basket, which is why I bought this, just in case the powder highlighter was a miss. While both are supposed to be "pink", the shimmer stick actually looks more a pale champagne gold. The balm is soft enough to easily glide across your t-zone or cheekbones, and it leaves a subtle shimmer which again, can be layered for a more dramatic effect.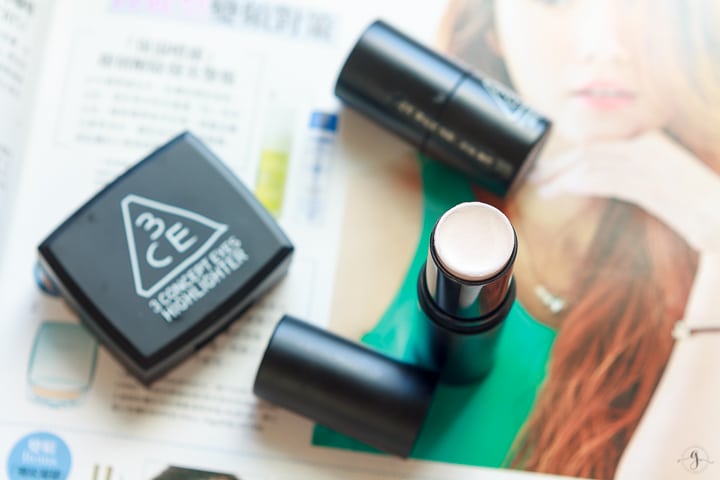 For me there really wasn't anything special about the shimmer stick, and I was pretty disappointed in that aspect. As frustrated as I was with the powder highlighter, at least it was different.
3CE Apple Tint in Pink
Don't be put off by the bright pink color in the bottle, as this actually sheers out to a neutral pink that gives you a natural from-within flush. The liquid texture makes this really easy to apply – just make sure you blend before it dries!
I do wish the bottle was transparent so you can see the actual color of the blush – the bright pink would look lovely on any vanity in my opinion ;) The brush applicator is pretty standard for these tints, though mine seems a bit frazzled. Doesn't affect the application though, so it's all good.
Summary
My favorite product out of the 3 is definitely the Apple Tint – the quality and formula is comparable to Benefit's cheek & lip stains, and its color is somewhere between Posietint and Lollitint. The bottle isn't quite as cute, but those who like the minimalistic look will appreciate the sleek black packaging. I'm still deciding whether or not I like the powder highlighter, but I know I definitely feel very meh about the Shimmer Stick.
If you are just starting your makeup collection and love a dewey finish, you'll enjoy the products 3CE have to offer. They're of decent quality at affordable prices, but if you can afford to spend a bit more, there are definitely better products out there.
Where to buy
CosmeGo – Free shipping and 5% off first purchase with code CosmeGoWelcomeGift. This is where I ordered my products.
W2beauty – Free shipping and $5 off your first purchase with code 119681001
eBay – Earn eBay bucks with every purchase. Good buyer's protection.