Last updated on April 9th, 2020
Obviously we should wear sunscreens year-round, but now that summer is upon us, it's super important we wear the right sunscreens for our outdoor activities.
You may recognize the photo and sunscreens from my recent Instagram post, and after spending 5 very sunny days on the beaches of Cancun, I'm here to share my thoughts on 3 sunscreens specifically for outdoor activities. But first, why do we even need separate sunscreens?
Why you need an outdoors sunscreen
If you read my ultimate sunscreen guide, you'll know that not all sunscreens are created equal. The lack of standardized testing criteria means that two sunscreens with SPF50 and PA++++ can still have pretty drastic protection, and using a weaker one while in the sun all day can result serious sun damage.
Japan actually do a great job of categorizing their sunscreens into daily use vs. outdoors use, but for other brands, look for keywords like sport or water resistant. These sunscreens typically offer stronger protection and lasting power. The last thing you want is for your sunscreen to disappear the second you sweat!
Biore UV Perfect Milk SPF50+ PA++++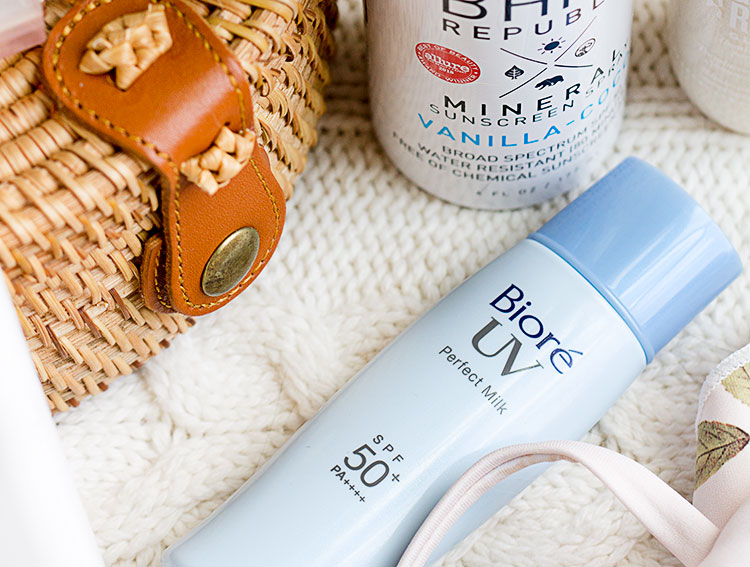 Notable ingredients

Zinc Oxide

(UVA + UVB), Octinoxate (UVB) ,

Uvinul A Plus

(UVA),

Titanium Dioxide

(some UVA + UVB),

Tinosorb S

(UVA + UVB), silicones, alcohol, fragrance (full ingredient list)

Texture & Finish

A thin milk that leaves a soft, velvet finish with pore-blurring effects and no white cast.

Available At
If you hate how heavy sunscreens feel in the heat, this sunscreen is for you. We wore this during our Tulum trip and even though it was hot and humid and we were sweating profusely, the sunscreen didn't feel sticky at all. In fact, we couldn't feel anything on the skin despite us applying generous amounts.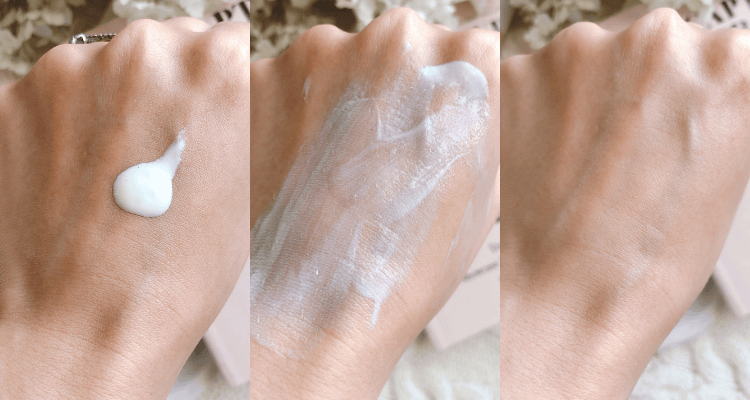 It contains a great mix of physical and chemical filters that provide stable broad spectrum protection, but also a ton of silicones and alcohol to give it that light + elegant finish. Personally I don't find it drying at all, but I always moisturize my face before applying sunscreen anyways, so my moisturizer acts as a buffer between my skin and the drying effects of alcohol.
This did a good job of protecting us for a morning in the sun, and it's also the most comfortable of the 3 outdoors sunscreens I've tried. In fact, this one is so light that it's suitable for every day use as well. However I'd use something stronger if you plan on being in the water!
La Roche Posay Anthelios XL SPF50
Notable ingredients

Avobenzone (UVA), Octocrylene (some UVA + UVB) ,

Mexoryl XL

(UVA + UVB),

Uvinul T 150

(UVB),

Tinosorb S

(UVA + UVB),

Mexoryl SX

(UVA), silicones, alcohol (full ingredient list)

Texture & Finish

A milk-gel texture that leaves a velvet dewy finish with pore-blurring effects and minimal white cast.

Available At

ebay for $23-30/50ml, Escentual for $13/50ml, AdoreBeauty for $20/50ml
I've raved about this sunscreen countless times, but it's just that good. It has one of the best UVA + UVB protection, as found in independent testings, yet the formula is still elegant enough to wear comfortably in hot + humid weather. This is the only sunscreen I can safely say has kept me from burning and tanning.
In addition to next generation filters that offer stable protection, this includes 2 patented ingredients: Mexoryl XL and Mexoryl SX , which can only be found in L'oreal products (they own La Roche-Posay). The two cover the entire UVA and UVB spectrum, are super stable, and actually work in synergy to boost UV protection!
FYI the Anthelios XL was recently reformulated to improve UV protection, water resistance and also protect against pollution and infrared light! If you compare the formulas, the new one has less ingredients, no silicones, and replaced Octocrylene with Octisalate, which has a better safety profile. I haven't tried the new formula yet, but you bet I will when I finish my current bottle!
Bare Republic Mineral SPF50 Sport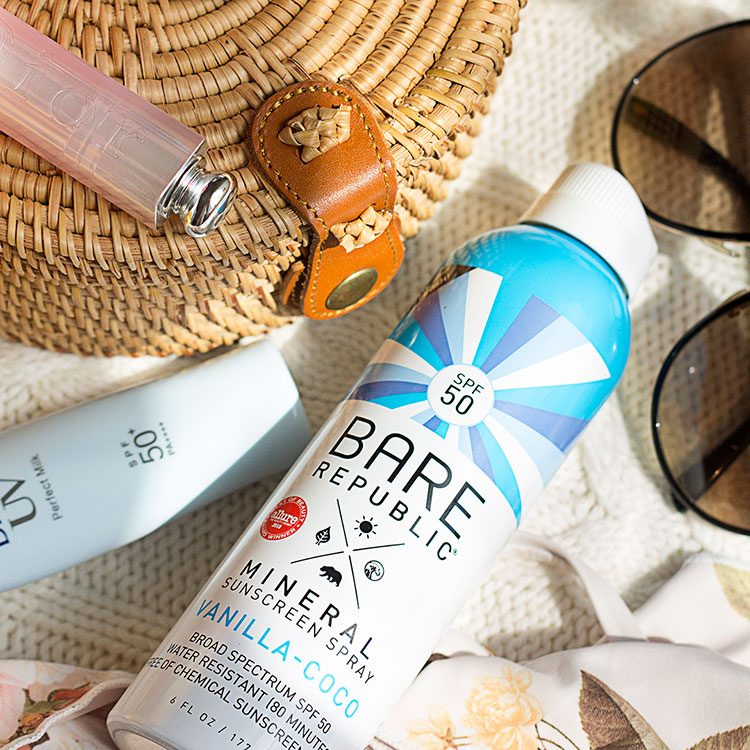 Notable ingredients

15% Zinc Oxide

(UVA + UVB),

4.3% Titanium Dioxide

(some UVA + UVB), carrot seed/sunflower/olive/grape seed/raspberry seed oils, alcohol, fragrances (full ingredient list)

Texture & Finish

A thick lotion texture that leaves a matte finish with noticeable white cast.

Available At
Honestly looking at the ingredients alone, I'm not impressed. I prefer at least 20% Zinc Oxide to get the necessary UVA protection, especially if I'm going to be spending a lot of time outdoors, and 15% just doesn't cut it. Titanium Dioxide is pretty useless when it comes to UVA since it only covers half the spectrum, plus it's also the filter responsible for the Casper look, ie. white cast.
So why did I include this sunscreen? Because it's one of the few that's labeled reef safe. This is important if you plan on snorkeling in popular coral reef spots as some do check the sunscreen you're bringing to make sure they're ok, and unfortunately they look for the reef safe label. Now is this sunscreen actually reef safe? Ironically zinc oxide can actually be harmful to corals, but honestly the greatest threat is still climate change. You can read more about sunscreen's coral reef impact in Lab Muffin's post.
I brought this to reapply when we went snorkeling near the reefs in Cancun, and while we didn't burn, the texture was super uncomfortable. It was thick, hard to spread, and left the worst white cast ever. This reminds me of the awful sunscreens from 20+ years ago that made me boycott sunscreen during my childhood and teenage years.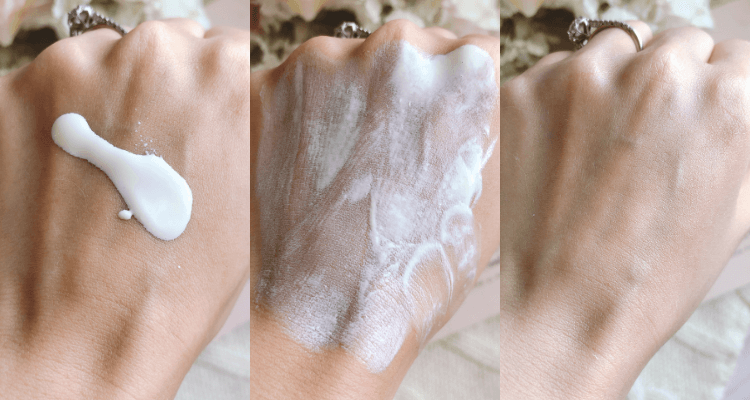 So all in all, this sunscreen is just…bad. The best thing I can say about this is that it's pretty sweat-resistant? It's gonna be a struggle to finish this one!
---
I know that was a long post, but in a nutshell:
If you want a sunscreen that works for all occasions, including outdoor activities, go with a Japanese sunscreen like the Biore Perfect UV Milk. They typically have the most elegant formulas.
If you prefer to keep separate sunscreens for everyday vs oudoors use, go with European sunscreens with high PPD, like the La Roche-Posay Anthelios XL to get the ultimate sun protection.
If you want to be disappointed and hate sunscreens, go with American brands and their limited UV filters. This is what happens when the FDA refuses to approve better filters and don't require brands to label UVA protection levels!
No matter which sunscreen you go with, make sure you reapply regularly! This is super important when you're out in the sun all day!
Which sunscreen do you travel with when you plan on being outdoors?