Yes you read that right, I'm talking about Purito sunscreens today, and yes I'm aware of their sunscreen scandal from last year, and no, this is not the same sunscreen.
Almost a year later, the brand finally released a new sunscreen. SPF aside, the old Centella Green level was a favorite of many, including mine, for its elegant texture and finish. Let's see if the Purito Daily Go-To Sunscreen is just as good.
Quick Summary
Independently tested by 2 different labs to confirm UVA and UVB protection
Light yet super moisturizing texture makes it suitable for dry skin types
Finish is super dewy and takes a while to set
Overview
What is it
The new PURITO hybrid sunscreen is formulated with both chemical and physical filters to provide exceptionally high, broad-spectrum UVA/UVB protection. The moisturizing formula instantly melts on the skin during application, allowing an easy and even spread.
Protection Factor
Labeled: SPF50+ PA++++
Actual Tests: SPF57.4 PFA16.65 PA++++ by Korea Institute of Dermatological Sciences, SPF71.4 UVA-PF 17.9 PA++++ by Florida Suncare Testing
Filters
Tinosorb S, Uvinul T 150, Titanium Dioxide, Uvinul A Plus
Best suited for
Dry skin types, maybe normal. The finish will be too much for oily or even combo skin types.
Things to note
Stearyl Alcohol and Stearic Acid can be comedogenic, but you should only avoid if they actually break you out.
Packaging
A matte white plastic tube. I like their new label design, looks a lot cleaner!
Scent
None, it's fragrance-free!
Texture
A lightweight watery lotion. Easy to spread since it has a lot of slip, but never seems to actually dry down.
Finish
We're talking a glazed-donut dewiness that lasts all day, which can be a pro or con depending on your skin type and preference. Doesn't feel uncomfortable but your hair will stick to your face.
Price & Size
$13-$17 for 60ml on YesStyle (5% off with code GEEKYPOSH), Jolse, and Stylevana (10% off with SHOPJENNY)
Ingredients Highlight
Tinosorb S is a next-generation sunscreen filter (ie. not approved by the FDA) that protects against both UVA and UVB rays! A study of 18 filters actually found this to have one of the best SPF protection, plus it's incredibly stable and safe too!
Uvinul T 150 is a next generation sunscreen filter that specifically protects against UVB rays. It's extremely stable and only a small % is required to provide great SPF protection.
Want to learn more about filters and the difference between UVA and UVB rays? I cover it all in my ultimate guide to understanding and choosing the best sunscreen!
Uvinul A Plus, also a next generation sunscreen filter that protects against UVA rays. It's stable and studies show that only minimal amount gets absorbed into the skin. (source)
Titanium Dioxide is an FDA-approved mineral filter that protects against mainly UVB and some UVA rays. It's stable, safe to use, but unfortunately can give the dreaded white cast.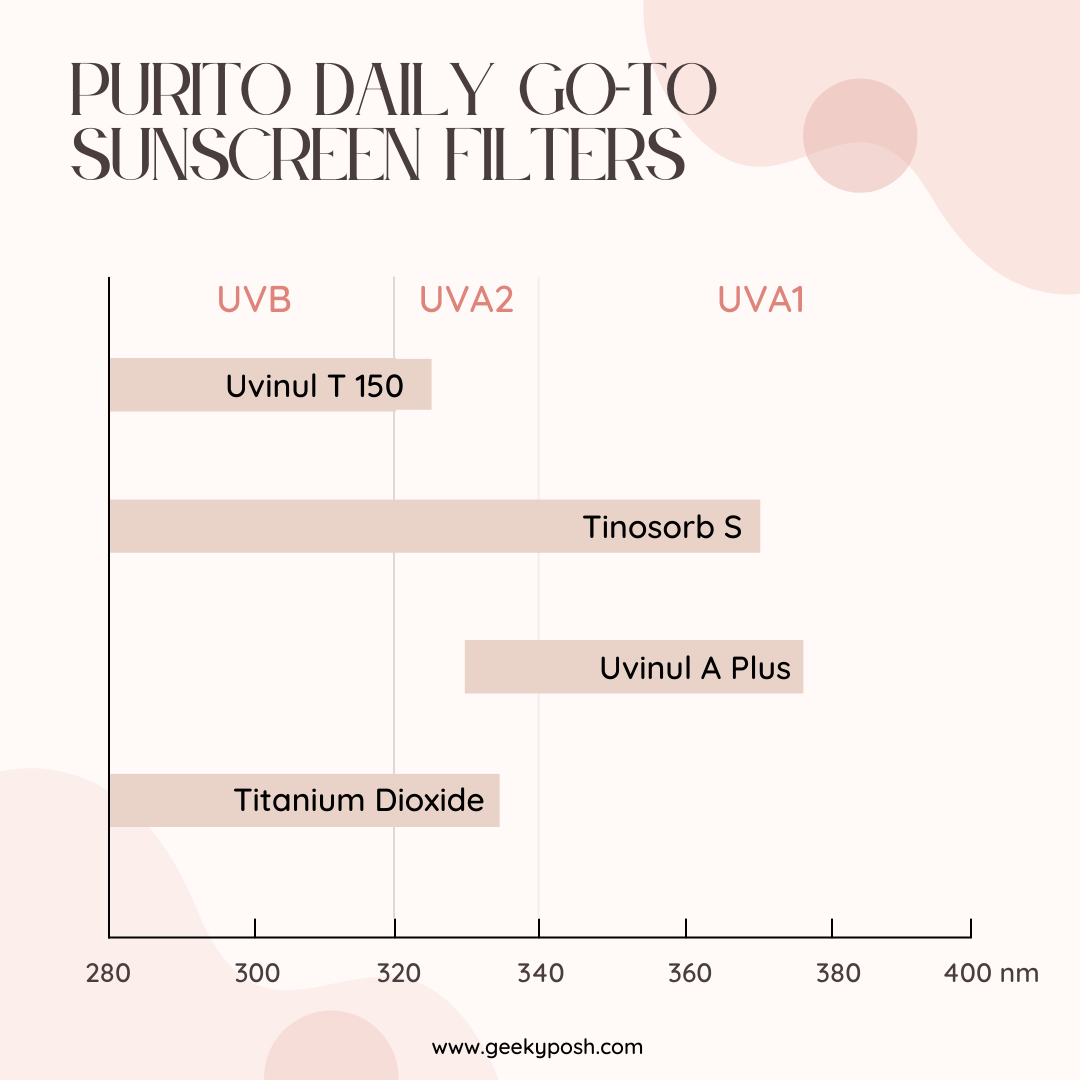 Centella Asiatica Extract is one of the most popular ingredients for soothing the skin, and for good reasons. Research found that it can help with wound healing, and another study found that at 5% concentration it increased the skin's moisture levels while providing anti-inflammatory benefits.
What's interesting here is that Purito actually includes the active compounds responsible for the above benefits in their ingredient list: Madecassoside (the wound healing one), Asiaticoside (increases antioxidant levels at 0.2%), Asiatic Acid (has anti-glycation properties), and Madecassic Acid (the moisturizing one).
My personal thoughts
I like that this sunscreen isn't trying to do everything, because all I really need from it is good UV protection. The increased number of filters and mix of both chemical and physical ones is certainly an improvement from their old formula as well.
I also like the inclusion of centella asiatica and its active compounds to soothe and protect against the harsh sun. Antioxidants in general are excellent for that extra UV protection boost.
Full Ingredient List
Water, Butyloctyl Salicylate, Dibutyl Adipate, Propanediol, Butylene Glycol, Bis-Ethylhexyloxyphenol Methoxyphenyl Triazine, Ethylhexyl Triazone, Dicaprylyl Carbonate, Titanium Dioxide, Diethylamino Hydroxybenzoyl Hexyl Benzoate, Hydrogenated Poly(C6-14 Olefin), 1,2-Hexanediol, Centella Asiatica Extract, Polyglyceryl-2 Stearate, Aluminum Hydroxide, Glyceryl Stearate, Stearyl Alcohol, Sodium Polyacrylate, Stearic Acid, Polyhydroxystearic Acid, Behenyl Alcohol, Polymethylsilsesquioxane, Ethylhexyl Stearate, Ammonium Acryloyldimethyltaurate/​VP Copolymer, Caprylyl Glycol, Trideceth-6, Ethylhexylglycerin, Xanthan Gum, Madecassoside, Asiaticoside, Asiatic Acid, Madecassic Acid
How To Use the Purito Sunscreen
In the mornings as the LAST step of your skincare routine. No it should not be applied on bare skin because sunscreen does not (and should not!) need to be absorbed to activate its filters!
Use it before heading out or if you'll be spending time in front of a window. UVA rays can still pass through glass!
Make sure you use enough! I use the 2 finger rule for my face, and another finger for my neck.
Skip the moisturizer unless your skin is super dry. The formula is surprisingly moisturizing and dewy!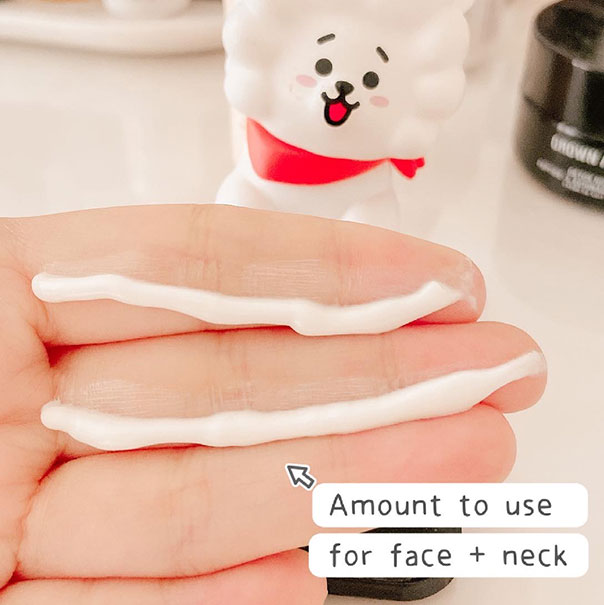 Pros & Cons of the Purito Daily Go-To Sunscreen
✅ Elegant and super easy to blend
Despite increasing the UV protection, Purito has kept the texture extremely elegant, albeit slightly different. This still feels light and spreads well, but it has more "slip" than the old formula, which makes it feel a hint more oily. Still not greasy or uncomfortable, but oily skin folks will appreciate the change less.
✅ Independently tested, twice!
One of the biggest issues with sunscreens is that often times their actual protection levels are lower than what's claimed, which is what happened with the original Purito sunscreen. I'm glad to see that as part of the reformulation process, Purito submitted the product to not just one, but 2 third-party labs to confirm that this sunscreen is indeed SPF50+ and PA++++!
Read more: 5 Best Lab Tested Sunscreens for 2022
❌ Takes forever to dry down
Talked about the finish briefly – super dewy – and it's all due to the fact that this sunscreen never quite sets or dries down. Yes it spreads beautifully but then it's just sits there on your skin like a layer of glaze for an hour. It's not heavy or uncomfortable, but it's there, and you know it's there because your hair is all on it.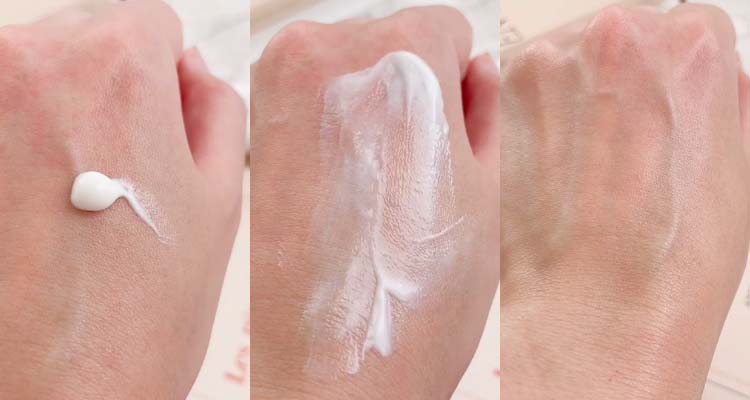 However my concern with how long it takes to set is its impact to fully protect our skin. A good sunscreen works by forming a film on the skin so it stays put when we sweat, get oily, or accidentally touch our face!
To see a sunscreen that's mastered the art of setting and forming that protective layer, take a look at my favorite Allie Extra UV Gel N Sunscreen!
❌ Irritates the eyes
Because the sunscreen takes a long time to set, there's a chance it might shift. Just pray it doesn't shift into your eyes because boy it will sting. Setting it with some powder does help, but it's an extra step that I'm just not used to.
❌ Finnicky to layer under makeup
Again, this is an issue that comes from its long set time, so I definitely recommend waiting before applying makeup. Using a sponge or a cushion foundation will make it easier, and light layers is key to prevent pilling.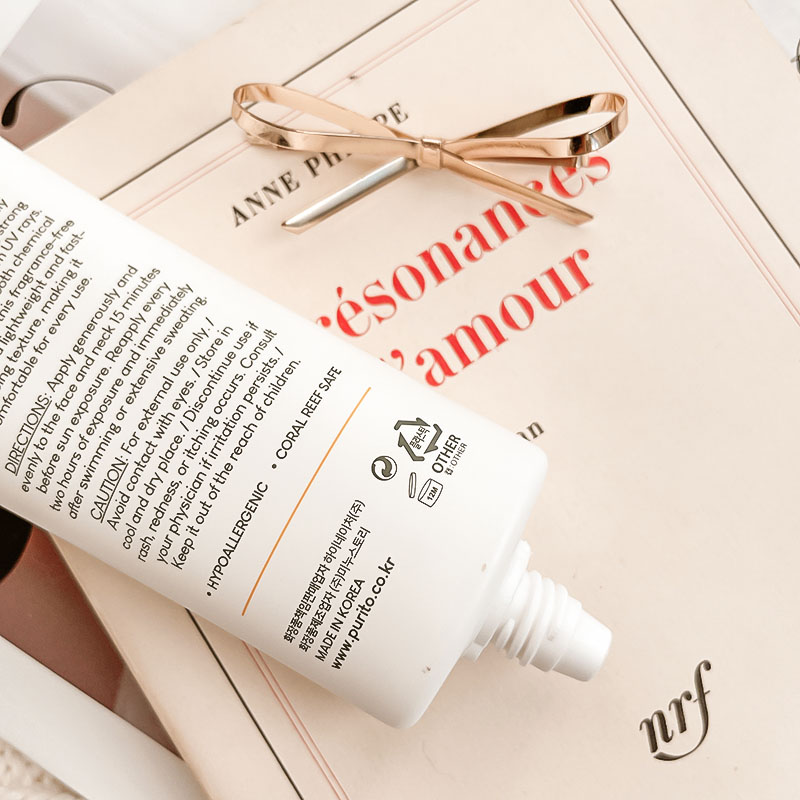 Product Comparisons
Purito Daily Go-To Sunscreen vs Purito Centella Green Level Unscented Sun
Obviously the new version has better filters, but the old texture was superior imo. It worked for all skin types and sets quickly, so no makeup layering issues there.
Purito Daily Go-To Sunscreen vs Innisfree Daily Mild Sunscreen*
Both have a light lotion texture but Innisfree has a superior finish. It also has better UVA protection, but Purito has better UVB protection. I prefer the Innisfree because its features make it the perfect work-from-home sunscreen.
Purito Daily Go-To Sunscreen vs SCINIC Enjoy Super Mild Sun Essence
The two are very similar in texture and tested UV protection, but the SCINIC's natural finish is so much more elegant than Purito! It's also less expensive, which makes the SCINIC sunscreen the superior between the two.

Purito Daily Go-To Sunscreen vs Allie Extra UV Gel N
While the Purito has a lighter texture, once Allie's formula sets it does not budge! It layers extremely well under makeup as well and from actual human tests seems to offer great UVB/UVA protection.
Purito Daily Go-To Sunscreen vs Biore Aqua Rich Light Up Essence
While both have similar textures and finishes, the Purito doesn't have that awful white cast. Biore sunscreens are also known to have low UVA protection levels, and Purito's at least has been independently verified.
Want more sunscreen recommendations? Here are the best dermatologist-tested best sunscreens of 2020 plus my personal picks!

Final Verdict
Ingredients
Packaging
Texture/Application
Performance
Price
Given how much I enjoyed their old sunscreen (until the whole scandal that is), I was let down by this new version. I can get past the extreme dewiness, but the stinging of the eyes and how long it takes to set just makes this sunscreen a pain (literally) to use.
While this is a pass for me, I do applaud Purito for getting this sunscreen independently tested. Knowing that this definitely provides the labeled protection, I'm comfortable recommending it to those that don't mind its finish.
FAQs
Is the Purito Daily Go-To Sunscreen safe to use during pregnancy or breastfeeding?

While zinc oxide and titanium dioxide are considered generally recognized as safe and effective by the FDA, the filters used here are also considered stable and safe. It does not contain any of the potential hormone disrupting filters.

Will the Purito Daily Go-To Sunscreen break me out?

Stearyl Alcohol and Stearic Acid can be comedogenic but that doesn't mean it will definitely break you out. If you've used other products containing these ingredients without issue, you should be fine. Just make sure to cleanse well at night, double cleansing if necessary.

Is the Purito Daily Go-To Sunscreen cruelty free?

Yes! Purito is one of the few (but growing) Kbeauty brands that is cruelty free, and they donate a portion of their profit to the Best Friends Animal Society.

Does Purito use sustainable packaging?

Yes! Their products are packaged in recycled and biodegradable material, and they donate a portion of their profits to the Korean Federation for Environmental Movement.

Is the Purito Daily Go-To Sunscreen coral reef safe?

Keep in mind that "reef safe" is not a regulated term, and many mineral sunscreens mistakenly label their products as such despite zinc oxide (1) found to be potentially harmful to coral reefs! Oxybenzone and Octinoxate (2) are two other filters that can be harmful, so given that the Purito sunscreen doesn't include any of the 3, I would feel ok using it around coral reefs.
Article Sources
To keep my content accurate and trustworthy, I rely on peer-reviewed studies, articles from reputable academic institutions, and quotes from certified healthcare professionals to back my claims. No woo-woo clickbait nonsense here!
Corinaldesi, Cinzia, et al. "Impact of Inorganic UV Filters Contained in Sunscreen Products on Tropical Stony Corals (Acropora Spp.)." Science of the Total Environment, vol. 637-638, Oct. 2018, pp. 1279–85, https://doi.org/10.1016/j.scitotenv.2018.05.108.

Downs, C. A., et al. "Toxicopathological Effects of the Sunscreen UV Filter, Oxybenzone (Benzophenone-3), on Coral Planulae and Cultured Primary Cells and Its Environmental Contamination in Hawaii and the U.S. Virgin Islands." Archives of Environmental Contamination and Toxicology, vol. 70, no. 2, Oct. 2015, pp. 265–88, https://doi.org/10.1007/s00244-015-0227-7.