Originally posted on December 14th, 2015
I love a mud masks  a weekly treatment to deep clean my skin. However come winter time, my skin would get so dry that mud masks would only cause even more dryness, so I would forego them altogether. But I missed the deep cleaning so much, I've come up with a way to upgrade my mud masks for the winter time, and it's super easy! 
Yes, my big tub of Borghese Fango Active Mud Mask is still there, though I've finally reached the bottle of jar. It's a long time favorite, and it really deep cleans the sh*t out of your skin, removing all the gunk and unfortunately, oil and moisture off my face. So how do I upgrade this for the winter time?
By mixing it with a thick serum/moisturizer. Seriously, it's that simple. I can't believe I didn't think to do this sooner. *face palm* A couple pointers though:
Don't use your usual expensive serums/creams for this. We're adding them purely for extra moisture, that's it. So use a blah product that's sitting in the back of your drawers, like this

Perlier Royal Jelly serum

that I really don't care for.
Pick a product with a similar consistency to the mud mask. You don't want anything too light or runny, or else it won't mix as well.
Don't choose a mixer with any actives. The simpler the ingredients the better, as this prevents any incompatibility issues.
Don't choose a mixer that's too occlusive, since you'll want the mud mask to be able to deep clean your pores. So no mineral oil, lanolin, paraffin, beeswax, shea butter, petrolatum, or silicones please.
Found your mixer? Great! Now let's start mixing! You'll need a small bowl and maybe a small spoon/spatula to help you scoop out the products. Depending on how "moist" you want to make your mud mask, adjust the proportions accordingly:
For me, my mud mask : mixer proportion is about 3:2. If your skin is really dry, you may want to start with 1:1 and go from there. Either way, mix up this lovely concoction so it's turns into a nice creamy paste: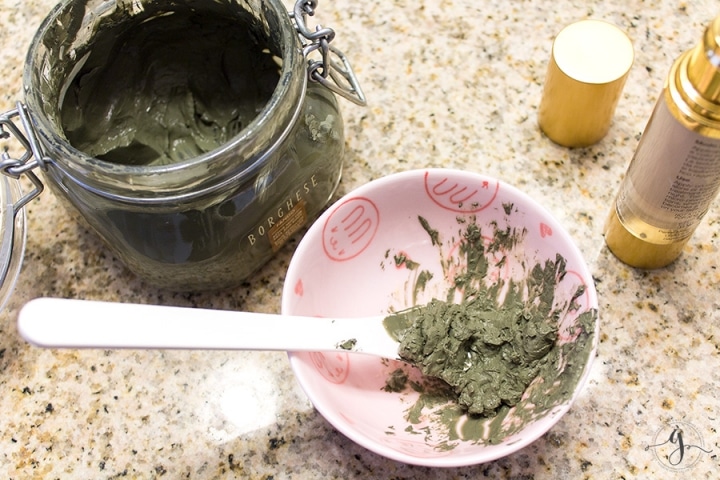 And…apply that on your face! You'll notice that the mud mask feels creamier than usual and it probably won't tingle as much. The mixer also helps prolong the wear time before the mask starts drying out. Usually my Borghese mud mask is dry within 5 minutes, but with my serum mixer, part of the mask is still "wet" after 10 minutes:
Even with the added mixer, I don't notice a decrease in the mud mask's cleansing abilities. In fact, I noticed that my skin actually feels softer and less dry after I wash this upgraded mud mask off!
Summary – why this upgrade is awesome
 You can now use mud masks all year around without having to worry about drying out your skin
 You can repurpose those blah moisturizers/creams/serums sitting in the corner of your bathroom drawer. No more waste!
 You get all the benefits of the mud mask, plus the extra moisture from the mixer!
 It's super easy – no rocket science require
So there you go! Hope you enjoyed this little tip, and let me know if you'll be upgrading your mud masks this winter! I'd love to hear your experience with this!