There's something so effortless yet beautiful about those blowouts you get in hair salons – your hair has just the right amount of shine, body, and movement, and you feel like a million bucks. But who really has the money (or time) to pay $$$ for a blowout every time? The good news is, with the right products and tools, it's seriouly easy to achieve the same results at home.
I'm sure everyone has heard of the amazing It's a 10 Miracle Leave-In, a multitasker that can detangle, condition, protect, add shine, and do all sorts of wonders for your hair, but they also have a whole line of styling products that can help you achieve that salon-like blowout, right in your own bathroom.
LoxaBeauty was kind enough to send me 4 It's a 10 styling products to test: It's a 10 Miracle Blowdry Volumizer, It's a 10 Miracle Finishing Spray, It's a 10 Miracle Styling Potion, and It's a 10 Miracle Styling Serum. While each product serves a main purpose in the blowout process, you can see below that they all have additional benefits for your hair as well.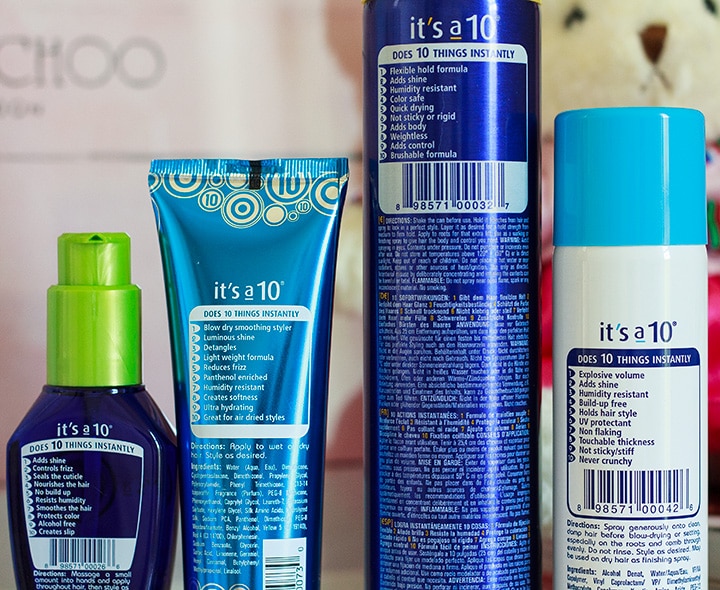 Step 1 – Add some volume
As with any blowdry, you'll want to make sure your hair is about 80% dry before you start styling. To give my hair more volume, I spray the It's a 10 Miracle Blowdry Volumizer to my roots throughout my hair, and then tousle it to make sure the product is distributed evenly.
Step 2 – Prime my strands
Now that my roots have been taken care of, it's time to prep and prime my strands with the It's a 10 Miracle Styling Potion. I love that this styling cream feels light and not sticky at all. It also helps add softness and shine to my hair :)
Since I don't have much hair (sadly), a pea-sized amount is all I need and I apply this from the mid-shaf down to the ends. Sadly this product doesn't offer heat protection, so don't forget to use that before styling! My recent favorite has been the Bumble & Bumble Hairdresser's Invisible Oil Primer Spray – it smells delicious!
Step 3 – Time for some heat and style
I have no hand-eye cordination so using a blowdryer + round brush is out of the question. Instead I use my trusty Conair Infiniti Pro Spin Air Rotating Styler, which makes this step so much easier and faster. Simply hold the heat styler under your hair and slowly pull out while rotating the brush inward toward your scalp. Hold for a couple seconds at the ends to give your hair that inward curl. Just repeat this throughout your hair, taking 1-2 inch sections at a time.
Step 4 – Smooth and shine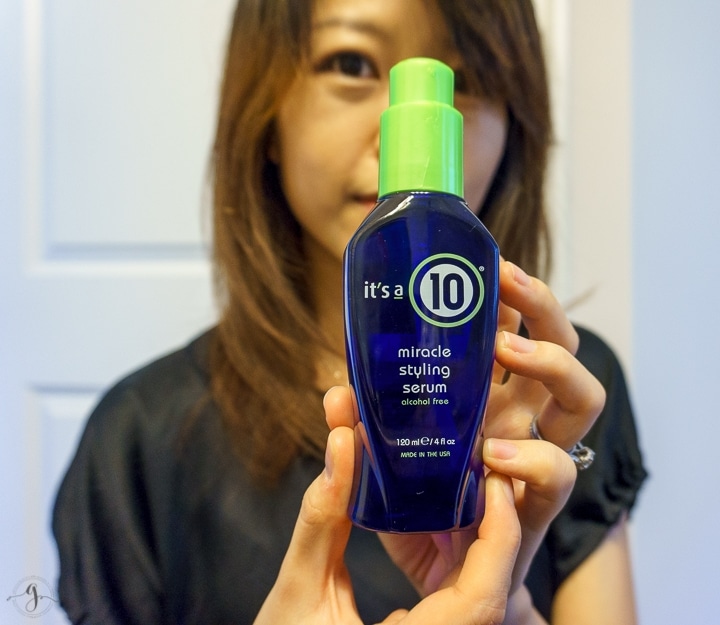 Your hair will be a bit dry and frizzy if you use a heat styler, because the heat is blowing up against your hair cuticles, rather than downwards and sealing them. No worries, it's It's a 10 Miracle Styling Serum to the rescue! This is a lightweight serum that'll seal the cuticles, control frizz, and give your hair that extra shine. It's not oily at all, which makes it great for those with fine hair.
Using a pea-sized amount, I spread this out in my hands first, then I comb it through my hair making sure to apply it evenly on my strands. The last thing you want is a super slick strand sticking out like a sore thumb!
Step 5 – Set my style
As the final step, I set my blowout with a flexible hairspray like the It's a 10 Miracle Finishing Spray. I love that my hair is still soft after using this, plus it gives it some extra oomph. My fine hair needs all the body it can get!
I spray this sparingly throughout my hair, and if I want a bit more texture, I'll tousle my hair a bit and get some hairspray on the inner layers as well. You can also use this on next day hair to help revive your style and give it some extra volume!
TADA! This is the finished look, which is pretty good considering the awful cut I currently have. My hair is shiny, smooth, and has a nice volume. All that took about…15 minutes? Not bad for a at home blowout!
If you're interested in any of these products, or if you just need to stock up on your usual hair care goodies, you can use promo code JENNY10 to get 10% off your entire order at LoxaBeauty! Hope you found this post helpful, and have a great week!