I feel like chemical exfoliants really exploded in the skincare scene these past few years. Now every brand is touting their latest and greatest exfoliant that promises to brighten, smooth, soften, and at this rate cure every disease under the sun. Yet here I am boldly proclaiming "stop exfoliating!", and before you guys stone me, let me explain why.
First of all, this is based on my personal experience and stories I've read from similar people.
As always, skincare is very much YMMV, but in a time when everyone is touting the benefits of exfoliating (heck I did it myself), I think it's important to highlight the opposing view because in reality, exfoliating isn't for everyone. Think you can keep an open mind? Read on!
Your skin and what exfoliating actually does to it
Most products like to extol the benefits of exfoliating like it was some magical elixir for all our skin problems. And the root of all those problems? Those pesky dead skin cells, which apparently we all have a thick layer of just sitting on our face that we must remove ASAP!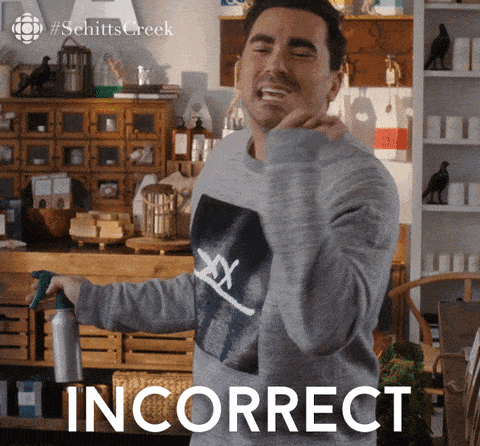 The top layer of our skin, made of corneocytes, are actually quite active, and they do shed naturally about every 28 days. This turnover process allows fresh cells, the keratinocytes, to get moved to the top and become new corneocytes.
During this transformation, the keratinocyte essentially flatten itself, excrete its contents, which becomes the fatty acid, cholesterol, and ceramides that bind the corneocytes together and form the moisture barrier. And we all know how important our moisture barrier is!
When using an exfoliant, whether it's a physical scrub or an AHA like glycolic or lactic acid, you're forcibly removing that very top layer and pushing the fresh keratinocytes to the top. So now you're seeing these new happy cells, which naturally would be brighter smoother and just in better condition than the old ones you sloughed off. Life is good.
Meanwhile your skin is busy regenerating cells since you pushed everything ahead of schedule. No biggie, our skin doesn't mind working overtime occasionally, but what happens when you increase the frequency?
Eventually your skin won't be able to keep up, the number of corneocytes and ceramides/lipids/fatty acids decrease, and you're left with a compromised moisture barrier and all the symptoms that go along with it: dryness, tightness, roughness, and inflammation. Life is no longer good.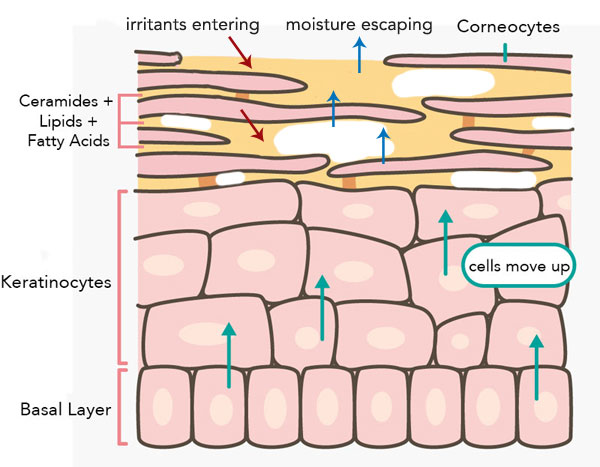 A slippery slope to moisture barrier damage
Before I dived head first into the exfoliating trend, I had combination skin with absolutely no sensitivities. But I loved the instant results my AHA's and scrubs were giving me, and since I didn't experience any immediate redness or irritations, I kept increasing the frequency.
At my peak I was using the Pixi Glow Tonic every night, using a physical scrub weekly, and using a strong chemical exfoliant every 2-3 days. Unless your skin is producing a ton more skin cells than it can naturally slough off, there's really no reason why anyone should be exfoliating so often.
Eventually I started noticing some redness and dryness, so I'd stop for a few days, and once those symptoms were gone, I was back on it again. Rinse and repeat, until eventually I noticed that products that never irritated me before were suddenly making my skin red and itchy.
My skin had become sensitive over the years, and the more I tried to achieve "better" skin with exfoliants, the worse my skin actually looked. My moisture barrier had been severely compromised, and I didn't realize it until it was too late.
So I quit exfoliating.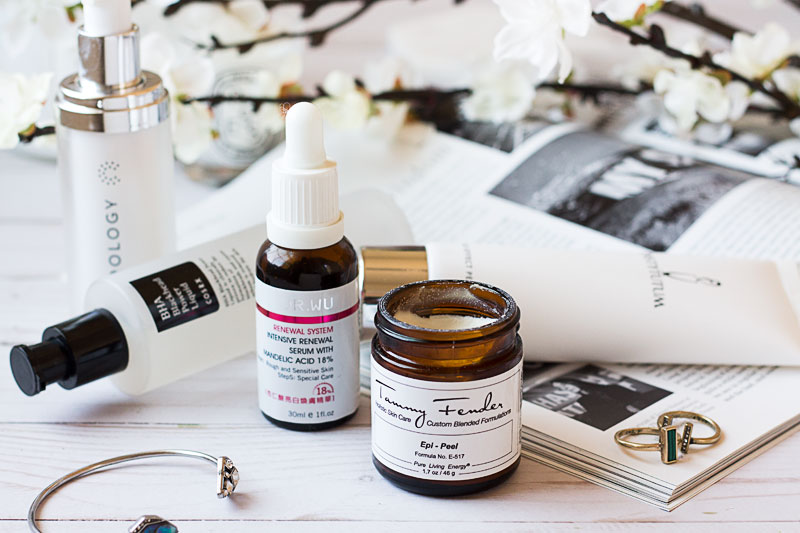 Yep, for the past 2.5 weeks I've held off on all exfoliants, chemical and physical, which the exception of the Tammy Fender Epi-Peel which I used only along my jawline since it had some texture.
It's ironic, because looking back it wasn't like I had any serious skin issues could only be addressed by exfoliating. Yet by exfoliating, I introduced a bunch of new skin problems, which I'm now working extra hard to reverse.
How to recover from over-exfoliation
If you find yourself frequently dealing with skin sensitivities, dryness, roughness, tightness, or any signs of a compromised moisture barrier, here are my suggestions:
Stop exfoliating. You need to stop damaging your skin and give it time to repair and regenerate. I'm going to keep this up for at least 28 days to match my skin turnover cycle. This includes physical scrubs, AHAs, and BHAs. Vitamin C is ok as long as it's not ascorbic acid. Retinol actually isn't an exfoliant, but it can cause similar side effects, so it's best to stop or at the very least decrease the frequency significantly.
Forget anti-aging and brightening products, just focus on hydration. While those products aren't exfoliants, they can be irritating when your skin is in a compromised state. Instead layer on gentle hydrating products, because your skin will need that extra help to replenish the moisture loss.
Replenish the ceramides, cholesterol, and fatty acids. Those are the glue that hold the corneocytes together and keep moisture in. Remember, keratinocytes essentially produce these components when becoming corneocytes, so when our skin can't do this process fast enough, these component levels take a hit as well.
Look soothing and repairing ingredients. Basically anything that will help your skin heal faster is your best friend. These will also help fight any inflammation that may occur while your barrier is compromised.
Consider Vaseline and mineral oil your friends. I don't know why these ingredients get such a bad rep as they're fantastic non-comedogenic occlusives. Just make sure you don't layer anything comedogenic underneath! When your moisture barrier is compromised, you'll need the extra help to keep moisture in, and these 2 ingredients are among the best at this job.
Keep your routine simple. The more products you add the more you risk potentially irritating your skin. Remember, your skin is extra sensitive right now, so give it space and don't anger it by throwing 20 different products at it. Imagine how you feel when you're PMSing, and your significant other is trying to do 20 different things and you're just like I CAN'T RIGHT NOW (or am I the only one that gets that way?)
Develop better exfoliating habits for the future. You don't need to quit exfoliating for the rest of your life, but the frequency needs to be dialed back. Like waaaay back. If our natural skin turnover rate is 28 days, wouldn't it make sense for our manual exfoliation to match that? Food for thought.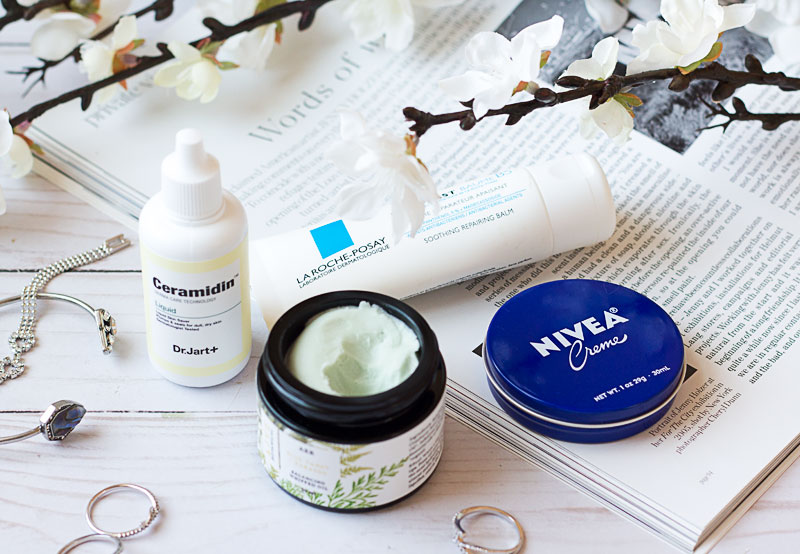 During this self-imposed exfoliation ban, I've been following the above steps and using a select few hydrating and skin repairing products.
The Nivea Creme is especially fantastic, with an occlusive formula similar to the $300+ La Mer, except it only costs $1 for the small tin. I use this on my cheeks which are especially prone to dryness, and it's been a lifesaver.
I'm also replenishing my ceramides with the Dr. Jart+ Ceramidin Liquid, while the Live Botanical Aer Balancing Whipped Oil and La Roche-Posay Cicaplast Baume B5 (a 2017 skincare favorite, full review here) both contain skin soothing + repairing ingredients.
For hydration I've been really loving my custom Activist Skincare Hyaluronic Serum* (full review here) which now contains zinc for extra skin repairing powers, and of course, layering on the Avene Thermal Water generously.
The case for exfoliation
Despite the post title, I'm not saying that everyone should stop exfoliating indefinitely because it's evil, because there are certainly people who can benefit from the occasional exfoliation (keyword occasional).
Whether it's because you're generating skin cells faster than they can naturally shed them or because your skin's natural turnover rate has slowed down (hello aging), it makes sense to get some external help via exfoliation.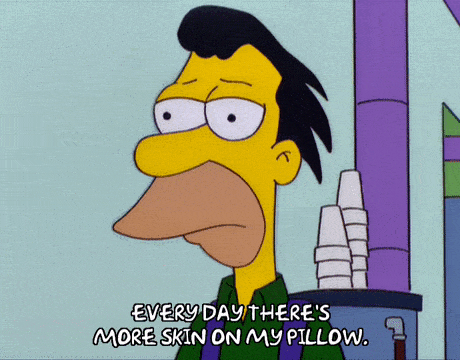 Also, pay attention to the potency of exfoliants. If you're going to use a high % AHA, you should definitely dial back on the frequency.
And just because the % is low doesn't mean it's ok for daily use. Nor does it containing soothing + hydrating ingredients mean that the it won't damage your skin. That's like me handing you some laxatives and saying "Btw, there's also some Imodium in there, so you're all good". Yeah, no, you're still getting that diarrhea, or at the very least some painful toilet time.
Many of the results we crave (smooth glowing skin) can actually be solved by other means, for example making sure your skin is properly hydrated or by getting the proper nutritions internally. Sloughing off your skin because you don't like the way it looks is only temporary fix, and one that can lead to more problems if you're not careful.
Regardless of how we feel about exfoliation now, I think it's important that we examine why we're so eager to exfoliate and if our skin really needs it. Hopefully this post was a lot of food for thought!
TLDR;
Because this was a long post and everyone who read all the above deserves a cookie. But in case you didn't, here's the general gist:
Contrary to what brands may claim, we don't all have a thick layer of dead skin that needs to be removed ASAP.
Our skin has a built in "exfoliation" system, and if ain't broke, why fix it?
Over-exfoliation can lead to a compromised moisture barrier, which can lead to all sorts of annoying skin issues – dullness, dryness, roughness…ironically the same issues you were trying to fix with exfoliation.
Moisture barriers can be repaired, but you're gonna have to scroll up and read the details.
Exfoliation isn't evil and can be beneficials under the right circumstances and appropriate frequency.
Brighter smoother skin is possible without exfoliation. Hydration is key!
Hope you all enjoyed this post, and let me know your thoughts on exfoliation and what your routine is! Have a great rest of the week!