For the longest time I stuck to using a wax warmer for fear of burning the house down, and while it made the house smell good, it didn't exactly add points to the overall decor. So slowly I migrated over to candle: first Bath & Body Works and now, something a little nicer. Enter Voluspa candles.
I was searching for high-end candles when I stumbled across these gorgeous Voluspa ceramic candles. Seriously, how pretty is the packaging? Of course, I need my candles to smell good as well, so after a bit more research, I took a plunge and ordered 3 ceramic candles and 1 large tin candle from Voluspa.
If I had to describe this scent in one word, it would be sexy. The word apricot is misleading because it doesn't smell much like the fruit, or anything in particular really. Instead it has a nice musky scent which mixes well with other scents, and is also quite appropriate for the bedroom I might add ;)
I'll admit, I have no idea what gardenia actually smells like, but I do know that this smells divine. It's definitely a floral scent, but there's a slight sweetness to it. I usually don't like floral scents, but I absolutely loved this. The throw is also excellent considering it's a 1-wick candle.
I love macarons and was so excited for this candle, but scent-wise it's my least favorite of the bunch. While it does smell like some sort of baked goods, it doesn't smell like macarons. The scent itself is a bit heavy for my liking, yet the throw isn't as good compared to the other 2 ceramic candles. Ah well, at least the container is pretty!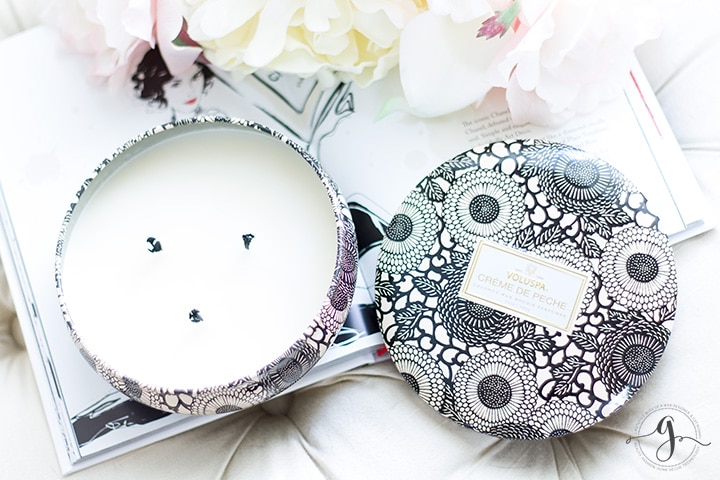 Oh my goodness this smells delicious. It doesn't have that artificial peach smell (which I hate), instead it's the perfect combination of fruity + floral without being overwhelming. The large tin candles have the best throw by far, but it also burns through the quickest.
Where to Shop
You can find Voluspa candles at most high-end department stores like Nordstrom and Bloomingdales's, and also specialty candle retailers like CandleDelirium.
I bought mine from SkincareRx, which seemed like a great idea at first because they had a 30% off coupon, but one candle arrived with a buried wick and another with a cracked lid. Their response? For me to dig the wick out myself because it's Voluspa's fault for overfilling the candles. Yep, I'm definitely not shopping with them again.
Do you have any candles you love? I'm obsessed with candles and making my house smell good, so recommendations are most welcomed!