It's that time of the year where everyone from Sephora VIB Rouge to regular BI members can get up to 20% off their entire Sephora order! With so much to buy and a limited bank account, I'm sharing some of my personal favorites as well as how to shop smartly!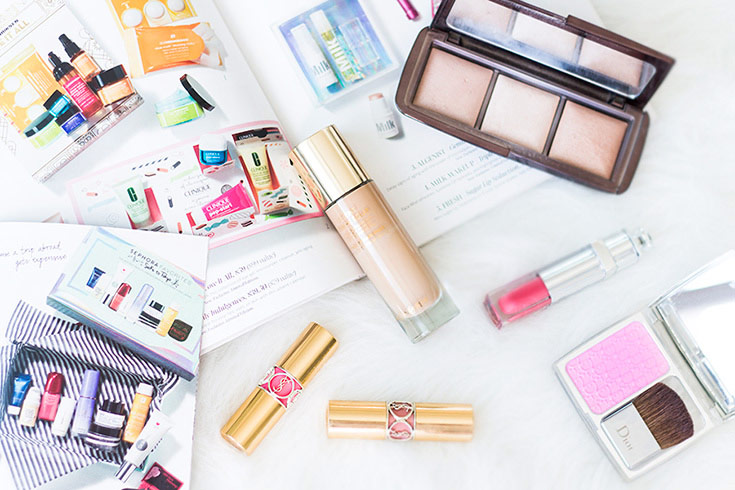 Yes, we want to buy everything, or at least a LOT of stuff, to take advantage of the discount and retain our VIB/VIB Rouge membership. But how often do we end up with things we regret or dislike, and then we forget to return them? To help you save your hard-earned money and make smart spending decisions, here are my 6 tips on how to shop smartly during the Sephora sale:
Set a budget, and try your best to stick to it. You shouldn't be digging into your emergency funds for this sale, nor should you be putting yourself in credit card debt. Spend what you can afford.
Take inventory of what products you already have and where you like to shop. If you already have 3 face washes, do you really need another one?

Don't forget, makeup and skincare products do expire

! Also, consider where else you like shopping for beauty products. So if you get that foundation from Sephora, you shouldn't be getting another one from the Chanel counter in Saks (or you can, but it's pretty wasteful IMO).
Make a list of products you actually need. These are typically products you can't live without and are running low, and you're just restocking.
Determine what's left in your budget, and spend that on products you want. These are products you really want to try out due to great reviews and recommendations. The easiest way to end up with a dud is to just buy something on a whim without any prior research.
Consider value sets before buying a full-sized product. This applies to products on your want list (see tip #3). You'll get a better deal and plus you get to try out some additional products that are similar or from the same brand. This helps lower the chance of dud encounters.
Bundle your holiday shopping to reach that VIB/VIB Rouge goal. Seriously, if you're going to get someone beauty products for Christmas, the Sephora Sale is a great time to buy the gifts. To get VIB, you need to have spent $350 for the entire calendar year. For VIB Rouge, you'll need $1000, which in my opinion, is a LOT of beauty products.
Putting my own tips into practice, here are my 2 Sephora wishlists – what I need versus what I want to try:
If you're honest with yourself, you probably don't need that much. My need list is also full of my tried-and-true favorites that I've actually run low on or out of completely:
Next is my wishlist, which honestly could've had twice the number of products, but I really did try to narrow down to things I really wanted:
As you can see, I feature quit a number of sets in my wishlist, which works out because I do want to try multiple products from the same brand. Am I going to buy everything in this list? Probably not, but we'll see:
Stila Star Light, Star Bright Highlighting Palette – Highlighters are truly my weakness, and I'm totally dying over that pale pink highlighter in this palette.
Caudalie Instant Detox Mask – This is meant to replace my Origins Retexturizing Rose Clay Mask, which I liked, but didn't love. I do like that this contains oils, so it won't be as drying as regular clay masks.
Stila Aqua Glow Serum Foundation – This foundation reminds me a lot of my favorite YSL Touche Eclat Foundation, except it feels lighter and more hydrating. Since I'm nowhere near done with my YSL, I'm still on the fence about this one.
GLAMGLOW Gift Sexy SUPERMUD Set – I've been wanting to try their masks for a long time now, and this set will give me a chance to try 3 different types!
Givenchy Soft Powder Radiance Enhancer – I told you I had a highlighter problem. Beautiful packaging and powder embossing aside, that baby pink is just to die for. It's a toss up between this and the Stila palette.
Belief True Tincture Chamomile Cleansing Stick – I've always wanted to try cleansing sticks, and I'm a big fan of chamomile due to its calming and inflammatory properties.
Moroccanoil Hydrating Travel Set – Another brand that's been on my to-try list since it first came out years ago. This travel set will give me a chance to try its entire hair care line, plus I can keep the bottle for future travels!
Sunday Riley #SquadGoals Skincare Essentials Kit – I want to try everything in this set, so this works out perfectly. I'm just hoping it doesn't sell out by the time the VIB sale comes around!
Erno Laszlo Detoxifying Double Cleanse Travel Set – The brand that invented double cleansing, I've been wanting to try their black soap for a while now. They're highly raved about in Taiwan!
Lastly, I made a list of some of my favorites which didn't make it in my need or want list because I haven't run low on them yet. If you're looking for ideas of what to try out, here are my suggestions:
Urban Decay Naked Palette – This is my ultimate ride-or-die makeup. The colors are so beautiful and pigmented, and you get 12 shades which will take you from day to night in a pinch. The other option is Naked2, which I know a lot of people also love.
Smashbox 24 Hour Photo Finish Shadow Primer – This just works so well with the Smashbox eyeliner, I have no complaints. My eye makeup doesn't budget and stays on all day.
Beautyblender Blendercleanser Solid – Not only is this great for cleaning the beauty blender, it also works on your makeup brushes! The solid bar makes it super easy to use and store. You can also buy this together with the Beautyblender as a set.
Dior 5-Colour Eyeshadow in 796 Cuir Cannage – While not as versatile as the Naked, it's compact size makes it travel-friendly. The colors are equally beautiful, and I especially love that dark espresso color for creating a natural smokey eye. FYI the pigmentation is inconsistent for these Dior palettes, so I can't speak for the other colors.
YSL Touche Eclat Le Teint Radiance Awakening Foundation SPF 22 – This is my favorite foundation, but it's been reformulated. I'm not 100% how the new formula compares, but the old one gave me such a natural glow. Absolutely love this foundation.
Dior Creme de Rose Lip Balm – Another HG item that I raved about previously. Nothing fixes my chapped lips like a thick lather of this overnight. I'm on my second tub now!
YSL Rouge Volupte Shine Oil-in-Stick Lipstick – A shinier, more hydrating version of the original YSL Rouge Volupte, which I adore. If you want to splurge on a lipstick, this would be my #1 choice.
Bumble and bumble Hairdresser's Invisible Oil – A beautiful lightweight oil that hydrates your strands without weighing it down. Plus it smells really good!
Sephora Favorites Perfume Sampler – If you're looking for a new fragrance or need a gift idea, this perfume sampler set is perfect. It contains 15 samples of Sephora's best selling fragrances, plus a voucher to redeem one full-sized perfume of your choice!
Whew, that was a long list, but I hope you found it helpful! What do you have on your Sephora Sale wishlist? Do share in the comments below!