Confession: I don't read a lot of books . I used to love reading as a child, but then the internet came along and ruined my life the rest is history. But every once in a while I'll come across a life-changing book that I just need to share with the rest of the world. This time, it's the aptly named The Life-Changing Magic of Tidying Up by Marie Konda.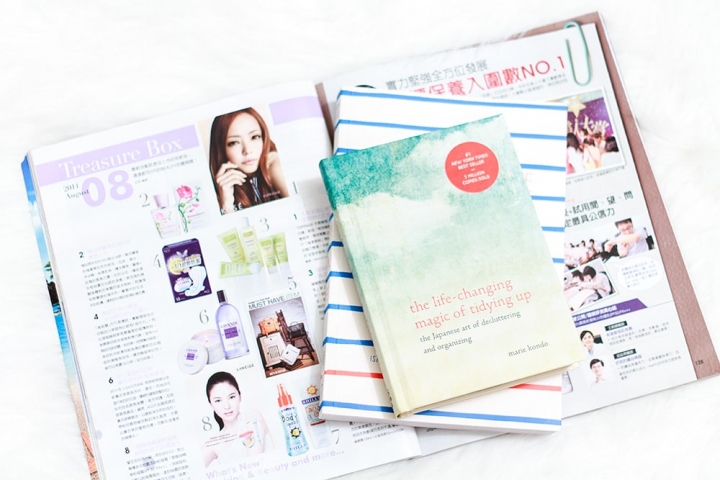 Confession #2: I'm a bit of a hoarder, especially when it comes to clothes and beauty products. It got to a point where my entire bathroom linen closet was filled with all sorts of stuff that it was a nightmare every time I had to search in there for something. I wish I had a before photo to show you, but here's an after:
The premise of Marie Konda's tidying method is very simple. Take a look at your belongings – does it bring you joy? If not, toss it out. Of course she offers a lot of other tips in there, many that I found were the opposite of how I did things, which explains why I can never keep a room tidy for more than a 1 week.
But back to my nightmare linen closet. Taking Marie Konda's method, I got to work and tossed out everything in there that didn't make me happy. I also extended this purge to my bathroom drawers, and eventually, my entire bathroom. The results? 4 full boxes of junk that not only brought no joy to my life, but half of it was also expired :/
I've never been a fan of decluttering as I hate throwing things out, but now my bathroom feels like a completely different place, and I love spending time in there! I can't wait to tackle the rest of my house and see what the end result will be.
For me, The Life-Changing Magic of Tidying Up was more than just a book on how to better organize and declutter my living space. It also got me thinking about my shopping habits and why I had accumulated so much junk in the first place. For the longest time I had the terrible habit of buying something just because it was on sale. I figured I might need to use it in the future, or that I might end up falling in love with the product. As evident by my boxes of shame above, that clearly didn't happen.
Now when I shop, the first thing I ask is, will having this bring me joy? Obviously this doesn't apply to groceries or essentials – toilet paper doesn't bring me joy, but I'd be in a very difficult place without them. But for clothes, makeup, shoes, etc, asking this key question has prevented me from making many unncesscary purchases and saved me money in the long run.
As a beauty blogger, I think we especially have the tendency to buy too much because we feel like we need to review everything under the sun. The Life-Changing Magic of Tidying Up has opened my eyes to this fallacy and my bathroom (and soon my entire home) thanks her for it. If you have problems keeping your place organized, or you need some seriously life-changing decluttering advice, I'd highly recommend this book. You won't be disappointed!