Last updated on April 9th, 2019
Time for another round of my skincare empties, aka mini reviews on a bunch of products I finally used up and have been sitting in a box until now. Actually I lied. Most of the products in here have been reviewed in depth, but you know, in case you forgot or didn't read those.
Cure Natural Aqua Gel –
I adored this peeling exfoliator/gel.

It was gentle, effective, and made my skin baby-butt smooth

. It could be priced a little better, so I ended up buying the Meishoku Delclear Peeling Gel instead, which is half the price (albeit a slightly smaller bottle), works just as well, and smells so friggin good. Clearly the Japanese know how to make a good peeling gel.
CeraVe Foaming Facial Cleanser – 
I no longer buy drugstore skincare products now, but CeraVe is an exception. Not only is it pH balanced (super important in cleansers), but contains wonderful ingredients like ceramide, niacinamide, and hyaluronic acid. Did I mention it's also ridiculously affordable ($9.99 for that giant bottle)? The only downside is that it's a bit boring. Maybe I'll decant it into a pretty bottle or something.
Curology prescription – 
This was my first prescription for

0.0.12% Tretinoin + 5% Vitamin C + 4% Niacinamide

and I'm very happy with the progress so far. It did dry me out at first, but really amping up the hydration factor in my routine solved the issue. I've already started my next prescription, which is 4% Azelaic Acid + 0.05% Tretinoin + 4% Niacinamide, and will be sharing a progress report on the blog soon! If you're interested in Curology, you can use my link to get your first prescription free!
Clarisonic Skin Renewing Peel Wash – 
This was a very blah face wash for me, and I only used it because it was included with my Clarisonic Mia 3. The good news is that it has a pH level of 4 and it doesn't dry out my skin. The bad news is that it definitely didn't brighten my skin or even exfoliate it, but I would never those things from a cleanser to begin with.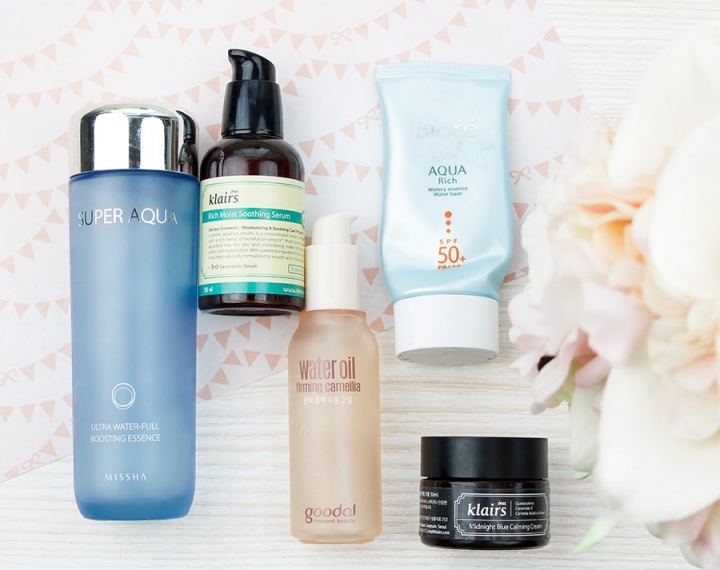 Missha Ultra Water-Full Boosting Essence – 
The ingredient list for this first essence looked so promising, but it was just as blah for me as their First Treatment Essence. It felt like water on the skin – no thick tacky texture – but I didn't notice any improvements as a result of using it.
Klairs Rich Moist Soothing Serum – 
It's hard to appreciate the beauty of this serum until you're faced with dry and/or irritated skin, and then you suddenly realize this serum is God-sent. Now that my skin has adjusted to using actives and retinol I don't miss this serum as much, so I won't be repurchasing it for now (until I get tretface again).
Goodal Firming Camellia Water Oil – 
While most oils are too heavy for my combination skin, this feels so light and silky and is a delight to use (the pink helps). I can't say anything about its firming properties because my skin hasn't started to sag yet (thank God), but it is hydrating without being heavy or sticky. I have the Waterest Lasting Oil that I'll be testing, so expect a review on that soon!
Biore UV Aqua Rich Watery Essence – 
This is still by far the lightest and most refreshing sunscreen I've ever used, but I stopped because 1) I've read multiple reviews that people still got tanned while using this 2) My spots got noticeably worse while I was using this. Thinking back, it's all probably due to not using enough to begin with, but I'd like to try other brands first before giving this a second chance.
Klairs Midnight Blue Calming Cream – 
Omg I miss this one so much, and would totally repurchase it if I didn't have 4 different moisturizers already in my rotation. This calmed and soothed my skin like no other, and was critical in helping me get over my tretface stage. If you have sensitive or irritable skin, I can't recommend this cream enough.
Hope you enjoyed this skincare empties roundup! If you've tried any of these products, share your thoughts on them in the comments below. Have a great week!
Did you enjoy this post?
I share first impressions, product comparisons, and more skincare tips regularly on Instagram! Learn about products first and get a bonus dose of daily fluff! 😸
Follow Now