As part of my resolution to live more minimally this year, I've drastically decreased my fun-fund, which means my recent beauty purchases have been limited to things I actually need *rolls eyes*. Meanwhile my wishlist is growing at an exponential rate, and instead of pining after what I can't get like a sad pubescent boy, I decided to go through my existing product stash and see if I can discover some old (or new) favorites.
e.l.f. High Definition Powder – Supposedly a cheap ($6, holla!) dupe of the MUFE HD Loose Powder, but I wouldn't know because I don't have the latter. But I do know that I tried it again recently to help set my concealer and it did a great job. It's seriously messy though, as you can see from the picture above.
Urban Decay Naked Skin Weightless Complete Coverage Concealer – A pressure sale from a Sephora SA (one of the many reasons why I stopped shopping in store, the temptations are just too great). It looked great when she applied it for me in store, and of course it looked like crap when I applied it at home, so it sat in a sad corner until I decided to give it another try. My skills must have gotten better, because this did a surprisingly good job of covering up my dark circles and *gasp* under eye bag #oldpeopleproblems
Klairs Rich Moist Soothing Mask – The thick material and fit has me going ehhhh but my skin loves the soothing essence when it's feeling under the weather. It does get forgotten when my skin is feeling normal though, poor thing. I even forgot to include it in the pictures!
Dior Addict Lip Glow – Why has this never made it into my favorites posts? Gorgeous pink packaging – check. Super moisturizing without being sticky – check. SPF – check. Pretty pink tint – check. Make mental note to shop stash more – check.
Sothys Desquacrem Deep Cleanser – One of the most gentle deep cleansers I've used with an acceptable pH of 6. I've always liked it, but like the Dior Lip Glow, I tend to forget about it in my favorites posts. Oops! A big thanks to You Glow Gal for introducing this to me!
NYX Powder Blush (Flamingo) – Yes the color looks intimidating in the pan, but it gives such a pretty pink glow when applied lightly. The pigmentation is no joke, so less is definitely more with this one. It's a nice change from my usual light pink and peachy blushes.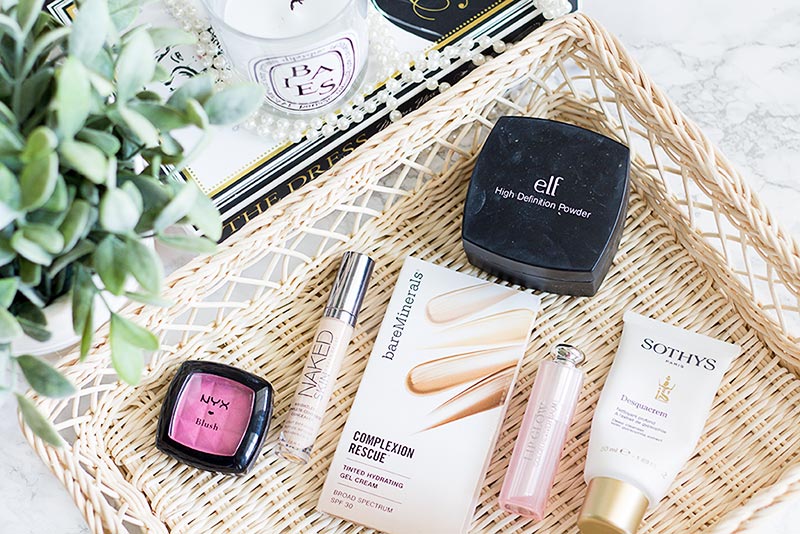 Now this one isn't technically an old favorite, as it's my first time trying it, but I love me some bareMinerals Complexion Rescue Tinted Hydrating Gel Cream. After using a sample (which had been sitting in my stash for several months), I understood why everyone raves about. It's light, hydrating, and just enough to even out my skin tone. Crap now I have to add this to my wishlist too.
Prior to shopping my stash, I had full carts both on Sephora and Ulta's websites and was this close to checking out. Now that I've discovered some old favorites, the urge to purchase new products has gone away (well, except for that bareMineral Hydrating Tinted Gel Cream…dammit). $120 saved, just like that!
Let's Chat!
When was the last time you shopped your stash and discovered new/old favorites? Or maybe you have more self-control and don't let products accumulate to a stash-level, in that case, please share your wisdom with me!
Have you tried any of the above products before? Let me know if you'd like a detailed review on any of them!