Y'all know how I feel about face oils (FYI I think they're awesome) and how much I love my DCH Deep Cleansing Oil. So I figured, what better time to introduce a non-cleansing facial oil to my skincare routine than during the dry winter season? After a bit of research + a lot of impulsiveness + a 2x point for skincare products deal at Sephora, I ordered the Tarte Maracuja Oil, which boasts just 2 ingredients: Passiflora Edulis Seed Oil and Tocopherol.
The Claim
Rich in essential fatty acids known to recharge and replenish skin, Maracuja Oil works to rejuvenate and deliver an even-toned complexion while its infusion of vitamin C creates the appearance of brighter skin. This powerful elixir supports anti-aging and provides instant hydration—quenching dry skin without leaving it feeling greasy or filmy.
Findings
One thing I really love about the Tarte Maracuja Oil is its no-filler ingredient list. A lot of other facial oils have a laundry list of ingredients, but when you inspect each one you'll find that some are either irritating essential oils or chemicals that offer no benefits. Passiflora Edulis Seed Oil, aka Maracuja Oil, on the other hand, has anti-inflammatory properties and can stimulate the production of collagen. It also contains excellent antioxidants such as vitamin C and lycopene.
Sephora sells this in several sizes, but trust me 1.7 oz is more than you need. The packaging is not only beautiful, but sturdy and utilitarian. The dropper allows you to dispense just the right amount of product, because the last thing you want is to oil your face up like a frying pan. And did I mention the bottle is beautiful? I'm really loving the cap with the wood details!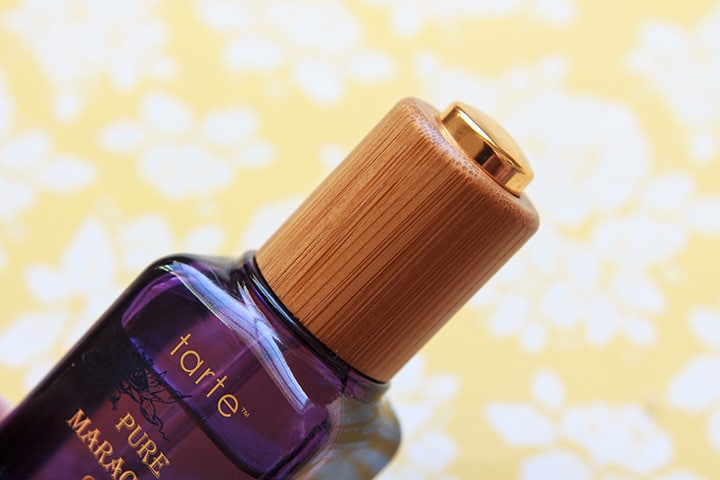 The Tarte Maracuja Oil was lighter than I had expected, which makes sense since Sephora advertises this as something suitable for even oily and combination skin types. However, it's still an oil, so unless your face is really dry, a little of this goes a long way. So yes, you're paying $46 for a mere 1.7 oz, but that 1.7 oz will probably last you till kingdom come, no joke.
I initially followed the instructions and used 2-3 drops and applied it after my emulsion but before my night cream, and holy crap that was a mistake. The oil, for some reason, just would not absorb into my skin. It just sat on my face, making it feel congested and greasy – NOT good. As a result, my skin couldn't absorb my night cream either, but that's more my fault for layering my products incorrectly. Either way, the results were awful, and they were still awful the next day when I woke up. I could've fried an egg for breakfast on my face with the amount of oil I had!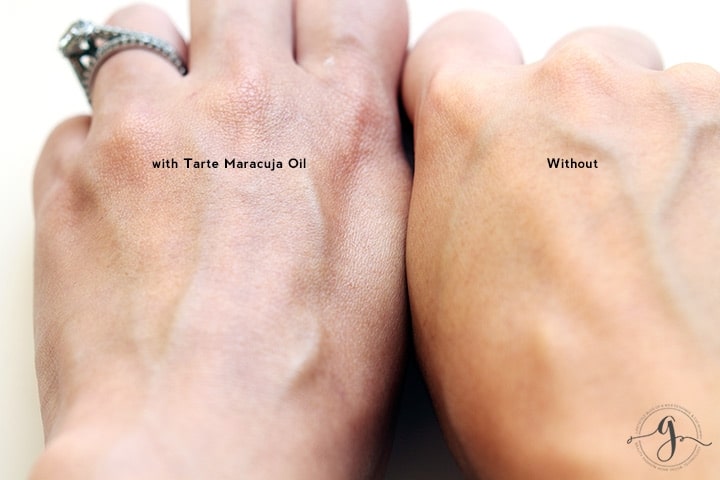 In an effort to make the Tarte Maracuja Oil work, I experimented with different amounts and application methods, and here's what I ended up doing:
Only apply the oil at night
Use no more than 2 drops
Mix it with the night cream
Queue angelic host singing "Hallelujah"
Seriously, the results were a total 180. For starters my skin stopped rejecting the oil and actually absorbed most of the product fairly quickly. My face still had a bit of a shine afterwards, but it also felt really nourished and supple. The next morning the shine is gone, and all I'm left with is soft hydrated skin! I didn't notice any brightening effects (unless you equate oily shine = brightening), but you shouldn't be relying on an oil for that anyways.
Given my current success you probably think I'm going to give the product 5 stars and recommend it to everyone and their mamas, but you're wrong. The main reason is that the product value for me is just terrible. Yes, it works, but I can only use it at night, and I'm guessing when it gets warmer, I'll either need to decrease it to 1 drop or stop using it completely. I really will be using the oil till kingdom come at that rate, and I'm pretty sure the product was not designed to last that long.
In an effort to get the most out of the product, I've actually started mixing it with my body lotion. It works really well to moisturize my dry skin, which is nice and all, but $46 for a body oil? No thank you. It's like the Monat Rejuvenique Intensive Oil all over again, except with a lower price tag and slightly more success.
Packaging

Ingredients

Texture/Application

Performance

Price
If you have normal to dry skin, I think you'll really enjoy this oil and will actually reap the full benefits. But for us combination or oily skin gals, I would recommend trying out the 0.5 oz size first, or using a different oil. Not all oils work for all skin types, and sadly the Tarte Maracuja Oil was something that worked for me only under very limited circumstances. If it was more affordable, then maybe yes, but for $46? No thanks.
Where to buy
Sephora – $15+ – They have 4 sizes available, from 0.5 oz to 3.4 oz. Free shipping for orders over $50, and 3 free samples with every order. Additional cashback with Ebates.
Ulta – $46 – 3 sizes available. Free shipping for orders over $35. Additional cashback with Ebates.