There a couple items I always carry in my bag, and a lip balm is one of them. While I love my Dior Addict Lip Glow, my recent go-to has been the no-frills ChapStick Dual-Ended Hydration Lock in both Day & Night and Moisturize & Renew.

The Claims
Dual-ended premium lip balm for clinically proven, healthier looking lips. Day formula is ultra-conditioning with SPF to protect your lips by day. Night formula contains tamnu oil and natural butters to replenish your lips by night. Moisturize formula smooths and reduces the appearance of fine lines and contains CoQ10 and Hyaluronic spheres. Renew formula has shea butter and mango butter to condition and instantly soften lips.
The Findings
These definitely aren't the prettiest lip balms on the market, and if it weren't for my obsession with lip balms, I don't think I would give them a second glance. On the other hand the beauty of this lip balm is in its simplicity and the dual-ended feature – you get twice the product without any of the bulkiness or awkward shape. Bonus points for not having to dip your fingers into a pot and get all messy!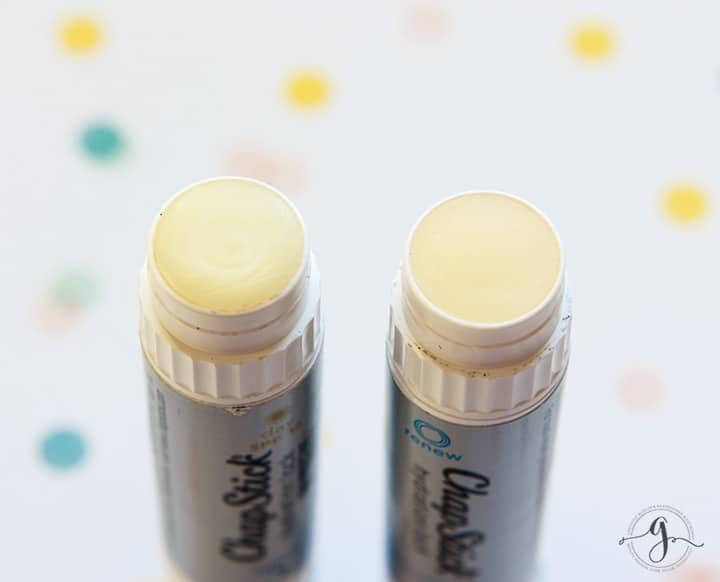 Chapstick Hydration Lock Day & Night
This made a lot of sense at first, because you should be using a lip balm with SPF during the day, and one without at night. However, for me the night formula isn't rich enough, especially in the winter time. It does hydrate my lips and make it feel soft, but it's not able to work overnight miracles like my beloved Dior Creme de Rose. A more realistic name would be Chapstick Hydration Lock Outdoors & Indoors, which is how I've been using it.
However, that's not to say the Chapstick Hydration Lock Day & Night lip balm is bad. It's a great everyday lip balm, and the night formula is actually full of nourishing ingredients like jojoba oil, coconut oil, shea butter, mango butter, avocado oil and olive oil, with several of these being at the top of the ingredients list. For normal indoor day use, I think the night formula is a great affordable option.
On the other hand, the day formula's ingredients were somewhat disheartening. While it does contain SPF, aloe extract, lanolin, and vitamin e, it doesn't have all the good-for-you oils and butters found in the night formula. Naturally this doesn't feel as moisturizing or hydrating as the night formula, so I find myself only using it when I'm outside in the sun.
Chapstick Hydration Lock Moisturize & Renew
Other than the different ingredients, I couldn't figure out what the difference between the 2 formulas are. When do I use moisturize and when do I use renew? Initially I thought Renew would be the richest and most hydrating of the 4 formulas, but looking at the ingredients I found it was almost identical to the Chapstick Hydration Lock Night!
Naturally the effects of both are very similar as well, which isn't a bad thing per se. It does a good job of hydrating my lips without making it greasy, and you can really feel the buttery texture of the balm on each application. It would be nice if we could get a different formula for the Chapstick Hydration Lock Renew though, just for variety's sake.
Of the 4 different formulas, the moisturize made my lips the smoothest by far. I suspect it's thanks to the dimethicones in the ingredients, which also acts as an occlusive to seal moisture in. It also contain CoQ10 and hyaluronic spheres, though they're so low on the ingredient list that their effects are probably negligible. With the Moisturize formula, I don't get that rich buttery texture, and I find myself having to reapply it more frequently.
Given the properties of the different formulas, I find myself applying the Renew and Night formulas most frequently. The Moisturize formula made a surprisingly good lip primer, thanks to its ability to smooth out my lips, but it's sadly not moisturizing enough (how ironic). The Day formula is my least favorite of the 4, and it's only saving grace is its SPF factor. Also interesting to note is that both the Renew and Night formulas are paraben-free, whereas the other 2 are not.
Where to Purchase
Target – $2.99 – Get 2% cashback with Ebates and free shipping for orders over $35.
Your local drugstore – $2.99 +
Further Reading