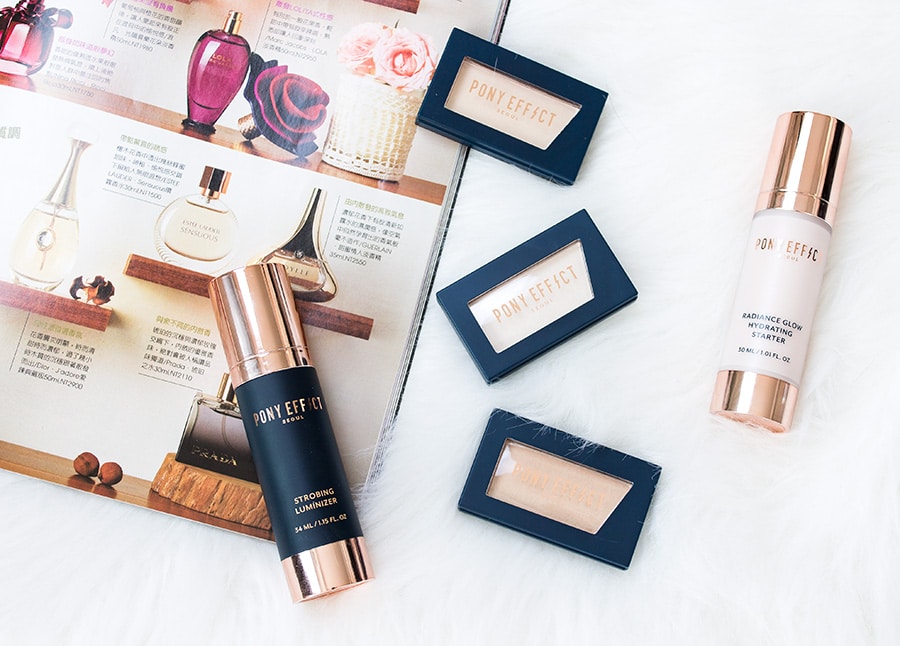 Last updated on April 5th, 2019
When it come to makeup, a dewy and luminous finish is my go-to look. So when Memebox offered to send me the new Pony Effect strobing collection to review, I had to say yes.  
The Pony Effect brand
Pony is a beauty vlogger from Korea best known for her incredible makeup tutorials. I've watched them myself and I love how natural her looks are compared to the more dramatic finishes of Western beauty vloggers. This is very much in line with the Asian mindset of beauty – to first focus on skincare, then use makeup to accentuate your look – versus the Western mindset that puts a heavier emphasis on makeup and less so on skincare (though this seems to be changing).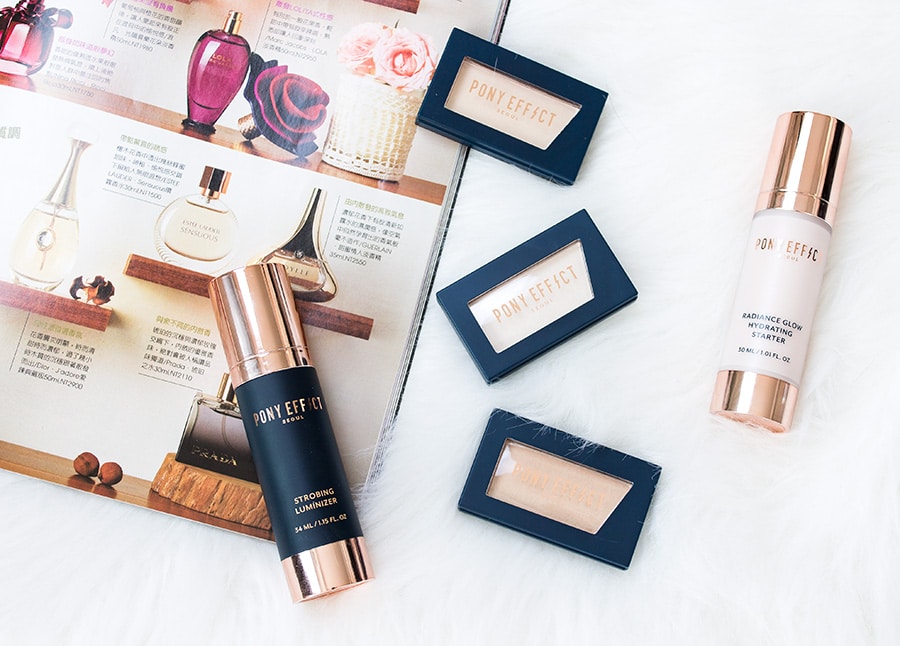 Pony Effect is Pony's full-featured makeup line, and they recently released 3 new products that can help create the luminous youthful finish that's popular in Asian countries:
Pony Effect Radiance Glow Hydrating Starter – a brightening primer
Pony Effect Strobing Luminizer – a liquid highlighter that can double as a base
Pony Effect Mirage Highlighters –  a powder highlighter that comes in 3 different shades
All 3 products share the same sleek packaging with rose gold accents, making them look and feel more expensive than they are. Let's take a look at each one in more details: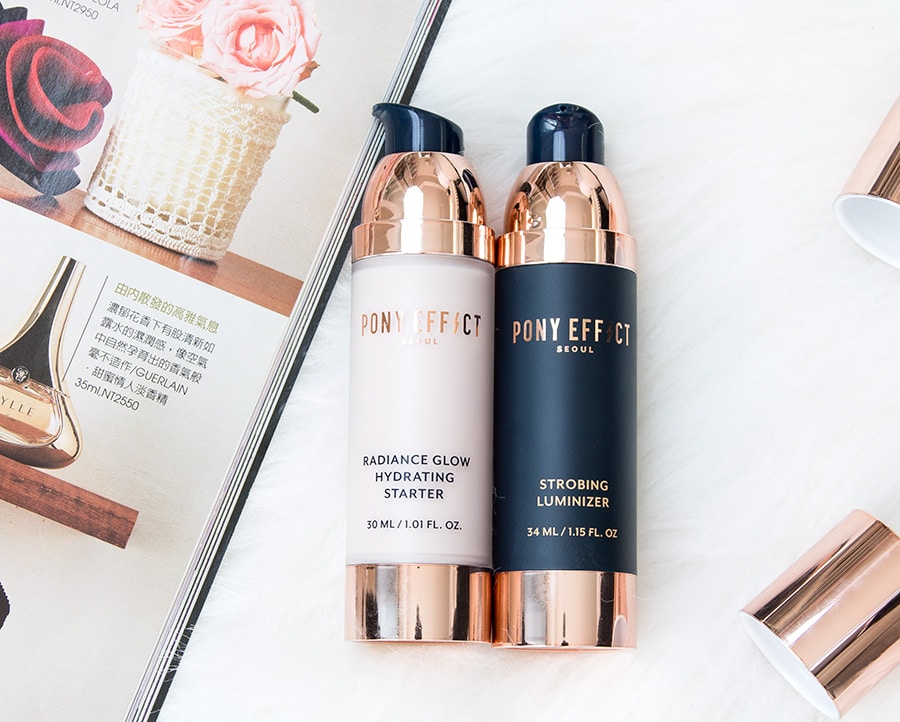 Pony Effect Radiance Glow Hydrating Starter
This has a creamy yet light consistency and no visible shimmers. It looks and feels like a regular primer, but as you blend you'll notice that not only does it blur out your pores and any minor imperfections, it also gives your skin a soft & subtle glow.
The finish is a very natural, which was initially disappointing, but then it made sense. You don't want your whole face to be shimmery, otherwise you'd look like a disco ball. I've tested this under my YSL Touche Eclat Foundation (I'm all about the glow) and they played nicely together. However in terms of improving the longevity of the makeup and making it last, the Pony Effect Radiance Glow Hydrating Starter is average at best.
Verdict: This primer would work well with normal-dry skin or anyone who wants a brightening + blurring effect, but don't expect this to extend your makeup wear time.
Buy: at Amazon for $25 with Prime shipping
Pony Effect Strobing Luminizer
If the Radiance Glow Hydrating Starter was too tame for you, try this Strobing Luminizer instead. The champagne color makes it work well for most skin tones, but the creamy texture can make it difficult to blend over foundation. It has very fine shimmers, so less is definitely more with this one.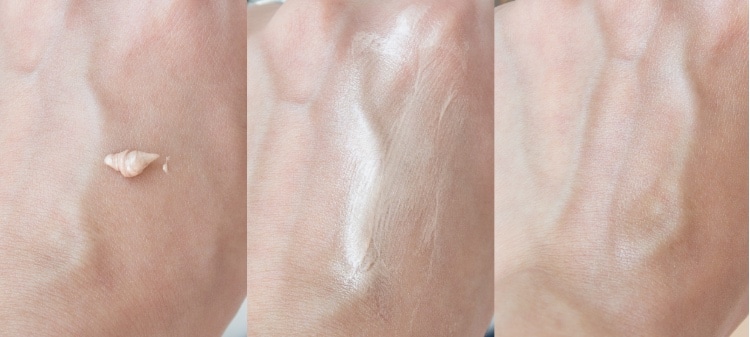 Though you can use this as a base, don't expect any blurring or priming capabilities. I would recommend this either mixed with your foundation or applied over it as a liquid highlighter. Just be careful when applying over foundation and make sure you dab it on instead of rubbing it in.
In terms of its strobing effects, it's not as obvious as Benefits High Beam or other Western brand liquid highlighters, but the glow is definitely there. Depending on how you like your glow, this can be a plus or negative.
Verdict: a liquid highlighter with a light shimmer finish thats best applied on over foundation on areas you want to highlight. Suitable for day looks, but may be too subtle for dramatic and/or evening looks.
Buy: at Amazon for $25
Pony Effect Mirage Highlighters
This is your typical powder highlighter, and it comes in 3 shades:
Lucid Dream – White pearl shimmer. Works well with fair-light skin tones.
Fairy Tale – Subtle yellow gold shimmer. Works well with light-medium skin tones.
First Chance – Warm peachy gold shimmer. Works well with medium skin tones.
The powder feels buttery but it wasn't as fine nor well pressed as I had hoped. One swipe with my brush and loose powder was flying everywhere. However the pigmentation isn't bad, and you get the most noticeable shimmer with these highlighters.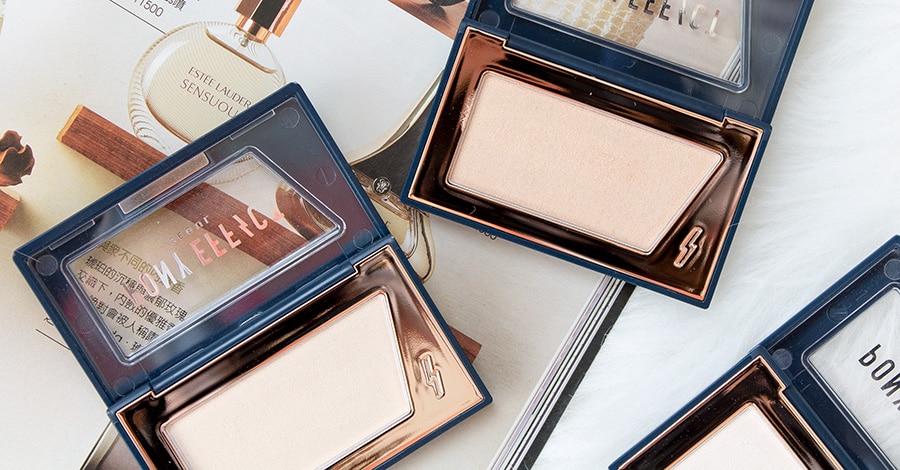 Of the 3 shades, I like Lucid Dream best as its color works best as a highlighter. Fairy Tale almost blends into my skin and is too subtle. First Chance looks more like a shimmery bronzer than a highlighter, so it's a no-no for me.
Verdict: decent powder highlighters with 3 shades that would work well with a range of skin tones.
Let's chat!
What are your favorite strobing/highlighting products?
Have you tried Pony Effect, or any other Korean makeup before?
Did you enjoy this post?
I share first impressions, product comparisons, and more skincare tips regularly on Instagram! Learn about products first and get a bonus dose of daily fluff! 😸
Follow Now