Originally posted on October 26th, 2015
Wow, can you believe it's the last week of October already? As with my outfits and skincare routine, my makeup look transitions from the barely-there look of summer to the more full coverage fall makeup look. The key to achieving that perfectly polished finish? The right foundation and mix of concealers.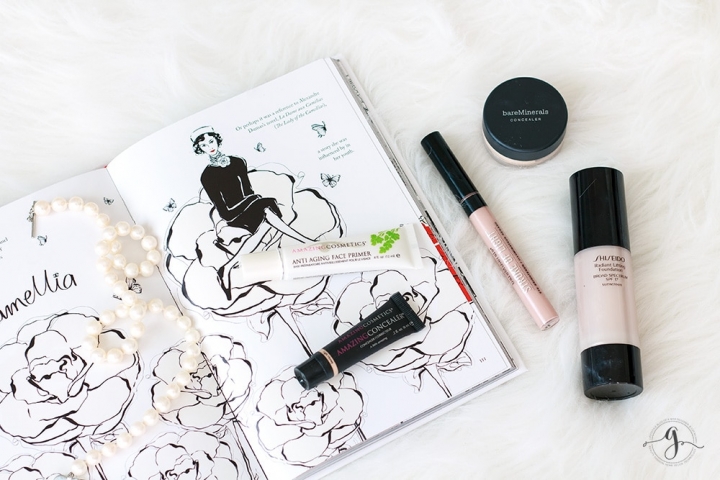 As you know I'm forever on the hunt for the HG products that can make my dark spots go away. Not only should the concealer provide good coverage, but it needs to be hydrating enough to prevent any creasing in the cold dry weather. Today I'd like to share the products I use to create my perfectly polished fall  makeup look.
Primer is a must-have to help your makeup last. The more makeup you'll be applying the more important this step is. I like both the Laura Mercier Hydrating Foundation Primer and Amazing Cosmetics Anti-Aging Primer to help hydrate + prep my skin for the dry air.
My go-to foundation for fuller coverage is the Shiseido Radiant Lift Foundation. This is a seriously underrated foundation but when applied with my Real Technique Buffing Brush, it gives me butter-like skin, excellent coverage, and incredible staying power
I need a heavy-duty concealer that can really hide those pesky dark spots. The Klairs Natural + Creamy Fit Concealer is great for the summertime, but for 100% coverage the Amazing Cosmetics Concealer is the winner. It's a bit heavier, so it's important to apply a light layer at a time to prevent caking.
To cover my dark circles, I use the bareMinerals Stroke of Light Eye Brightener in Luminous 1, which is a pale pink. It not only brightens the eye area but can double as a highlighter for your cheekbones and nose. I love the color and the hint of shimmer.
I'll also use the bareMinerals Multi-Purpose Well-Rested Eye Brightener along my lids and anywhere else that needs a little brightening (but no shimmer). I love that it's a powder because it can also help set the foundation any easy-to-crease areas. Bonus points for SPF 20!
3 concealers might sound like a lot, but for full flawless coverage it's important to have a "concealer wardrobe" that contains products with different functions. A concealer that's jack of all trades won't perform as well as several concealers each with their own strengths.
The end result? A perfectly polished finish that lasts all day. Tara! Hope you enjoyed the post, and if you have any favorite concealers, do share in the comments below!