Is an Instagram shower shelfie even complete without an Ouai hair product? This brand seems to be darling of social media, with its minimal luxe design and bougie scent, now let's see if the Ouai Medium Hair Shampoo and Conditioner live up to the hype!
What is it
Shampoo – Nourishes with babassu and coconut oils, strengthens with keratin and adds shine with kumquat extract.
Conditioner – Strengthening keratin, nourishing babassu and coconut oils and kumquat extract leave hair shiny, silky and smooth.
How I use it
I lather up a quarter size of shampoo between my palms and massage into my wet (not damp, wet) hair. After rinsing clean, I squeeze out the extra water and use a grape-sized amount of conditioner, focusing from the middle down to my end. I bring the remaining bits of conditioner to my roots and gently massage. I proceed with the rest of my shower routine and rinse everything out at the very end.
Best suited for
As the name suggests, this line is best suited for medium hair, and you can find your hair type with their quiz. It's also made to work with color or chemical-treated hair.
Ingredients
Medium Hair Shampoo Ingredients
Medium Hair Conditioner Ingredients
Irritants
The shampoo is SLS and SLES-free, but it does contain a good amount of fragrance and silicones in the form of amodimethicone.
Packaging
A plastic bottle with a cap that manages to good luxurious with its minimal design. FYI the plastic is made from recycled materials and is recyclable itself!
Scent
Ouai's signature Mercer Street scent: Orange, Peony, Magnolia, Jasmine, Musk and Orris. It's an elegant floral.
Texture
The shampoo is between a semi-opaque cream, while the conditioner is your typical cream texture.
Where to buy
The shampoo is$28 for 10oz/300ml each on Sephora, Ulta, CultBeauty, and Revolve
Usage Experience
Due to the finicky nature of my scalp and hair (dry, damaged, color-treated, thinning) I've been using customized hair care for the past few years and have had great success with Function of Beauty. So the idea that Ouai released shampoo not based on scalp or hair conditions, but on strand type (fine, medium, and thick) was intriguing.
I shared a first impression on Instagram already, but I was immediately blown away by how luxurious the usage experience was. From the creamy texture to the beautiful scent to the rich lather, it felt like I was getting my hair washed at a fancy salon.
The shampoo left my scalp clean and roots voluminous without irritations, giving me the same experience as the Function of Beauty shampoo, but it was the conditioner that blew me away.
I rarely use conditioners because I feel like they're never moisturizing enough for my dry hair, but the Ouai Medium Hair Conditioner managed to soften, smooth, defrizz, and moisturize my ends almost as well as my beloved Sachajuan Hair Repair!
The instructions say to use this from roots to end so I do bring a little bit to my scalp and I feel like that really helps with the frizz without making my roots oily at all.
Bonus points: using the shampoo and conditioner together not only make my hair look good, but also leave them smelling good. Like I can't stop sniffing my own hair good.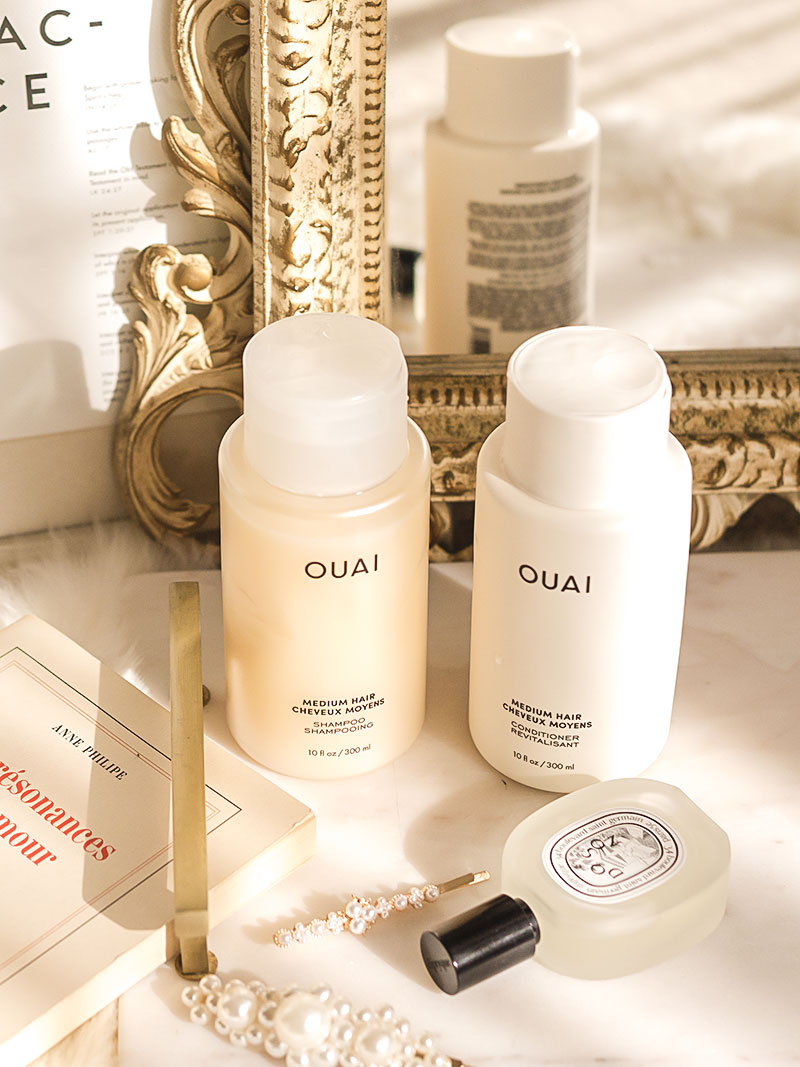 Final Verdict
Packaging

Ingredients

Texture/Application

Performance

Price
Yes these are still pricey, but if you don't want to go down the custom hair care route and enjoy beautifully scented products, Ouai is worth checking out. I've found that these products check off everything I'm looking for in a good shampoo and conditioner: great aesthetics, usage experience, and most importantly results. So yes, these Ouai products live up to the Instagram hype for me!