Raise your hands if you've ever been influenced to buy a product from its name alone. I know whenever I see any mention of "ceramides" or "milk" I'm absolutely sold, and while the Lancome Clarifique Dual Essence has neither in its name, it did earn an intriguing nickname in Asia: the aurora essence ✨.
Basically it's implied that this facial essence will make your skin glow like the Aurora Borealis, aka northern lights. Are you influenced yet? Let's find out if it's true.
Quick Summary
A bi-phase essence with exfoliating acids and nourishing botanical oils, hence why it's called a Double or Dual Essence.
Much gentler than most exfoliating toners and essences out there, making it suitable for daily use.
Texture and formula makes it a great option for combo skin types or those living in warmer climates.
What is the Lancome Clarifique Dual Essence
Claims
An essence with glycolic acid and grapeseed oil that exfoliates and nourishes while minimizing the appearance of pores for smooth- and radiant-looking skin.
Best suited for
Anyone wanting to add gently daily exfoliation to their routine without compromising their barrier. Those sensitive to alcohol should avoid.
Things to note
Contains alcohol and rose essential oils.
Packaging
A glass bottle with a unique whisk built in to help blend the water and oil content together. Cap has a silver foil that will peel after extended use.
Scent
Has a light citrusy scent, you actually don't smell the rose!
Texture
Feels like water with a hint of slip due to the small amount of oil. However it doesn't feel hydrating, probably due to the alcohol.
Finish
Skin has a hint of glow, but goes away after a few seconds once the product is fully absorbed. No tackiness whatsoever.
Where to buy
$95 for 150ml on Sephora, Ulta, and Nordstrom
Lancome Clarifique Essence Ingredients
Water, Alcohol Denat., Glycolic Acid, Butylene Glycol, Isononyl Isononanoate, Dipropylene Glycol, Sodium Hydroxide, Ananas Sativus Fruit Extract/Pineapple Fruit Extract, Ascorbyl Glucoside, Tocopherol, Faex Extract/Yeast Extract, Fagus Sylvatica Bud Extract, Arginine, Peg-32, Trisodium Ethylenediamine Disuccinate, Helianthus Annuus Seed Oil/Sunflower Seed Oil, Salicylic Acid, Pentylene Glycol, Benzoic Acid, Propanediol, Caprylyl Glycol, Papain, Sorbic Acid, Rosa Damascena Flower Water, Rosa Damascena Flower Oil, Rosmarinus Officinalis Extract/Rosemary Extract, Vitis Vinifera Seed Oil/Grape Seed Oil, Citric Acid.
On the exfoliating side, we have the following active ingredients:
Glycolic acid, an alpha hydroxy acid (AHA) that works on the surface level to remove dead skin cells and speed up skin turnover rate.
Salicylic acid, which can help clear out the sebum and any dead skin cells clogging our pores. It's also anti-inflammatory!
Papain is an enzyme found in papayas that can help remove dead skin cells and decrease inflammation.
Citric acid is another AHA that comes from citrus fruits and has similar benefits as glycolic acid, though it's not as strong.
Beech Bud Extract is also listed as a key exfoliant and one of the star ingredients, though I've yet to find any independent studies verifying its benefits. One manufacturer did claim it contains polyphenols and amino acids, which help hydrate and firm the skin while reducing wrinkles.
No % is given for any of these ingredients, but I bet it's at most 3% total if not less. Even when my skin is slightly sensitive, there's no redness or irritation from using the Lancome Clarifique Dual Essence. But it could also be the 3% oil phase which includes:
Sunflower Seed Oil – A nourishing plant oil that can help with skin barrier recovery.
Grape Seed Oil – A lighter oil that's also full of antioxidants and vitamin e.
Antioxidiants: Vitamin C (ascorbal glucoside), Vitamin E, Rosemary Extract
Hydrating Ingredients: Arginine, Pineapple Fruit Extract, Yeast Extract
I've seen more exciting ingredient lists, but I can't deny that they come well together to provide a pleasant usage experience. It's not always about using the highest % of actives, sometimes less means more consistent use, which can lead to better results.
How to use the Lancome Clarifique Essence
How to get the most out of this bi-phase exfoliating toner.
This face essence should be the first product used in your skincare routine after cleansing and drying your skin.
Thoroughly shake the bottle to mix the water and oil phases together. You can stop when you see the microbubbles.
Quickly flip the bottle upside down, this will allow the proper amount of product to dispense into the opening.
Open the lid, and pour the dispensed product into your palms.
Gently pat on the skin until fully absorbed.
Proceed with the rest of your skincare routine.
If using in the morning, make sure to apply ample sunscreen!
Notes
For a strong exfoliation, pour product into a cotton pad and wipe in an outwards motion.
Usage Experience & Results
✅ Improved skin tone and texture without irritations
If you're sensitive to glycolic acid or any acids in general, you'll find this one much easier on the skin. For reference, I found the Lancome Clarifique Essence to be gentler than the Pixi Glow Tonic and COSRX AHA toners, but it still delivered similar, if not better results!
I'm able to use this daily, or even twice a day if I'm not using retinol, and my skin experienced no negative reactions to it. The alcohol content, while high, was never an issue either.
✅ Clever and thoughtful packaging
This is the first bi-phase product I've seen with a built in whisk to ensure the water and oil layers are fully blended. This dispenser is also extremely well designed, allowing just the correct amount of product to pour out – no more guessing how much to use or accidentally pouring too much!
😕 Results plateaued after a few weeks
Now the initial results after the first 1-2 weeks were stellar – less noticeable pores, more refined skin, and a brighter complexion. But that seemed to plateau quickly and the glow I got the first few weeks is gone. While my skin remained smooth, I didn't see any long term improvements in my pore sizes or my skin tone.
❌ Expensive all things considered
Sure the Lancome Clarifique has a more pleasant usage experience and slighly better results than cheaper options, but is it 5x better? Not for my dry skin in the US east coast climate. But if you're somewhere warmer and more humid, you'll love the light and fast-absorbing formula.
What Others Are Saying
I have no clue what the hype is about lol I mean, it's nice, the bottle is large and really pretty. But I don't noticing my skin poppin more than any other day when I use this.

PocahontasGold, combination skin
It made such a difference in the tone of my skin, my acne, my fine lines, and the appearance of my pores. I've used this for a few weeks and my skin is much brighter and healthier looking.

mmmclayyy, combination skin
The essence did not leave my skin more plump, as it stated though it did tighten my skin as it also stated. Unfortunately I found that rather drying and a little uncomfortable. I had hoped for plumping, glowy skin. This product has no effect on glow.

Keesha, dry skin
Lancome Clarifique Dual Essence vs SK-II
Despite completely active ingredients, both facial essences claim to address uneven skin texture and skin clarity.
The SK-II Facial Treatment Essence doesn't include any exfoliating acids or enzymes, instead it uses Pitera, aka Galactomyces Ferment Filtrate, which has been found to brighten skin tone, improve skin barrier health, minimize pore appearances and sebum production!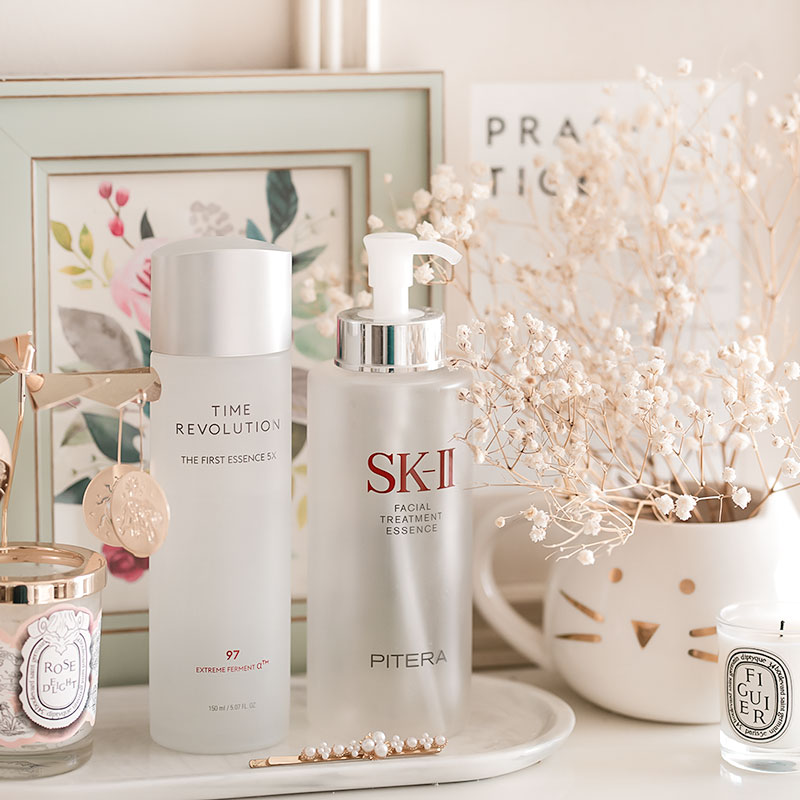 Now the SK-II FTE is more expensive and the initial results aren't as noticeable, but it plays the long game. I noticed all the claimed benefits with continuous use, and my skin just feels healthier too. Plus I love that I can still use a stronger active with the SK-II FTE without worrying about over-exfoliation.
Read more: Is SK-II worth it? Which products to buy and where to buy them
So yes, I'm obviously biased, but if SK-II isn't your cup of tea, not to worry, I have more options below!
Other Lancome Clarifique Essence Alternatives
Whether you're turned off by the price point or the alcohol content, here are some other options to consider:
💪🏻 COSRX BHA Blackhead Power Liquid – $18.40
A BHA toner I love for my t-zones that I can use daily without issues. It uses Betaine Salicylate instead of Salicylic Acid, and is affordable, alcohol-free, lightweight on the skin (I'm looking at your Paula's Choice BHA).
🌹 Secret Key Starting Treatment Essence Rose Edition – $16.84
Same as the SK-II, but less potent and way less expensive. Highly recommend this one if you're in your late teens or early 20's. The skin clarity improvements are excellent for the price!
☕ Kiehl's Ferulic Brew Antioxidant Facial Treatment – $54
Also a bi-phase toner with 3.7% Lactic Acid and no BHAs, this one is excellent for addressing skin texture. Anytime my skin is feeling rough, just 1-2 days of this will give me baby soft smoothness.
🤝🏻 Youth To The People Mandelic Acid + Superfood Unity Exfoliant – $40
Really loved this one initially as it addressed texture and pore issues with 3% mandelic acid + 2% salicylic acid + 1% gluconolactone. But then these weird crystals started forming in the bottle just after a few months, and while not harmful, the efficacy may be compromised.

Final Verdict
Ingredients
Packaging
Texture/Application
Performance
Price
The hype around the Clarifique Face Essence definitely got me here. Objectively it's not a bad product, but considering all the claims and the price, it was still a disappointment given my skin type and where I live. I also found it strange that of all the ingredients Lancome could include, they chose to feature the beech bud extract.
This face essence definitely shines most in warmer humid climates, so if that sounds like your location and you want to improve your skin clarity and texture, it's worth a try when on sale. Otherwise, skip, there are better products for the price.
FAQs
Is the Lancome Clarifique Essence safe to use while pregnant or breastfeeding?

The Clarifique face essence contains salicylic acid, which is one of the ingredients that can be dangerous for pregnant women. While the % is low, I personally wouldn't take the risk. If you're still unsure, you should always discuss with your healthcare provider!

Is the Lancome Clarifique Essence a toner?

It's not your traditional hydrating toner, as it contains active ingredients that help exfoliate your skin. As such, it should be used as an exfoliating product immediately after cleansing to get the best results!

Is the Lancome Clarifique Essence cruelty-free?

Lancome is sold in China where animal testing is required, so no it is not cruelty free.