Originally posted on January 22nd, 2015
Of all the major social networks, Pinterest is definitely one of my favorite. I joined back in 2011, and I check it and pin at least once a day. But up until November 2014, I had only 120-something followers :( Clearly I was doing something wrong.
Around the end of November I watched part of Meg Auman's Pinterest Marketing for Makers & Designers on Creative Live, and it changed my life Pinterest profile forever. Seriously, I can't recommend her course enough. If watching just 15 minutes of her class helped me triple my followers, imagine what it could do if you watched the whole thing? *queue mind explosion*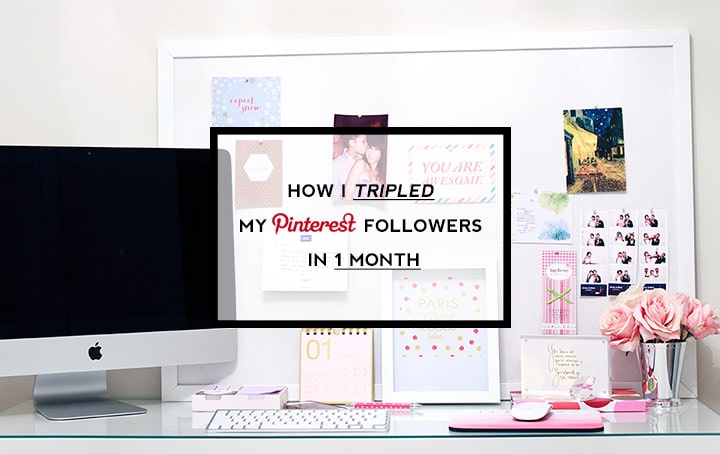 So how did I triple my Pinterest followers in such a short time period? Here are the 7 things I did (or am still doing):
Prioritize your boards.
Take a look at your pinterest profile and the different boards you have on there.

Which board(s) are most relevant to your blog/brand?

Move those boards to the top of the profile so that's the first thing people see. Less relevant boards, or those with less pins, should be placed near the bottom. If you have seasonal boards like "Valentine's Day Ideas", move those up in the month leading up to the holiday, and then move them back to the bottom once it's over.
Take advantage of secret boards.
I love the humor board on Pinterest – I've seriously spent hours going through it, pinning my favorites to my "LOL" board. But where has that gotten me in terms of followers? Nowhere.

For these pins that aren't relevant to your blog/brand and that are more for your personal collection, pin them to a secret board!

My "LOL" board (along with several others) is now gone from the public view, but I still *secretly* pin to it for my personal enjoyment. Har har.
Pick a nice cover photo + descriptive name for your boards.
I used to have cheeky/clever names for my board, but results show that succinct, descriptive names work best.

Think about the terms people search for – will they search for "quotes" or "Wisdom in Words" (my old quote board name)?

The cover photo is just as important as the name, because they're the first images users will see. Think about which photo best convey the content of the board AND the overall brand image. If you look at my pinterest profile you'll notice that my cover photos mostly have a light/pastel color scheme and a feminine flair. Consistency is key here.
(Re)Pin quality, relevant images in small amounts every day.
The more an image is repinned, the more visibility it has on Pinterest. This is why it's usually better to repin an image rather than pin it fresh from a website. Not saying you can't pin from a website, but repins are what you should focus on. Next, pins to your secret board don't count in your daily quota, and nor do blurry or ill-formatted images. Lastly, don't go on a pinning spree for an hour than go MIA until the next day.

Instead, spend about 10-15 minutes, 3-5 times a day, pinning to your various public boards

. I usually aim for about 50 total pins a day, but it all depends on what I find in my feeds.
Follow relevant boards.


The best way to discover pin-worthy content is to find the pinners who actively curate them, and follow their boards

. Check the # of pins on the board vs. their # of total pins, and you can get an idea of how active that particular board is. I tend to avoid group boards though because the content quality is usually inconsistent.
Use "Related Pins" to find more content.
Sometimes when I'm done going repinning from my feed, I'll go back to my own boards, find a pin I really like, and go through the content under "Related Pins". This is my foolproof way to find pins I know I'll like and can repin.
Give your pins good descriptions (aka keywords)
When you repin something, try to put in some relevant keywords in the description field. Long essays are not necessary, just terms that will help users more easily find your pin when they use the search functionality. But don't overdo it though, #because #too #many #hashtags #looks #desperate #not #good.
What these 7 tips really come down to is just 1 point – consistency. Pin consistenly, and pin content consistent with your overall image. If you really want to get down to the nitty-gritty, there are a ton of Pinterest tips out there, including the best time of the day to pin (2-4pm and 8-11pm). To quote Mean Girls, the limit does not exist!
Hope you found this post helpful, and if you have any pinterest tips please share them in the comments below! Have a great rest of the week!