Last updated on April 9th, 2019
Hello everyone, hope you all had a wonderful Christmas! I wish I could say the same about mine, but I had to work all week (except on the 25th), which definitely put a damper on the holiday spirits -_- On the bright side, we've made some significant progress in terms of decorating the house!
Being a typical dude, my fiancé decided that our original TV wasn't big enough so he decided to splurge on a 65-inch flat screen during Black Friday. I must admit the new TV is pretty nice, but then we had to get a new media console to accomodate to the larger TV. Luckily IKEA currently has a 15% sale on their BESTA system:
I love how customizable the BESTA system was – we got to choose the exactly where we wanted drawers, cabinets, or shelves, and we also got to choose the color and style of the frame. Now I have a drawer for all my DVDs and games, and my fiance cut a hole in the shelf backing to hide all the ugly wires in one of the cabinets!
I also discovered these gorgeous TERESIA sheer curtains at IKEA, and they were only $7.99 for a pair! Lucky for me, they came in the exact same shade of blue of the master bedroom: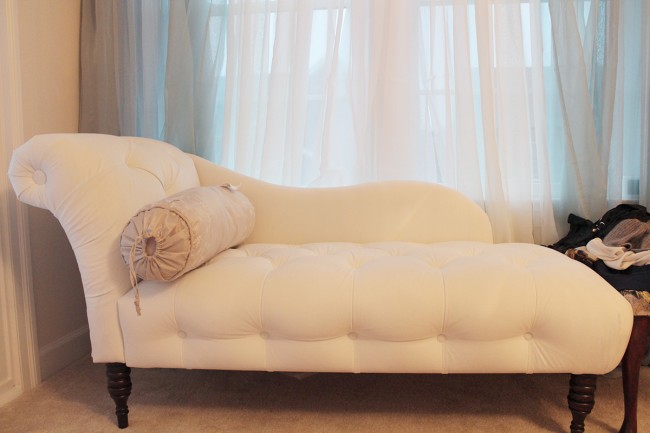 Ok, so the chair wasn't from IKEA, but I've been looking for a chaise to place by the window for the longest time, but they were all too expensive ($500+? no thanks!). Finally there was a sale on Meijer and thanks to coupons + Ebates cashback, I scored this for less than $300!
The natural light from the window make this spot perfect for reading, and my cats are also loving this new lounging spot.
World Market was (and still is!) having a great sale on their furniture, and we found this great Noveau Floral Charlotte Chair for our family room. The purple and red add color to the room, but the cream and gold tie it in to the existing color scheme. If you're looking for unique or patterned pieces for your home, I highly recommend World Market – they have some great items and really great sales!
Decorating the house is definitely a long-term process, but it's always exciting when we make progress! Hopefully we'll be closer to completion by the time we host our Super Bowl party!