You gotta love Korean brands and their product names – 24K gold and placenta? You know things are getting serious when you see both in the name! Let's take a closer look to see what the deal is.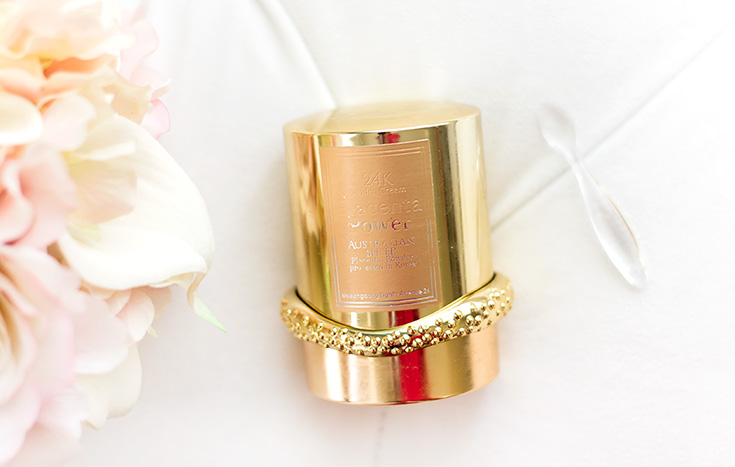 What is it

An all-purpose cream that aims to reduce fine lines, improve elasticity, tighten your pours, and nourish + soothe + brighten your skin.

How I use it

I apply a generous morning and night after my serums. Sometimes I'll mix in a bit of face oil or layer a sleeping pack on top at night for extra moisture.

Best suited for

All skin types, especially oily, combination, or troubled skin. Dry skin types may find this not occlusive enough.

Key ingredients

centella asiatica extract, placenta protein, 24k gold, shea butter, niacinamide, ceramide 3, hyaluronic acid – full ingredients on CosDNA

Irritants

No parabens, artificial fragrances, mineral oil, or potential acne triggers

Size & Price

$120

Where to buy
Yes, not only does this cream contain 24k gold, the whole jar is gold, albeit made of plastic. I do find the it a bit awkward to open, and it feels like it's not 100% airtight. On the plus side it comes with a little spatula for scooping out the cream, because using your fingers is unhygienic and so 2015.
The Gobdigoun 24K Golden Cream Placenta Power has a medium-weight texture that spreads easily and absorbs very quickly. It also contains tiny specks of gold for some extra fancy factor. I was expecting the cream to be heavy due to the shea butter, but it melts into your skin like a dream, leaving a velvet finish. Oily and combination skin will definitely appreciate its moisturizing yet 0-oiliness factor !
Even with my combination skin I had no trouble using this during the day and actually had to use an extra-generous amount at night to keep my skin hydrated. Nothing that can't be fixed by mixing in a few drops of facial oil or layering on a sleeping pack at night, but it's definitely not occlusive enough on its own.
While I haven't noticed any significant anti-aging or pore reduction effects, this cream is incredible at soothing my skin, thanks to the 47% centella asiatica extract and ceramide 3. Both are must haves when your skin is irritated and your moisture barrier damaged.
So what about the 2 star ingredients – gold and placenta protein? One sounds awesome and the other, well, slightly horrifying:
Gold – Unfortunately there's no extensive study on the effect of gold on our skin, but gold itself is known to have anti-inflammatory properties. So chances are, any benefits we see on our skin is due to other ingredients in the cream (source).
Placenta Protein – Gobdigoun derives its placenta from sheep, so don't worry, I'm not applying essence de fetus on my skin *shudders*. As with gold, there aren't enough studies to prove the benefits of placenta protein, though it does contain some nourishing components (source).
Despite the lack of proven benefits in Gobdigoun 24K Golden Cream Placenta Power's 2 star ingredients, it still boasts a wide array of beneficial and proven ingredients. This is the cream I reach for when my skin is feeling irritated, its effectiveness comparable to the Klairs Midnight Blue Calming Cream. So you know it's a pretty big deal.
Packaging
Ingredients
Texture/Application
Performance
Price
The gold and placenta aside, this is a great moisturizer with some pretty awesome ingredients. I've truly enjoyed using this and would consider repurchasing...if it wasn't so expensive and difficult to source. I would probably go with the Klairs Midnight Blue Calming Cream for convenience sake, but if this cream becomes more accessible, it'll be a difficult pick between the 2!