Originally posted on June 25th, 2014
Nothing makes my day more than finding amazing pieces for sale at my favorite stores. The 2 I've been frequenting lately? Reddz Trading (a consignment store) and White House Black Market. Here are the goodies I scored today!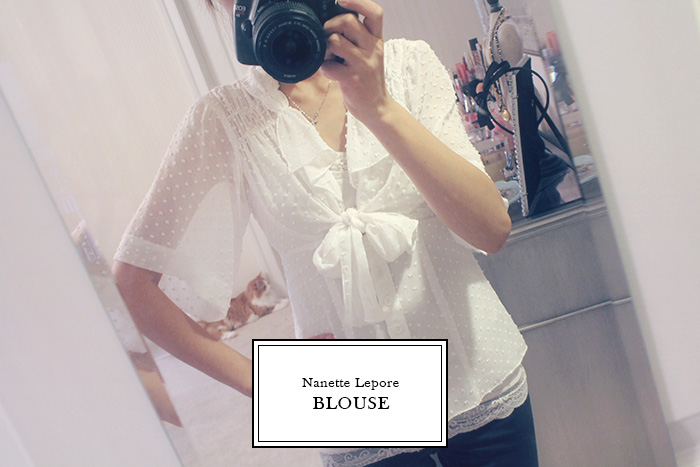 I'm a huge fan of Nanette Lepore's pieces! They're whimsical, feminine, often incorporating details like ruffles and laces. This one is perfect for the warmer weather, and they'd go great with a pair of skinny jeans or even shorts! Nanette Lepore tops retail for around $100, but I got mine for $30 in pristine condition!
Clearly I was on a roll today. The thing with thrift/consignment stores is finding things you like that fit. I find that European brands tend to fit smaller US brands, which may explain my luck with these 2 pieces. The colors and styles of both pieces make them extremely versatile, and thus a staple in any wardrobe. I've been looking forever for a grey pencil skirt and I'm so glad I didn't cave and buy one at some random retailer! I paid $50 for the Christian Dior skirt and $30 for the YSL top. Regular retail? $700+ and $400+.
White House Black Market quickly became a favorite of mine after reading about it on ExtraPetite. Their pieces fit me like a glove, as evident in this Instantly Slimming Dress I ordered. I'm usually not a fan of horizontal stripes as it usually makes you look wider. This pattern not only avoids that, but hides any bumps or bulges you might have AND keeps the dress from looking too plain. Love!
Seriously, WHBM has become my go-to place for blazers. Fit is important for any piece of clothing, but especially blazers/jackets. WHBM has these great feminine designs (see the theme here?) and their regular 00 feels like tailor made. This blazer originally came with a huge removable bow on the shoulder, which was just…too much. Once that's gone I'm left with a very Chanel-esque tweed jacket that I can't wait to wear when it gets cooler!
My only gripe with WHBM is their prices – without any sales or discounts their pieces average for around $100! Luckily I was able to get my jacket for $37 and the dress for $30, plus an additional $20 off. Talk about a lucky day indeed :D