Every few months I discover a new body care product that transforms my body care routine for the better. As if my routine was a Pokemon, these products are the rare candies that level it up. Too geeky for you? Let's just talk about the products then.
I've partnered with Dove on this post, but as you know, my reviews are always 100% honest and my own. I would never recommend something I wouldn't buy myself.
Dove Body Wash Mousse
What is it

Dove recently introduced Dove Body Wash Mousse with essential oils, the brand's first-ever body wash mousse featuring a rich, luxurious lather to cleanse, pamper and instantly nourish the skin.

Key ingredients

gentle surfactants (no SLS!), glycerin for hydration, and essential oil scents of rose, coconut, or argan

Available At

$5.99 for 10oz at Target, Walgreens, or CVS
For as long as I can remember, I've always been extra basic with my body wash: whatever was on sale in CVS plus a loofah! I swear even my husband was more particular about his body wash then I was! Enter the Dove Body Wash Mousse: while it's still affordable, it feels anything but cheap.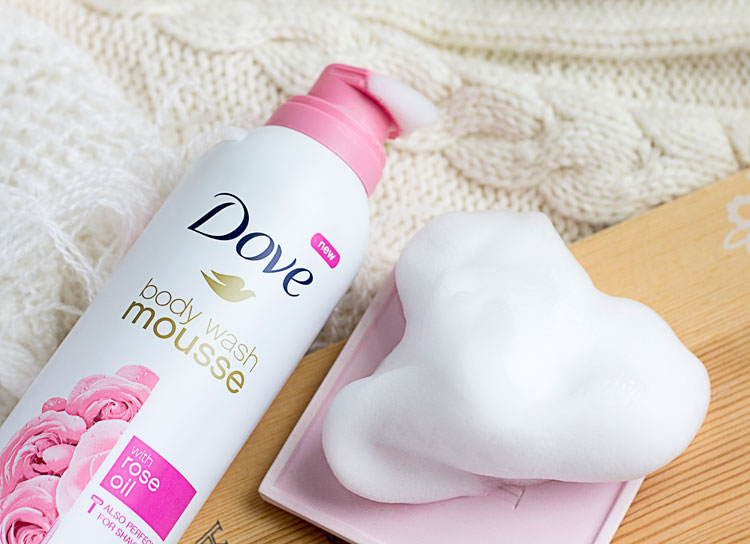 This is my first time trying a body wash mousse, and look at how thick the foam is! I could never get this kind of foam with a loofah!
Given the paraben and sulfate-free formula, Dove Body Wash Mousse is also perfect for shaving. It truly does put nutrients back into your skin, which helps avoid irritated skin that sometimes happens after shaving. On the skin, it feels exactly as you imagine: luxurious and nourishing. Rather than foam, it transforms into a rich lather that leaves the skin feeling fresh and clean, but not stripped.
Dove Body Wash Mousse comes in 3 scents: rose oil, coconut oil, and argan oil. My favorite is coconut, because I love everything coconut. The rose one is lovely, if you like the floral scent of fresh roses. After trying this mousse, I'm 200% done with loofahs. This just feels so much better on the skin.
Even my husband, the body wash connoisseur, enjoyed using the Dove Body Wash Mousse. He has dry skin that's prone to eczema, and while he sticks to his shower cream during the winter, he said Dove Body Wash Mousse would be perfect for summer time. Learn more about the product here if you're curious!
The post-shower experience
While the Dove Body Wash Mousse is the star of my in-shower experience, post-shower products are just as important in my overall body care routine. In addition to cleansing, I also incorporate these 2 important steps:
Dry brushing – I'm still not a fan of body scrubs, so to exfoliate I've started relying on dry brushing, and it's oddly satisfying to see those flakes of dead skin fly off as I brush my limbs.
Body Oil & Lotion – Hydrating the skin after showering helps to lock in all the moisture Dove Body Wash Mousse delivered!
Hope you enjoyed the post, and let me know what body care products you've been loving lately!