Have you ever fallen in love with a product on first sight, when you realized it was everything you were looking for and more? That was my first encounter with the Dasique eye shadow palette:
What is it
A compact 9-shade palette with a beautiful selection of warm neutral shades. It features a good mix of sparkly shimmers and velvet mattes and comes in a minimal yet chic acrylic case that was made for the 'gram.
Texture
Creamy buttery goodness. They're packed densely enough to prevent powder from going everywhere, but no so dense that your brush can't pick up enough product. The glitter shades, especially Vanilla bean, feel a bit more powdery and are best applied by hand.
Best suited for
✔ Anyone who loves the clean, understated look of Korean makeup.
✔ Anyone who wants to create that wet, shimmery look on their lids.
✔ Anyone who wants a palette that can carry them from day to night.
✔ Anyone who prefers compact and minimal packaging.
Where to buy
$33-$42 on RoseRoseShop, Beauty Box Korea, and eBay
I live and breathe neutral shades, so I've tried my fair share of eye shadows in this color family, from Etude House to Urban Decay to Suqqu to Tom Ford.
My favorite palette before this was the Tom Ford Disco Dust, and let's just say the Dasique Sugar Brownie has officially dethroned Tom Ford.
Shades
From left to right (top left to bottom right in the palette) we have:
Flat Beige – A matte light beige that's would work well as a base for lighter skin tones.
Vanilla Bean – A highly reflective champagne glitter that works beautifully on the inner corners, under the eyes, or as a topper to add a wet, gloss-like look.
Nutty Cherry – A matte peachy shade that works great as your main color.
Almond Cream – A light-medium matte beige that I use as a base to add depth to my eyes. Reminds me of the second shade in TF Disco Dust without the orange undertones.
Maple Berry – Your standard medium brown, another matte that would work great as your main color or on the outer corners.
Cocoa Milk – A shimmery medium brown that would layer beautifully over maple berry or can be used alone as your main color.
Candy Bomb – A glittery gold that's more pigmented than Vanilla Bean, but is more like your typical glitter shade and doesn't give that wet look. Works great on the inner corners, under the eyes, or as a topper.
Roasted Chou – A rose-gold glitter that layers beautifully over Nutty Cherry or can even be used on its own as your main color.
Double Chocochip – A shimmery dark brown that can be used on the outer corners or as your main color for a smokey look.
The matte shades are all quite pigmented for Asian makeup standards, and I only need to go in once with my Hakuhodo brushes to get a good wash of color on the lids. They blend well and with a primer, the color lasts all day. Glitter shades are best applied by hand, and I've experienced minimal fallout with these.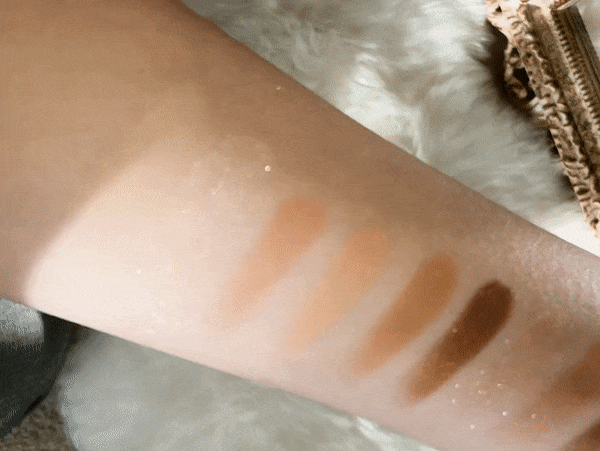 Palette in action
I first shared this on Instagram (where I usually share my first impressions!)
Here is is again up close:
And here's a more dramatic look that I decided to try for fun. And by intense I mean by Kbeauty makeup standards, not Western standards which are typically bolder in color to begin with.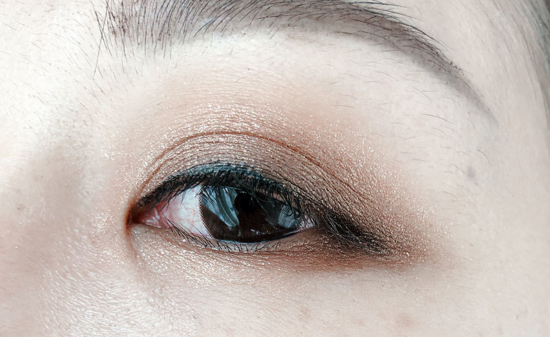 So you'll notice that depending on the lighting, the glitter might not be noticeable. That to me is the beauty of this palette, it's understated when it needs to be, but when the light hits just right, it truly makes your eyes glisten (see my IG post if you're not convinced).
Another neutral palette?
I'll admit the matte shades aren't incredibly unique, and some are incredibly similar to what's in my Etude House Caffeine Holic Play Color Eyes ($15).
What really sets this palette apart are the gorgeous barely-there yet highly reflective glitter shades. Past glitter shades I've tried are either completely non-existent or really in your face, but these are just noticeable enough. Plus I love that these have that wet feel to them!
Also the quality and packaging. This palette looks so chic and reminds me of the Dior Backstage palette, but without the high end price tag.
Dasique is a small brand and hard to find, but trust me, it's absolutely worth it. They also have a pink-toned palette that's on my wishlist!
Final Verdict
Packaging

Shades

Texture/Application

Wear Time

Price
Absolutely beautiful to look, both in the palette and in person. It might not be that unique if you already have a neutral palette you love, but if you're still looking for your holy grail and you prefer the Korean makeup look to the bolder Western style, this little gem is so worth it. It's definitely become my favorite, and I can't wait to travel with it soon!