I've reviewed the cult classic DHC cleansing oil before, and today I'm going to review another Japanese option – the Cow Brand Mutenka Cleansing Oil.
What is it

A no-frill cleansing oil without any fragrance, parabens, or mineral oil (mutenka means additives-free in Japanese).

First Impression

It's pink and has a heart on it. And the brand's name is called "Cow Brand." Yes I'm a sucker for frivolous details.

How I use it

I use 2 pumps to gently massage my face every evening. Add a bit of water, wait for it to emulsify*, then rinse.

Best suited for

All skin types except acne-prone

Size & Price

5.07 oz – $10

Where to buy

Amazon, Rakuten
So the interesting thing about this product is that it actually doesn't contain any of the common oils as base:
Cetyl Ethylhexanoate, Ethylhexyl Palmitate, Peg-20 Glyceryl Triisostearate, Triethylhexanoin, Water, Peg-7 Glyceryl Cocoate, Peg-12 LAURATE, Dipropylene glycol, Butylene Glycol, Ceramide NS, Polyglyceryl-4 isostearate, Isostearic Acid, Glycerin
Ethylhexyl Palmitate is a synthetic ingredient derived from palm oil that is lightweight, spreads easily, but unfortunately also comedogenic.
On the plus side Mutenka contains ceramide, which can help build and repair our skin barrier. But since this is a cleanser, I doubt the ceramide will be on your skin long enough to have any effects.
All in all there's really nothing that stands out ingredients-wise, just your standard emulsifiers and a few fatty alcohols. Despite the brand being called "Cow Brand", there were no milk related ingredients in this product. Moo. Boo.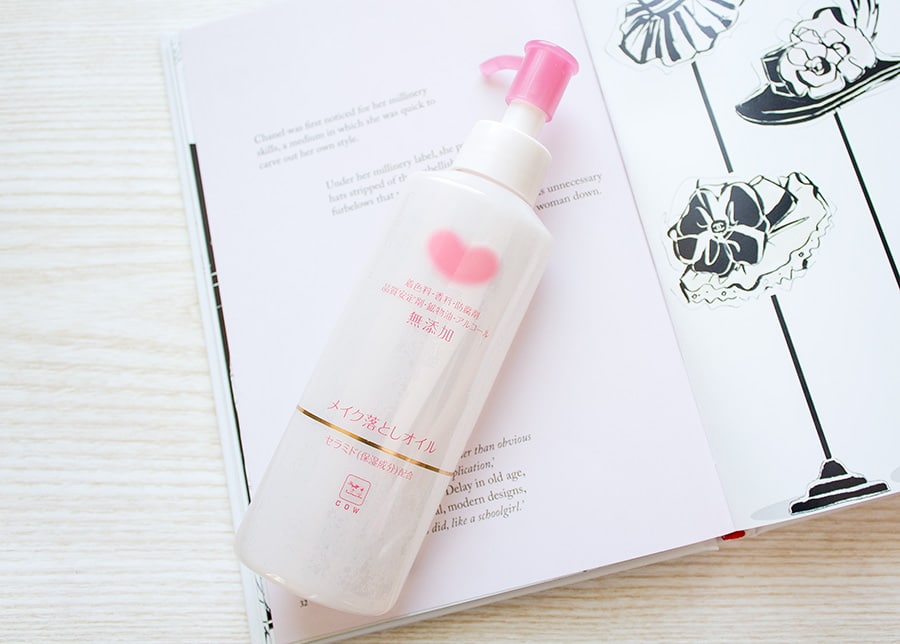 Because I'm a huge packaging snob, I have to admit that I bought this mostly due to the packaging. It's pink and has a heart on it! Cuteness factor aside, it comes in a nice pump bottle, which is pretty standard for cleansing oils.
Compared to the DHC, the Cow Brand Mutenka Cleansing Oil is lighter and more watery. Texture-wise I do prefer this one, but for some reason this is ridiculously difficult to emulsify. Instead of turning into a milky white consistency when I mix it with water, the texture simply becomes lighter and more liquid. Some does eventually emulsify, but then I'm wondering, what's going on with the rest of the product?
I've tried everything. Adding a tiny bit of water. Adding lots of water. No matter what I do, I can't seem to reach that water-oil nirvana. Luckily this rinses off nicely, and there's no residue or film left on my skin. But because the emulsifying process is so weird, I always follow with a second cleanser to make sure I remove any left over product.
On the plus side, the Cow Brand Mutenka Cleansing Oil does a great job of removing face makeup. It struggles a bit with eye makeup, but I always recommend a separate eye makeup remover anyways. Since it's additives-free, it's also pretty gentle and good for sensitive skin types.
Final Verdict
Packaging

Ingredients

Texture/Application

Performance

Price
Overall the Cow Brand Mutenka Cleansing Oil isn't a bad cleansing oil, especially for the price. I would prefer my cleansing oils to actually use an oil as a base, not a comedogenic derivative. However, the deal-breaker for me is the the half-assed emulsification, and for that reason alone, I will not be repurchasing this.